Toyota, Ford and others have invested huge funding into engineering and marketing hybrid cars to makes some green of looking green. They forget enthusiasts like Bob Hirohata had been building "hybrids" for years in the pursuit of copious power.
While some may quarrel over the merits of today's hybrids like the Toyota Prius, which marry together a combustion engine with an assistive electric motor; the term didn't always inspire such malaise and mass yawning.
Toyota, Ford and several other automakers have invested a great deal of funding into the engineering and marketing of hybrid drivetrain cars in an effort to cash in on the green-conscious. What they and many others forget is that enthusiasts have been building hybrids for several years now under a different principle than catching the faux eco-friendly warm and fuzzies. The old world hot-rodder's were building hybrids in the pursuit of copious power bathed in lavish style.
The most popular of these 'hybrids' involved taking just about any late 1920's to 1950's Ford for it's appearance and merging it with a small-block Chevy powerplant for it's favorable return of investment in affordable power. It became a very popular marriage in the 60's hot rod era and a derivative of that same chocolate meets peanut butter perfection can still be seen today. GM's LS-family of V8's wrangle several hundred horses under a single hood, many not wearing a bowtie.
Looking back fifty-eight years to 1952, Bob Hirohata sat in the middle of the feverish cartopia that was mid-century California.
G/O Media may get a commission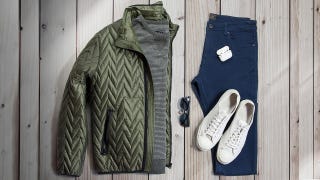 60% off
Jachs NY Fall Sale 60% Off
He had his own ideas of a good hybrid and sought satisfaction a bit up-market. Struck in awe of the emerging flow of chopped and dropped Mercury's making the rounds at the time, Bob decided he needed something a bit more unique than his already worked over 49' Chevrolet street-rod. Acquiring a 51' Mercury Club Coupe, he wasted no time in paying a visit to Sam and George Barris of Barris Kustoms. Sam being the owner of one of the very unique Mercury's that had captured Mr. Hirohata's heart, there was no better place for him to turn for improvement to his new vehicle. The Mercury was left in the delicate hands of the Barris brothers with few constraints and a gracious budget to work with. Three months later he returned to a caterpillar turned butterfly, exceeding his expectations in every way.
Among the many modifications included was a four inch roof chop, which smoothly sloped back with an additional three inches removed from the rear section. The B-pillars were removed entirely and new quarter-windows had been fabricated to take advantage of the new found space and compliment the rolling roofline. The front end was redefined with newly sculpted edges to the hood and mouth with three 51' Ford grills having been sacrificed to make a single unit which would roll in and out of the Mercury front inlet, wrapping around extended front fenders, under 'Frenched' Ford headlights.
Moving down the body, new metal had been added to reshape the character line downward with a swath of trim borrowed from a Buick Riviera. A new set of side scoops in the rear quarters were accented by the 'grill teeth' of a 52' Chevy; these vents are functional and provide cooling to the rear brake assemblies. The rear fenders were extended several inches to balance with the front-end and signed on the dotted line were a pair of Lincoln tailamps. Finally like fresh honey, a glaze of seafoam green lacquer was drizzled over the entire car with a dark green coat resting below the parting line of the Buick trimmings.
Exterior changes were simply not enough though as Lyon Engineering had been commissioned to perform a heart transplant on the perky little Mercury. In only five days time they migrated a brand new 1953 Cadillac OHV V8 into the engine bay with the assistance of a Ford clutch assembly and Oldsmobile flywheel in order to mate up to the factory 'three on the tree' manual gearbox. Bob Hirohata had added a touch of customization all his own with the addition of hip new plastic knobs he had made for the dash controls and shift lever.
The car lived a lavish Californian lifestyle throughout the 1950's. Bob wrote to Rodding and Restyling magazine in 1956 requesting they provide more attention to the Kustoms culture and proclaiming that his car had received over 26 trophies and that it had guest-starred in the movie "Running Wild".
After a few years Bob parted ways with the car and it went through a period of changing hands several times, meeting abuse along the way. In 1959 the "Mercillac" as Bob would often refer to it, would change ownership one last time. A then 16 year old Jim McNiel bought the well-used car for $500 off of a used car lot, driving it for five more years before priorities would interfere and he'd stash it away in the garage for later review. Jim never parted with the car and as opportunity afforded, he worked to restore it with his wife and son assisting along the way.
In the late 90's, after several years of hard work and scrounging for parts, the car was nearing completion and inching closer to escaping the cold walls of storage. Local attention was drawn to the car and Jim had agreed to make an appearance at the Hot Rods and Customs Exhibition at the Oakland Museum, a venue the Mercury visited many years before under Hirohata's care.
With time running out and the paintwork left to do in order to complete the car, Jim reached out to Junior Herschel Conway, who originally painted the car over 46 years prior for Mr. Hirohata himself. Junior readily volunteered his expertise to bring the finish back from over four decades of use, returning original two-tone Ice and Forest Green lacquer coat. Jim's hard work, the assistance of Junior Herschel Conway and many others breathed new life into this piece of hot rod history.
Sadly Bob Hirohata was murdered on May 14th, 1981 under unknown circumstances; his killer has never been found. He left a distinct impression upon the car culture as a dreamer and enthusiast, and will be looked upon with fondness by all whom encounter his 1951 hybrid.
This piece was written and submitted by a Jalopnik reader and may not express views held by Jalopnik or its staff. But maybe they will become our views. It all depends on whether or not this person wins by whit of your eyeballs in our reality show, "Who Wants to be America's Next Top Car Blogger?"