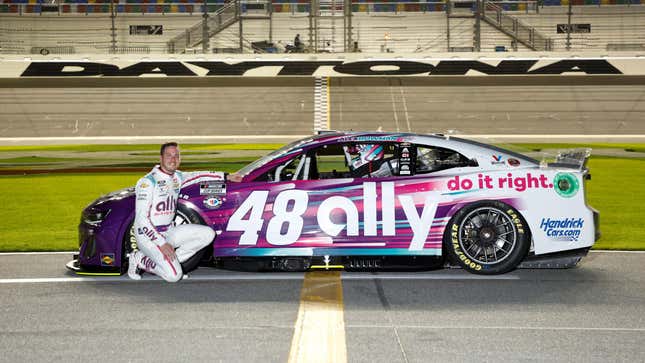 Welcome to the Jalopnik Weekend Motorsports Roundup, where we let you know what's going on in the world of racing, how to watch this weekend's NASCAR and Supercross racing, and where you can talk about it, all in one convenient place.
The NASCAR Cup Series season starts in earnest this weekend with its marquee event and first points-paying race of the year, the Daytona 500. Hendrick Motorsports proved to be touchable in qualifying as Alex Bowman outran his teammate Kyle Larson to secure his third Daytona 500 pole. A third Hendrick driver, William Byron was able to get the No. 24 Camaro to third place in qualifying. Though, Byron won't have his starting position confirmed until after the Bluegreen Vacations Duels at Daytona tonight.
While the dual qualifying races will set where the drivers will start in the 500, two notable names locked into Sunday's race during qualifying. Seven-time champion Jimmie Johnson made the field on his part-time return to the Cup Series with Legacy Motor Club. Freestyle motocross legend Travis Pastrana also secured his place in the Great American Race for the first time.

The Monster Energy AMA Supercross Championship continues this Saturday in Oakland. Five rounds in, an exciting title fight is starting to develop between Yahama's Eli Tomac, Honda's Chase Sexton and KTM's Cooper Webb. Kawasaki's Jason Anderson, fourth-place in the standing, is starting six months on probation after an overaggressive block pass on Gas Gas rider Justin Barcia in Tampa.
Frankie Muniz, star of "Malcolm in the Middle," returns to racing with his full-time ARCA debut at Daytona. Sports car racing fans have the Asian Le Mans Series to watch as the championship competes in Abu Dhabi. Is there anything we've missed? Let us know in the comments!

How to Watch or Stream This Weekend's Racing:
Thursday, February 16

NASCAR Cup Series - Bluegreen Vacations Duel 1 at Daytona
From Daytona International Speedway
7 p.m. ET on Fox Sports 1
NASCAR Cup Series - Bluegreen Vacations Duel 2 at Daytona
From Daytona International Speedway
9 p.m. ET on Fox Sports 1
Friday, February 17
NASCAR Craftsman Truck Series - NextEra Energy 250
From Daytona International Speedway
7:30 p.m. ET on Fox Sports 1
Saturday, February 18
Asian Le Mans Series - 4 Hours of Abu Dhabi I
From Yas Marina Circuit
5:30 a.m. ET on YouTube
ARCA Menards Series
From Daytona International Speedway
1:30 p.m. ET on Fox Sports 1
NASCAR Xfinity Series - Beef. It's What's For Dinner. 300
From Daytona International Speedway
5 p.m. ET on Fox Sports 1
Monster Energy Supercross
From the RingCentral Coliseum in Oakland, California
8 p.m. ET on Peacock
Sunday, February 19
Asian Le Mans Series - 4 Hours of Abu Dhabi II
From Yas Marina Circuit
6:30 a.m. ET on YouTube
NASCAR Cup Series - Daytona 500
From Daytona International Speedway
2:30 p.m. ET on Fox