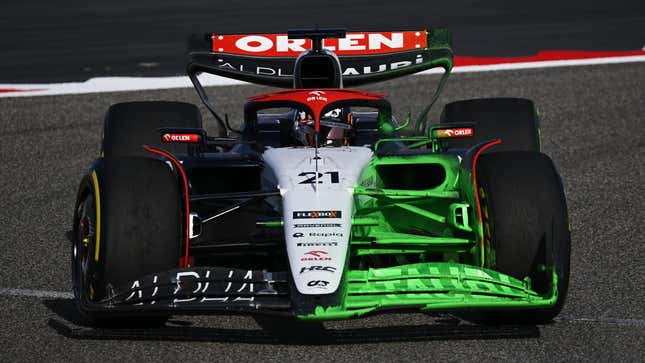 Welcome to the Jalopnik Weekend Motorsports Roundup, where we let you know what's going on in the world of racing, how to watch this weekend's Formula 1 testing and NASCAR Cup Series race, and where you can talk about it, all in one convenient place.
Racing Tech: Explaining NASCAR's New Skew
The start of FIA Formula 1 World Championship is just over a week away, and F1's teams are currently in Bahrain for the year's only preseason test. The three-day test will be the only opportunity for the drivers to acclimate to their new machinery before next weekend's Bahrain Grand Prix. The teams will be looking to cram as much mileage into the allotted time for development purposes.
While F1 is testing, there are plenty of other series that are actually racing this. The NASCAR Cup Series is racing at Auto Club Speedway's 2-mile oval before it's torn up and reconfigured into a short track, with the excess land being sold-off for real estate development.
South Africa is hosting an international motorsport double feature on Saturday. Formula E is taking its electric single-seaters to the streets of Cape Town for the first time. Meanwhile, the world's GT3 elite make their annual pilgrimage to Kyalami Circuit, just outside of Johannesburg. And of course, the Supercross season continues at AT&T Stadium, the home of the NFL's Dallas Cowboys. Is there anything we've missed? Let us know in the comments!
How to Watch or Stream This Weekend's Racing:
Friday, February 24
Formula 1 - Pre-Season Testing - Day 2
From Bahrain International Circuit
2:00 a.m. ET on F1 TV Pro
Saturday, February 25
Formula 1 - Pre-Season Testing - Day 3
From Bahrain International Circuit
2:00 a.m. ET on F1 TV Pro
Intercontinental GT Challenge - Kyalami 9 Hour
From Kyalami Circuit in Johannesburg, South Africa
6:00 a.m. ET on YouTube
Formula E - Cape Town E-Prix
From Cape Town, South Africa
8:30 a.m. ET on CBS Sports Network
NASCAR Xfinity Series - Production Alliance 300
From Auto Club Speedway in Fontana, CA
5 p.m. ET on Fox Sports 1
Monster Energy Supercross
From AT&T Stadium in Arlington, TX
8 p.m. ET on Peacock
Sunday, February 26
NASCAR Cup Series - Pala Casino 400
From Auto Club Speedway in Fontana, CA
3:30 p.m. ET on Fox