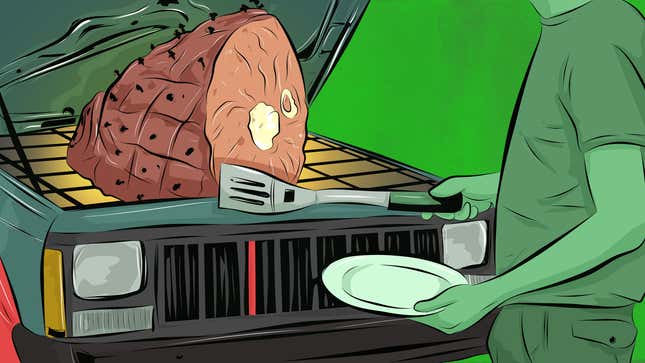 Your car's gasoline engine wastes two thirds of its fuel's energy as heat, so why not harness that energy and cook a delicious meal? It's fun and easy, and you can do it too.

I recently read Manifold Destiny, an excellent book that details how and what to cook with your automobile's engine. As someone who used to engineer and test underhood components against thermal degradation, I think I have a fairly good grasp on where the hotspots are under hood, so naturally, I thought I'd be a great car-engine chef.
Well, that didn't turn out to be the case, but only because I'm an incompetent chef, not because of the cooking method.
Your Engine Bay Is A Great Oven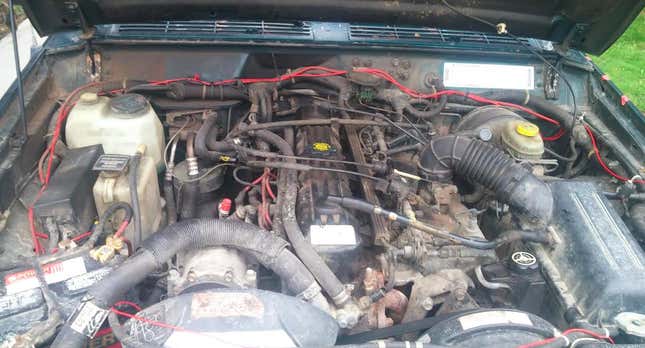 The gasoline in your car's tank contains about 34 megajoules of energy in every liter. The fact that many modern cars can travel 40-plus miles on a single gallon of gas is a testament to just how energy-dense each little drop of the stuff really is, and that's one of the main reasons why gasoline has remained such a viable transportation fuel source.

The problem is, much of the chemical energy in the fuel gets converted into heat during the combustion reaction, with less than a third converted into rotational kinetic energy of your crankshaft. That sucks for fuel economy, but it's great if you're looking to grill a delicious car-steak.
You Don't Have To Cook Right On The Engine Block
Heat in your engine bay travels through a multitude of mediums including exhaust gases, the metal engine block and head, oil, coolant and even ambient air. As long as you tap into those mediums properly, you can cook yourself a meal in no time.

How Do You Choose Where To Cook?
You could run a transient underhood Computational Fluid Dynamics model to figure out what the temperatures will be at any given moment in the drive at any given location underhood, or you could wire up some thermocouples and measure the temps.
Or, if you're not a huge nerd, some basic MacGyver-ing will work just fine.
Your engine is going to be hottest near the cylinders (where the explosions occur), and the temperature of your metal engine gradually gets lower farther from that heat source (that's called a thermal gradient.)
So if you want to cook a steak quickly, put it against the side of your block, and if you just want to slowly cook a brisket, put it near the top of the head, valve cover or maybe even the intake manifold.
Another good place to cook is on or near the exhaust system. Convection from the piping-hot exhaust gases ensures that every part of that exhaust system—especially parts close to the engine like the catalytic converter and exhaust manifold—gets very hot.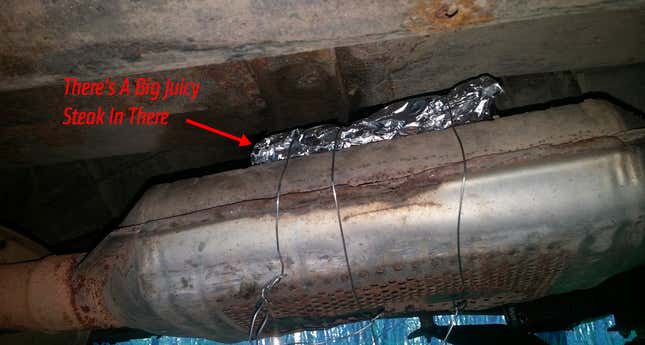 But you don't necessarily have to place food against hot metal objects to get them warm, thanks to radiation (heat transfer via electromagnetic waves) and convection (heat transfer via fluid flow).
If you want to roast a marshmallow, you can place it close to the exhaust manifold and allow radiation to get the job done. Or if you want to just warm up some ravioli, placing it in the warm fan blast (the air entering the radiator through the grille and picking up heat) will do the trick. Still, if you're looking to quickly and thoroughly cook something, conduction is the way to go, so try to have your food package actually touch the hot heat source.
Don't do what Fox and Friends did, though. (That's good advice in general.) They tried to cook on top of plastic engine and air filter covers. The issue with that is that the only heat cooking their food came from the fan blast, and at probably less than 200 degrees, they had to spend a long time cooking, and even then, much of it was still undercooked.
So just remember: if you want to cook something thoroughly and quickly, your exhaust system and engine block are your friends. If you want to just slowly cook something, the valve cover or maybe even the intake manifold might do.
But if you've got something like a roll that you'd just like to warm up, slap it anywhere underhood (even on a plastic cover), as the heat from the radiator fan-blast will keep it toasty.
Of course, this is all engine and vehicle dependent, as underhood packaging environments vary greatly between cars.
My Experiment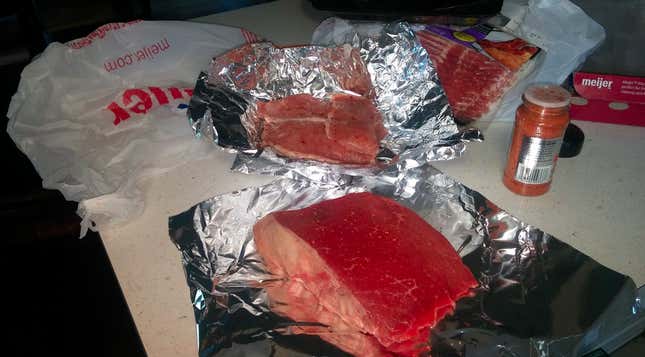 Once I got thinking about car cooking, I had to try it myself. The first thing I did was drive to the grocery store and pick up some fine meats: pork cutlets, bacon and a steak.
I'll admit that it's not a particularly imaginative meal, and if I keep eating like this, I'll probably die of a heart attack at 29. But for now, meat it is.
As for packaging, I followed Manifold Destiny's advice by wrapping the meat in three layers of aluminum foil, alternating which side had the seam. This makes a lot of sense, as the layers of foil keep the juices in, but are also tough enough to allow me to cram the food package into little nooks and crannies without worrying about tearing and contamination.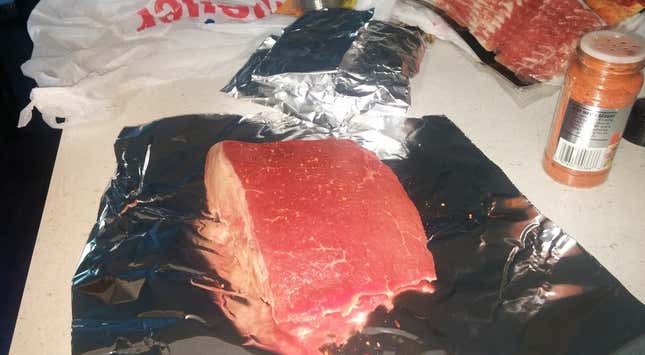 Once I dumped some spices on the meat and wrapped it in foil, it was time to head to my rusty-but-trusty 1995 Jeep Cherokee to find a good place to fasten these food packages.
That's when things went to hell.
This Can Be Dangerous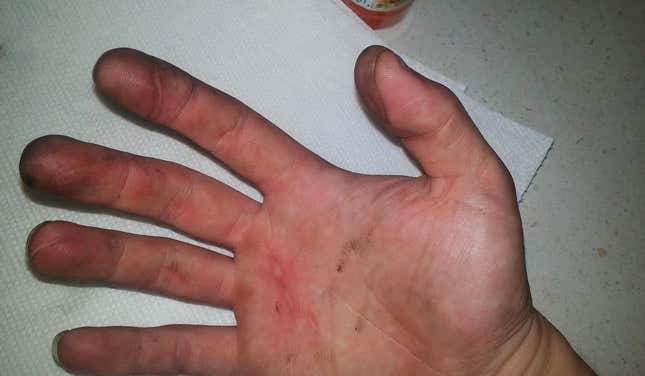 A lot of people wonder if it's safe to cook food in your engine bay, and I think the answer is "yes," assuming you've got a fairly clean engine. The only concern might be oil and grime contaminating your food, but if you're placing the food on a clean metal surface with three layers of aluminum foil in between, you'll probably be fine.
Are you worried about carbon monoxide somehow seeping into your food? I don't think you should be, as I agree with Manifold Destiny whey say that if your exhaust leak is that bad, you've got bigger problems than just food contamination.

Another thing that's worth mentioning, and something that the book talks about numerous times, is to stay away from the throttle linkage. The last thing you want to do is pack food in a way that will keep your throttle plate open and thus cause the car (and steak) to accelerate on its own. Note that most modern cars use drive-by-wire, so there's no throttle cable or linkage to worry about.
You should also remember to stay clear of the sharp, rotating fan. Well, unless you need to dice some carrots.
What Manifold Destiny didn't mention was the battery, so I'll talk about that now, because I just burned the crap out of my hand.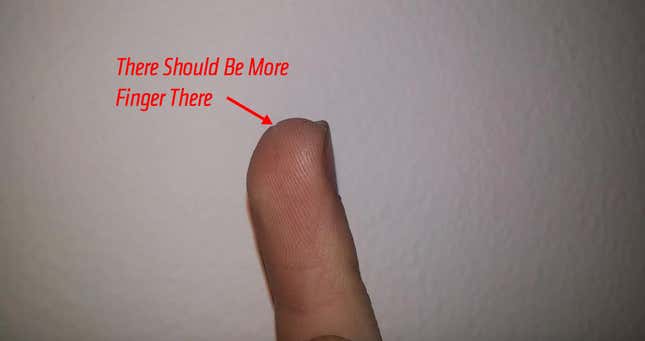 I purchased some aluminum wire to help keep my food packages tied to the engine (the last thing I wanted to do was lose a steak on Woodward Avenue), but after cutting a foot-length of the stuff, disaster struck.
The aluminum wire in my hand touched the positive battery post and a ground, creating a thunderous spark. Before I could figure out what was happening, my hand was on fire. Figuratively, but almost literally.

I shook my hand to try to let go of the wire, but the melted skin meant the damned thing wouldn't shake free. After what felt like several minutes of jumping up and down, screaming, swearing, and shaking my hand profusely, the red-hot wire came free from my vaporized skin, leaving sear marks on my paw. If you look carefully, you can see the little grooves that the wire scorched into my skin.
Here's where the wire touched the battery terminal. There's a little chunk of aluminum missing.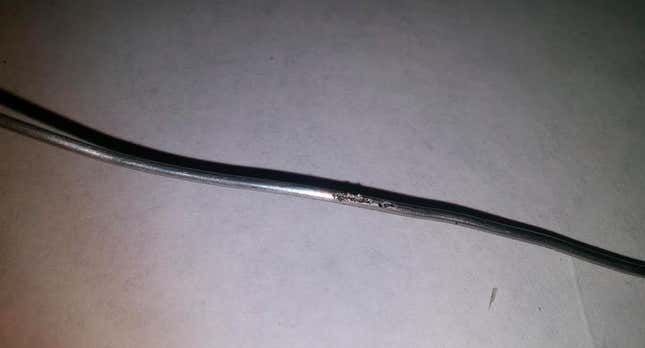 The burn hurt a lot worse than it looks, trust me. To prevent such a catastrophe, I'd recommend placing an insulator over the top of your battery posts—maybe a blanket, a piece of plastic or a chunk of cardboard, but for god's sake, make sure whatever you place over that battery isn't moist.
Food Placement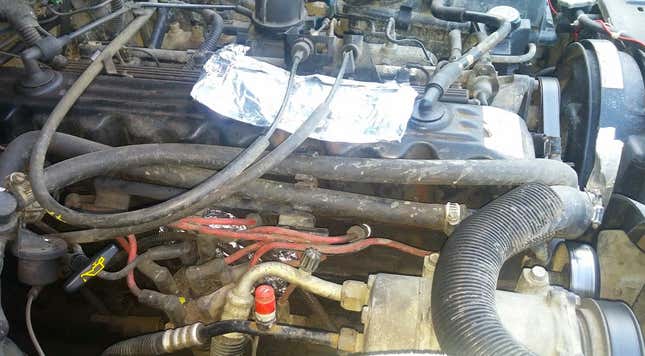 After weeping like a little baby from my burn, I went ahead and placed my bacon on the valve cover, figuring that it was far enough away from my exhaust and engine block to keep my bacon from getting crispy. (I like my bacon chewy; the closer it is to German Speck, the better.)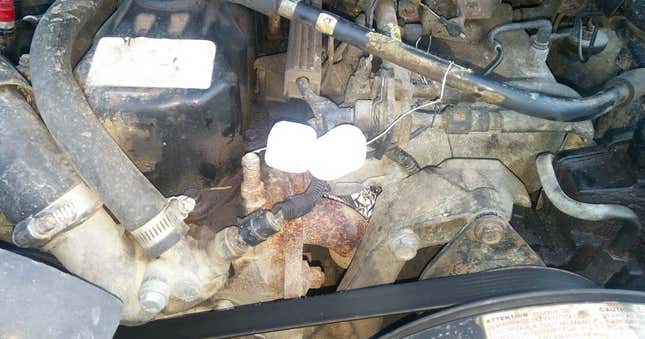 I strung up some marshmallows just above the exhaust, hoping to brown them using radiative heat transfer, and I tucked a pork cutlet right against the exhaust manifold: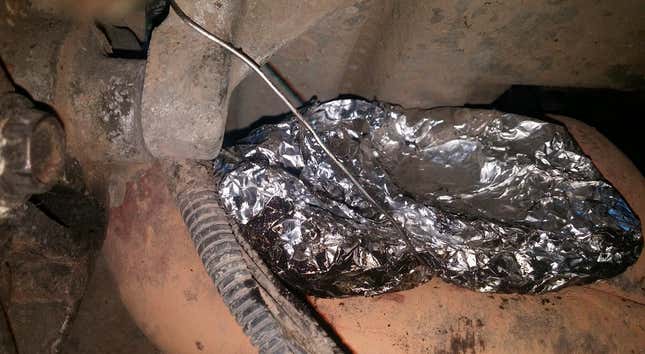 I placed the other pack of port cutlets just between the distributor and engine block: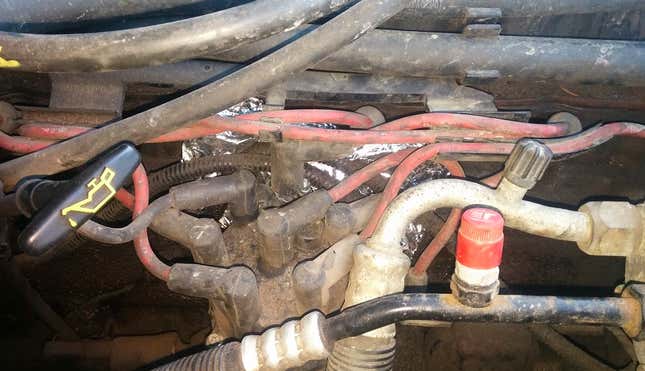 And the steak, I tied to the top of my catalytic converter: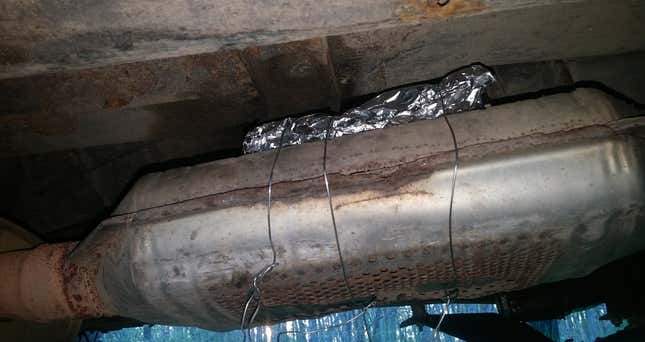 Results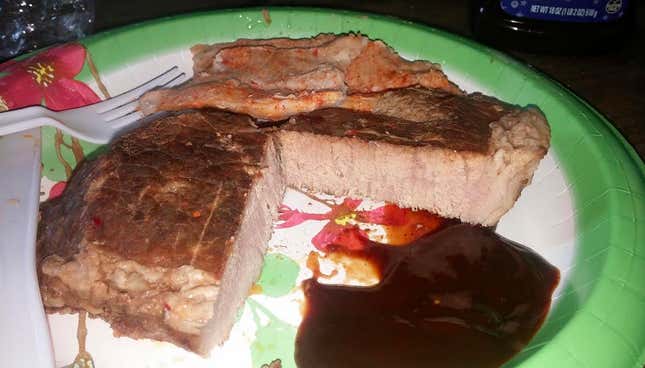 With the food in place, I cruised down Woodward Avenue just outside of Detroit, worried with every bump that I might lose some dinner. I kept an eye on my rearview ready to see a steaming square of aluminum foil on the ground, but my tie-downs held.
I cruised down Michigan's most famous road, the delicious smell of steak emanating through the copious holes in my floorboards. My friend drove behind me in his convertible Jeep, making sure that a runaway pork cutlet wouldn't cause an accident and enjoying the glorious aroma.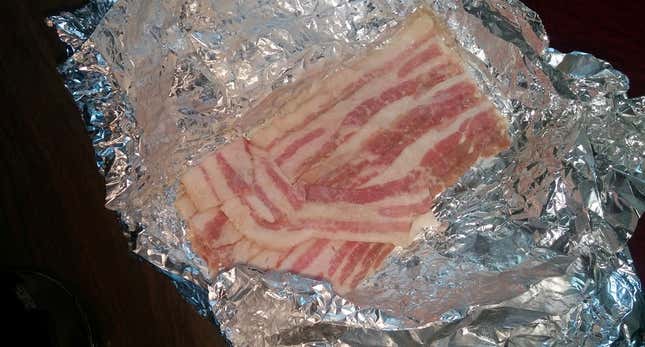 In the end, the food turned out better than I had expected. The bacon needed a little more time on the valve cover, but the steak, which I had cooked on the catalytic converter, was well-done.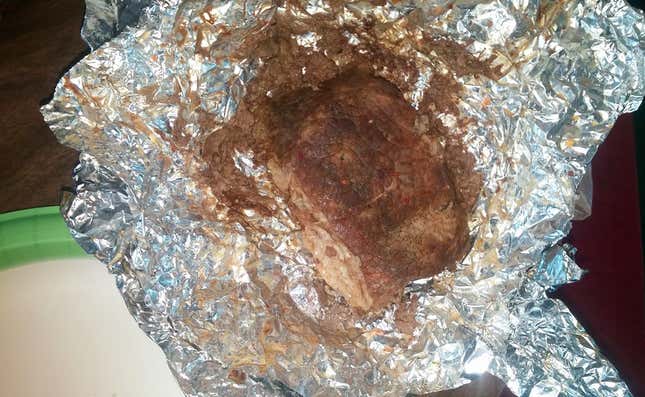 The marshmallows were s'more-worthy, and the pack of pork that I had placed between the distributor and engine block came out moist, juicy and delectable. As for the pork packet on the exhaust manifold, that one cooked far too hot, and lost all of its juices, so it tasted like charcoal. You can't win them all, I guess.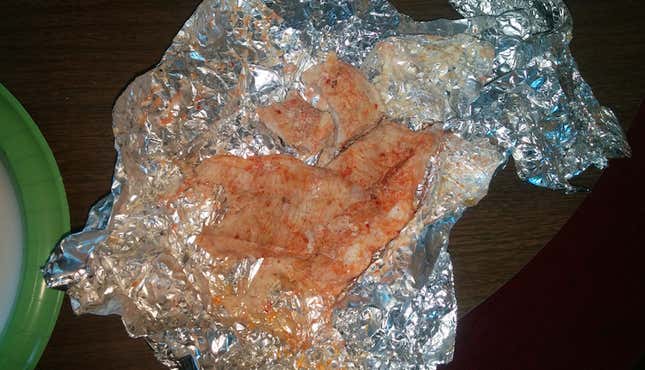 It was the best self-made meal I had eaten in a while, besting even my finest batch of peanut butter and jelly sandwiches. By anyone else's standards, it was probably garbage, but with a bit of KC Masterpiece barbecue sauce, I thought it was a fine meal.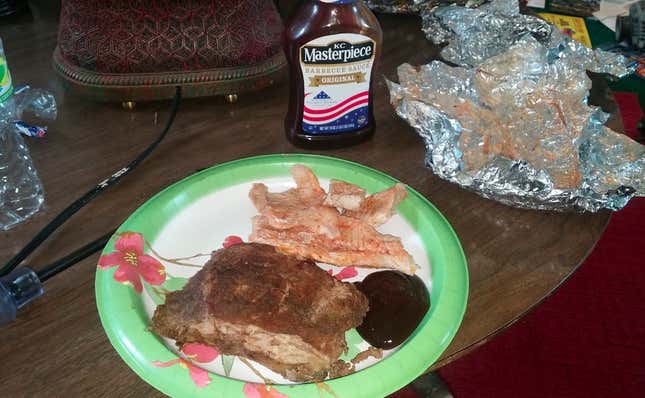 If you have any car-cooking tips or stories, I welcome them as well. Don't be afraid to try it—just wear proper protection when you do.