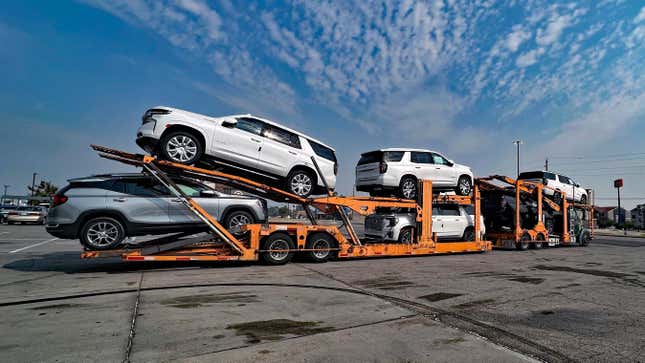 For the first time ever, all three of America's major automakers — GM, Ford, and Stellantis — are facing a strike from the UAW. The core of the labor dispute is that the CEOs of those brands got some pretty hefty pay increases, while the folks that actually make the cars haven't really seen the benefits of the companies' record profits. Depending on how long the strike goes on, consumers could face some challenges when it comes to buying certain models.
Just when the car market was finally making a turn back to normal after a few years of low inventory and high prices, this strike is naturally going to have a negative impact on dealer supply. And when supply goes down, prices usually come up.

Currently, three major plants are on strike: Stellantis' Toledo Assembly Complex, which makes the Jeep Wrangler and Gladiator; Ford's Wayne plant, which builds Broncos and Rangers; and GM's Wentzville, Missouri plant, which builds the Chevy Colorado, Chevy Express, GMC Canyon, and GMC Savana.

However, the UAW says that other plants may join the strike depending on how the negotiations progress. Currently, it does not seem like either side is coming close to an agreement.

Even though the selected plants are no longer operating, it doesn't automatically mean those cars are going to be subject to price increases. What it really comes down to is the available supply at dealerships.

According to the car shopping app CoPilot, the following models from the Big Three have the lowest supply: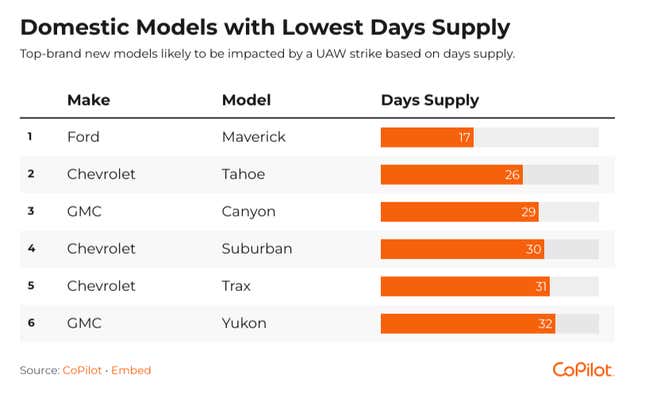 The Ford Maverick is made in Mexico, so the strike won't impact the already difficult inventory situation, but if more domestic plants like the GM Arlington factory in Texas get added to the shutdown, GM trucks and SUVs are likely to feel a bit hit.

Using a nationwide search on Cars.com, there are about 3,600 units of new Tahoes and about 1,800 Yukons. There are only about 1,500 Suburbans and approximately 2,000 Yukon XLs. GMC Canyon inventory is about 1,300 units while the Chevrolet Colorado has about 4,400 units listed for sale. Trax inventory doesn't seem too bad with almost 6,000 units listed, but most of these listings have "stock photos" which is usually not a good sign in terms of actual availability.

On the other hand, Jeep has about 30,000 new Wranglers and about 18,000 Gladiators listed for sale, so unless you are looking for a special-order Jeep, your chances are probably pretty good of still being able to find a deal.

Speaking of factory orders, while almost every domestic model can be built to order, buyers should obviously expect delays in both production and delivery if their selected model is being made at one of the factories on strike.

Just as in previous scenarios where vehicle inventory shrinks and the pricing power shifts in favor of the dealers, the more flexibility and patience a buyer has the better their chances of scoring the car they want at a reasonable price.
---
Tom McParland is a contributing writer for Jalopnik and runs AutomatchConsulting.com. He takes the hassle out of buying or leasing a car. Got a car buying question? Send it to Tom@AutomatchConsulting.com