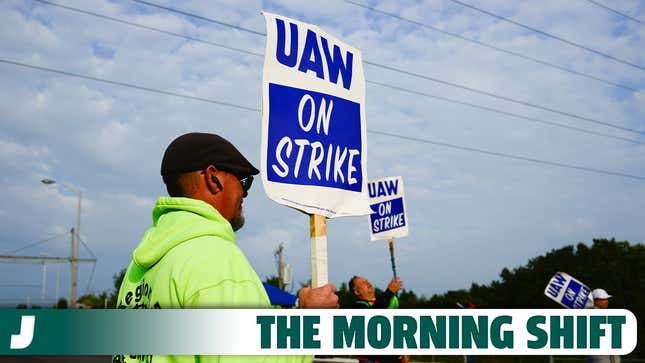 Good morning! It's Monday, September 18, 2023, and this is The Morning Shift, your daily roundup of the top automotive headlines from around the world, in one place. Here are the important stories you need to know.
1st Gear: Shawn Fain On UAW Strike Progress: "I Don't Really Want To Say We're Closer"
The United Auto Workers are still striking against the Big Three, and it seems they may be doing so for quite a while. UAW President Shawn Fain made the rounds on news programs this past weekend to talk about how insufficient the offers from GM, Ford, and Stellantis have been — and how the union won't be backing down without fair contracts. From Automotive News:
UAW President Shawn Fain on Sunday said the union and the Detroit 3 remain far apart on contract agreements to end a historic strike, although the two sides were continuing to negotiate.

"Progress is slow," Fain said on MSNBC's "The Sunday Show with Jonathan Capehart." "I don't really want to say we're closer."


...

The UAW resumed talks with GM on Sunday, and will do so with Stellantis and Ford on Monday.

...

Later Sunday morning, on CBS's "Face The Nation," Fain said the automakers' most recent offers were insufficient. On Saturday, Stellantis released details of its most recent offer, which matched the 20 percent raises offered by GM and Ford.

"It's definitely a no-go; we've made that very clear to the companies," Fain said.
Fain also had a few words to say directly to the Big Three CEOs, after they stammered their way through invented justifications of their multimillion-dollar salaries. Also from Automotive News:
On both shows, Fain blasted recent comments by General Motors CEO Mary Barra that a majority of her compensation is based on performance.

"To say they're paid for their performance, that's completely incorrect," Fain said. "They're paid for our workers' performance and it's a shame that they make those millions off the backs of exploiting workers at poverty wages."
Damn, it's almost like the company wouldn't perform at all without the workers. Barra et. al. may make the decisions, but the members of the UAW make the cars. I wonder which is more important.
2nd Gear: Turkey Wants A Tesla Factory
Tesla seems to always want growth, larger and larger until it blots out the sun, but that growth can be constrained by pesky things like "factory capacity" and "international trade." The company's four factories can only take it so far, so it's only natural that Elon Musk is shopping around for new real estate. If he happens to be able to back an anti-democratic authoritarian in the process, well that's just a bonus. From the Associated Press:
ISTANBUL (AP) — Turkish President Recep Tayyip Erdogan called on Elon Musk, the head of electric carmaker Tesla, to establish a factory in Turkey during a meeting in New York, Erdogan's office said Monday.

...

The statement said Erdogan told Musk that Turkey would welcome cooperation on artificial intelligence and Starlink, SpaceX's satellite internet service. Musk said SpaceX wanted to secure the necessary license to offer Starlink in Turkey.

...

Turkish Industry and Technology Minister Mehmet Fatih Kacir, who attended the meeting, said Musk described Turkey as "among the most important candidates for Tesla investment."

He added that Musk and Erdogan also discussed Turkey's armed aerial drone program.
Of course, these talks are early — it's entirely possible someone will do a mean tweet at Musk tomorrow, and he'll forget the whole Turkey thing in order to focus on that. Who knows? The man cannot be predicted.
3rd Gear: Honda Is Having A Good Year
The past few years have been tough for automakers, what with the chip shortage and supply chain woes and global pandemic of it all, but things are slowly returning to normal — for better or for worse. But for Honda, normal isn't good enough — the company is aiming for exceptional, and it may just hit that marker this year. From Automotive News:
The Honda brand is in the midst of a swift recovery from a pandemic and chip shortage-related sales slump and is on track to close 2023 with sales of 1.2 million vehicles now projected.

"We expected at this point to be up around 25 percent, so we are growing past that," Lance Woelfer, Honda brand's sales chief, told Automotive News.

Last year, with microchip shortages still causing widespread production interruptions, Honda sold 881,201 vehicles. In 2019, the last full pre-pandemic year, the brand sold 1.5 million.

But through the first eight months of this year, Honda volume is up 30 percent with sales of 757,375 vehicles, according to the Automotive News Research & Data Center. And it closed August up 56 percent compared with August a year ago, well ahead of the industry's estimated growth of 17 percent.

It is enjoying a tailwind of having redesigned key models in its portfolio for 2023, including the Accord sedan and the Pilot, CR-V and HR-V crossovers.
Yeah, yeah, attribute this to the Accord, Pilot, CR-V, and HR-V all you want. I know what's really going on — every single Jalop reader is out there buying Civic Type Rs. You all have impeccable taste and have decided to display it by purchasing one of the all-time great front-wheel-drive sedans. I see you, and I respect you.
4th Gear: UAW Strike Could Help GM's EVs: Analysts
The Big Three, like all car companies right now, are leaning into electrification. I can't commute to work without seeing at least one Mach-E on the way, and Stellantis' offerings seem like they'll be promising if they ever actually come out, but GM is in a tough spot. The General sells electric cars, technically, but aside from the Bolt they're rare to see in the wild. Some analysts think the strike could give GM a chance to fix that. From Reuters:
DETROIT, Sept 17 (Reuters) - General Motors (GM.N) is at greater risk than rivals Ford Motor (F.N) and Stellantis (STLAM.MI) of disruption to electric vehicle production from a prolonged UAW strike - though some analysts say that could also buy it time to repair nagging issues.

...

GM has been struggling much of the year to smooth out hiccups in battery manufacturing as well as its EV supply chain and logistics, including delivery to dealers of its Cadillac Lyriq and GMC Hummer EVs.

The company delivered just 1,348 Lyriqs and 47 Hummers in the second quarter, far below expectations, in part because of issues with battery module assembly.

Chief Executive Mary Barra in July told analysts: "Our automation equipment supplier is struggling with delivery issues," causing a bottleneck that had forced the automaker to assemble battery modules by hand.

In July, GM executive Rory Harvey said the company was working out delivery issues to dealers, noting that Lyriq and Hummer "have been going down the line in very limited quantities (but) we are building momentum."
Does this mean we'll start seeing more Hummers adorning the roads of our country, the way zits sit loathsome and unwanted on a teenage face? I hope not. GM can fix the EVquinox supply chains, that's fine, but maybe leave the Hummer busted.
Reverse: The Truth Is Out There
On The Radio: SICK HACK - "Watashi Dake Yuurei"
Jalops, I come to you today with a request. This song, "Watashi Dake Yuurei," is from an anime — it's an original track for the show Bocchi the Rock! — but it has haunted me for weeks. It sounds so much like a real band, one I recognize from my college radio days, but I cannot put a finger on it. Do you recognize it? The title drop, the watashi dake yuurei from the chorus, is the most familiar-sounding part.
The song itself rules, as does the show it's from. But I know I'll have to wait until Bocchi gets a second season to even get a chance of hearing more SICK HACK, and I want more of this sound. Give me all your best artists, everyone who sounds like this, and I'll listen to them all.