Ruth Sheehan and Dennis Lillefloren departed their Florida home in September 2004, heading north for what should've been a memorable moment in their life together. Both retired from careers in the Navy, they'd planned stops to visit their newborn grandchildren in Virginia and a Navy football game in Maryland where they'd see their son, all before heading west to Indiana in a 2001 Monaco Diplomat motorhome purchased only a year prior.
After losing their previous partners to cancer—Lillefloren and Sheehan met at a grieving group—the trip marked a genuinely happy period for them. Together for nine years, with six children between them, it had taken some time for their families to adjust to a new presence, but by then, they'd all grown into a cemented, loving kin.
"When they first get together, you don't like them," said Lillefloren's daughter Leanne. "But then you go to love your family."
And the couple lived to travel. Leanne Lillefloren said they were well-acquainted with the intricacies of a massive Class A RV like the Diplomat. Her father had practically lived in a similar RV for two years before purchasing this one, she said. Unfailingly meticulous about checking the pressure of his tires, Dennis Lillefloren always made sure everything was sound before leaving, she said. It made sense for a Navy vet.
"I mean, shit, my dad made me have AAA since I was 16," Leanne said. "He's retired military, so he was very by the book."
On Sept. 26, the day after Navy eked out a 29-26 victory against Vanderbilt, the couple turned around to head back to Virginia, before continuing their trip to Indiana. In the early afternoon, about two hours into the drive along Interstate 64, one of the Diplomat's tires—a Goodyear G159 275/70R 22.5—blew out.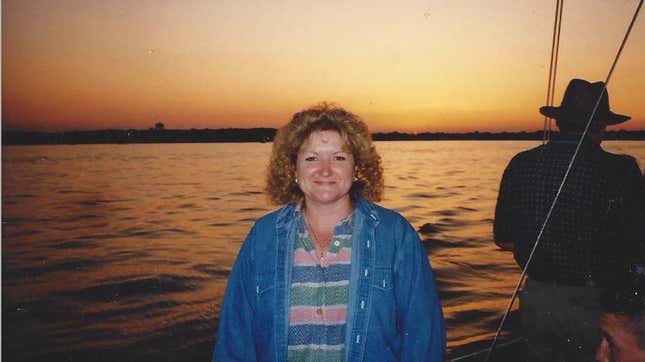 Dennis Lillefloren later told police he tried to hold the RV on the road, but the force was too much to control. The motorhome careened off the highway and into an embankment, an impact that caused the passenger side door to shear off. Sheehan was not wearing a seatbelt at the time.

"We ran off the road and hit the bank," Lillefloren said. "The bank tore the door off and she flew out."
Sheehan, 51, died after being run over by the RV, according to a police report, which traveled another 465 feet before coming to rest with its right side wheels in a drainage swale.
For years, the family considered the possibility that the tire may have been defective, said Sheehan's daughter, Nichole Duncan. But an attorney Duncan hired said there was no claim to be had against Goodyear, she said. An engineer the attorney retained agreed, concluding the reason for Sheehan's death was the assembly of the RV's passenger door—an analysis Duncan, and, eventually, her attorney, believed was questionable at best.
The crash ate at Lillefloren's conscience. Wracked with guilt, he sought treatment for depression, his daughter said.
"My father lived with me until he died, and Nichole and [her sister] would come over and he would just tell them how sorry he was," Leanne Lillefloren said. "And they would tell him it's not your fault. It took him a good six months to a year to even function again."
And then Dennis got sick. He continued to carry the burden, ultimately feeling responsible for what happened that day, until he died in August 2006.
"He went to his grave feeling like it was his fault," Duncan said.
The family never reported the accident for a warranty claim to Monaco or Goodyear, having been advised by Duncan's attorney to file suit instead. But Duncan said her attorney took too long to get the ball rolling and resolve lingering issues with the engineer's report before the statute of limitations in Virginia for her potential claims lapsed.

"I was a single parent at the time," she said. "I couldn't just keep forking over money."
They grieved and moved on.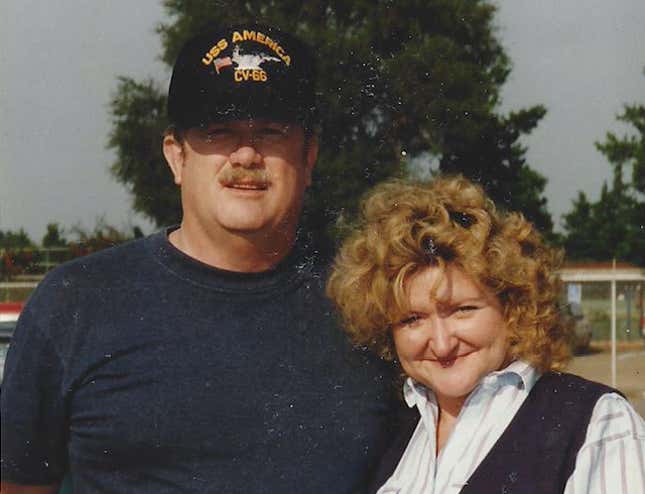 What neither Dennis nor any of Sheehan's family knew was that by the time of the accident, Goodyear had received several hundred reports about the tire that blew out on their Monaco RV. Court records show the tiremaker had about two dozen injury and death claims related to failures of the G159 on file by then, as well as hundreds of property damage claims.
Goodyear has previously admitted that it's aware of 98 injury or death claims over the G159, but a breakdown of how many fatalities are known has never been released by the company. (As part of its ongoing probe, federal regulators asked Goodyear in April to provide a tabulated list of fatalities.) A previous investigation by Jalopnik confirmed at least nine deaths are linked to failures of the G159.
Sheehan's death marks the 10th fatality tied to crashes involving G159 failures, which equals the number of deaths attributed to faulty Takata airbag inflators at the time U.S. regulators ordered every single part to be recalled.
The crash raises the specter that other fatal RV incidents exist where the Goodyear tire was never taken into consideration as possibly being at fault.
---
The tire has been used on at least 40 RV models from 17 different manufacturers. With only 40,000 G159s known to have been used on RVs, court records suggest the G159's failure rate is as much as 27 times worse than the Firestone tires deemed defective by NHTSA in the early 2000s, which sparked a widespread national scandal. David Kurtz, an attorney with ongoing litigation against Goodyear over the tire, has said the reported rate "means that one out of 10 motorhomes using the G159 experienced a failure resulting in a claim for property damage, injury or death."

Numerous lawsuits allege that Goodyear knew the G159 was prone to heat-induced failure when used on RVs and traveling at highway speeds, citing the company's own test results and court experts as evidence. (Lillefloren said he was traveling about 60-65 mph at the time of the crash, according to a police report.)
Previously unreported records obtained by Jalopnik show that Goodyear has received reports on 13 crashes involving G159 failures associated with Monacos of the same model and year as the vehicle driven by Lillefloren that day, including a fatal 2006 blowout in Arizona that sent a Diplomat RV flying into an oncoming car, whose driver was subsequently killed and nearly decapitated. (When all Diplomat model years are included, Goodyear has 40 crashes on file, about 6 percent of its total claims for the G159.)
Jalopnik Investigates: Goodyear's Dangerous Tire
No recall has ever been issued, and there has never been an official finding of a public safety risk over the tire, something consumer advocates and plaintiffs' attorneys say is due to Goodyear's aggressive legal strategy to secure secret settlements that prohibited victims from sharing any information with anyone. Goodyear has settled all but one G159-related case.
In January, the National Highway Traffic Safety Administration launched an investigation into whether the G159 was prone to failure when used on RVs, and the probe remains ongoing.
A NHTSA spokesperson wouldn't say if Sheehan's death is being considered as part of its probe of the G159, and told Jalopnik the agency doesn't comment "on the content of ongoing investigations."
Goodyear wasn't aware of the crash until learning about it from Jalopnik, company spokesperson Jim Davis confirmed in an email. Goodyear said it's fully cooperating with NHTSA's investigation.
"It would be inappropriate to speculate about the cause of the accident based on the information you have provided," Davis said.

Goodyear previously told Jalopnik it believes there is no safety-related defect with the G159 used on RVs, and in case after case, the company has blamed user-error for the accidents—overloading the vehicle, under-inflated tires, vehicle speeds, road hazards.
In a recent phone interview with Jalopnik, Leanne Lillefloren rejected that perspective outright.
"My dad is an anal retentive person," she said. "There's no way the air in the tires would ever be over."
Duncan jumped in: "He was like the person who wore the fanny pack with all the screw drivers on the side."
Lillefloren added: "Goodyear could say what they want, but I can guarantee you it was checked multiple times."
Duncan said as much in an earlier interview. Her step-father, she said, explicitly mentioned having checked the air pressure before taking off that fateful day. "Everything was fine," Duncan said he later told her.
Years on, without any known legal recourse, the family talked about the crash publicly for the first time after learning of the tire's alleged defect in a recent story by Jalopnik. They felt compelled to speak out upon reading that Goodyear's G159 settlements prohibited crash victims from sharing any details about the tire, including regulators.
"I was just sick to my stomach to think Nichole's mom was taken early over something that could've been prevented," Leanne Lillefloren said. "I had my dad a little bit longer, at least."
She paused. "I feel like they robbed her of that life by not telling us."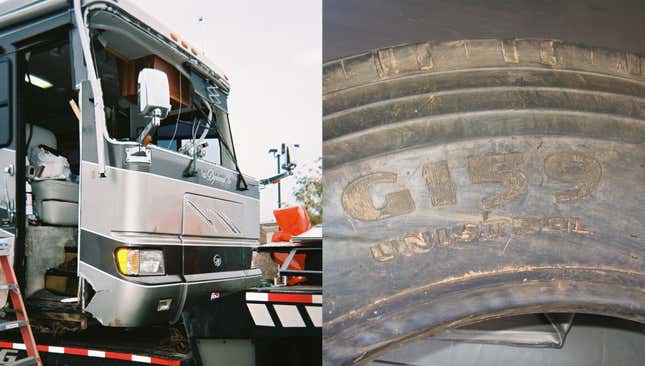 Shortly after the accident, Duncan retained Virginia-based attorney Jeffrey Flax to look into filing a possible lawsuit over the crash. But over a nearly two-year period, Flax made little headway, before the statute of limitations on Duncan's potential claims had lapsed.

Much of the delay, based on records provided by Duncan, had to do with a report produced by an engineer Flax had hired to examine what'd transpired.
In the report, the engineer, Lance Watt, of the firm Robson Forensic, said: "There was no pre crash tire defects present that contributed to loss of control of the motorhome." Instead, Watt pointed to issues with the passenger door as being a main cause of the accident

"Design and manufacturing defects present in the 'A' Pillar welds were the primary cause of the passenger door assembly separating from the motorhome body structure," the report said.
The engineer concluded the "welding on the door frame was shaved off so the door would fit into the frame, causing the door to be weakened," according to a summary of the crash filed with the U.S. Department of Transportation.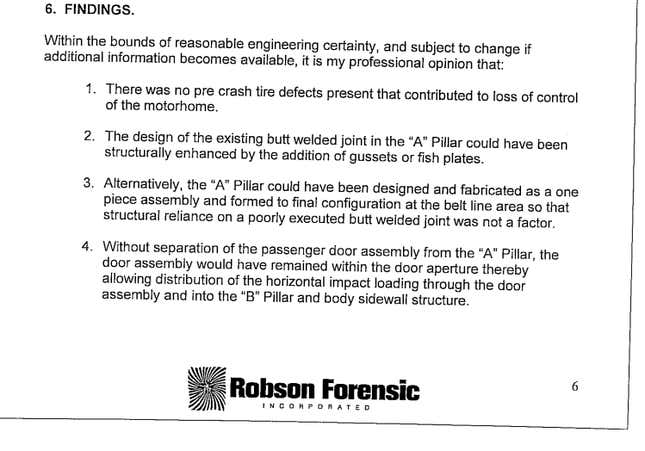 Flax advised Watt's firm in a August 2006 letter that he had prepared to file a lawsuit in federal court based off of the engineer's report.
But after speaking to a "large firm" that handles federal court cases, he said they'd raised significant concerns over Watt's "findings and conclusions."
"Unfortunately, they have determined that his findings and conclusions are deficient in numerous areas and they question whether he could even qualify as an expert in Federal Court proceedings," Flax wrote.
That same day, Flax sent a letter to Duncan that said he's "sorry that we will not be able to bring this matter to a more successful conclusion."
"In good conscious [sic], I could not recommend to you that we proceed further with the litigation given the substantial considerable expense and the very doubtful outcome," he wrote.
By 2006, more than two dozen lawsuits had been filed against Goodyear over the G159, records show, and the company had received hundreds of property damage and injury and death claims from crashes involving the tire.

---
Reached by phone, Watt defended his findings, despite NHTSA's recently-opened investigation into a possible defect and the reams of claims filed over G159 failures.

"If the door latch would've held, then she wouldn't have gone out," Watt said.

"Obviously," he went on, "the tire failure is the initiating event, but that tire didn't contribute to the loss of the motorhome. That was his actions."
Echoing arguments made in the past by Goodyear, Watt said the shoulder of the highway was "certainly wide enough" that Lillefloren "could have brought it to a controlled stop."
Handling the huge RV with a blown tire wasn't so easy, though, based on a Virginia State Police report of the incident, which concluded the vehicle "lost control due to [a] tire blowout."
After the tire blew, David Lillefloren told police, "I tried to hold it in the road, but I couldn't."
"We ran off the road and hit the bank," he said.
Sean Kane, president of Safety Research and Strategies, a firm that conducts auto testing for clients, characterized Watt's summary as presumptuous.
"If the driver's able to control it, they will," said Kane, who has been writing about issues associated with the G159 for more than a decade. "And so obviously they were unable to control it."
"When you have a catastrophic failure like that," he added, "it's not something you can expect folks to deal with successfully in all occasions."
Drivers have only fractions of a second to respond and try to get the vehicle under control, as a widely-shared video in 2015 of an RV tire blowout shows.
Duncan said she'd asked Flax why they couldn't sue Goodyear over the tire, but claims the attorney considered litigation against the tire company "impossible." (Flax didn't respond to requests for comment.)

As a result, the family never contacted Goodyear to file a claim over the accident, Duncan said. And after spending what she estimated to be $20,000 on the attorney, Duncan said she eventually decided it was too much. "I didn't have any more money," he said.
The family moved on from the case until earlier this year, when Duncan and Leanne Lillefloren stopped by a going away party for the son of Leanne's best friend. While there, an acquaintance sat down at a table next to them and, according to Leanne, said: "I thought you'd want to see this."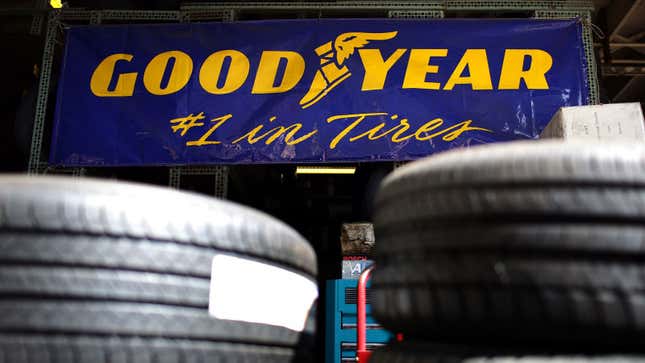 It was a report from Jalopnik, they said, about a spate of fatal crashes involving the G159, and the long-running effort by an Arizona attorney to get regulators to examine the tire.
"Twenty minutes later, Nichole and I are looking at each other," Lillefloren said. "Nichole leaves the party because she's so angry that she had spent all this time and energy trying to prove that something was wrong. And then this article."
Duncan kept saying "that tire number sounds familiar," Lillefloren said. After Duncan returned home later that night, she forwarded a copy of the accident report to her step-sister and confirmed: "It's the same tire."
"I was pissed," Duncan said. "I was mad, I couldn't sleep the rest of the night. I was so angry."

They spoke with an attorney about filing possible legal action, but soon realized it was a nearly-impossible gambit. Still, Duncan and Lillefloren think Goodyear should be held accountable for the number of accidents linked to the tire. The recent reports about the G159 have rekindled the unsettled feelings they shared so many years ago.
"Our family has endured a lot of loss," Lillefloren said. "To have somebody taken for that reason, that bothers me more."
Duncan added, "Our kids don't have a memory of their grandparents."
The family recently wrote to attorney Kurtz in Arizona, summarizing their story and the reason they'd contemplated speaking out.
"At the time, as we tried to process our shock and grief, and understand how this could have happened, we of course had no way of knowing about the history with this tire," the letter said.
"Ruth's death seemed so shocking and senseless. We did everything we thought we could at the time. We requested vehicle safety reports, hired lawyers and engineering experts, all trying to determine if there might be some kind of product liability lawsuit we could bring, and we came up empty."
Even if a lawsuit isn't possible, the letter said, "we still want you to be aware of her story, of our story, if it might help you hold Goodyear accountable somewhere."
At the very least, the family said, with everything captured by the lawsuits and reports that showed how Goodyear managed to keep a lid on evidence about the G159 through the use of secret settlements, they now "know why we came up empty."
Despite never having met Kurtz, they thanked him for his work.
"It would have meant a great deal to Dennis," the letter said, "if he had lived long enough, to know what we know now about the G159 tire."

Have something to share about the Goodyear G159 tire? Here's how to contact us securely.