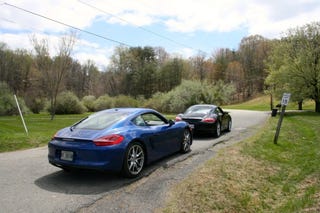 If you're trying to decide between the new Cayman and the old Cayman, we were of little help today. Patrick drove both and said they were both great.
Now, if you already own something like a 991 or a Corvette Stingray, you might not care. Not all of us do, so here to help is MonkeyPuzzle to quickly sum up Patrick's conclusions:
and a graph for the TL;DR crowd
---
Although if you're reading this, it's unlikely you own a 2007 Toyota Camry in the first place. So results may vary.
Photo: Patrick George