Good Morning! Welcome to The Morning Shift, your roundup of the auto news you crave, all in one place every weekday morning. Here are the important stories you need to know.
1st Gear: What Downturn?
Everyone expected General Motors to hit a major roadblock in Q2 with the stock meltdown in China. They didn't. According to Reuters, it was largely because CEO Mary Barra pushed executives in China to hit their aggressive sales and profit targets no matter what, not to back off. It seems to have worked. From the story:
GM Chief Executive Mary Barra, however, had been pushing her executive team in China since the first signs of trouble in the market early this year to find ways to hit the company's target of delivering 9 to 10 percent profit margins, despite falling car prices and weak economic growth.

"We have commitments and we have targets," Barra said in an interview on Thursday. "What do we do to achieve it another way?" The answers, she said, included cutting costs for materials used in GM's Chinese models and building more higher-priced sport utility vehicles with the company's Chinese partners.
Here's how that was something different for the automaker:
The pre-bankruptcy GM often backed away from ambitious profit targets during market slowdowns. Now, Barra said, GM executives take a different approach.

"It's not about using that as an excuse to change the target. It's about finding new ways to meet the target."
G/O Media may get a commission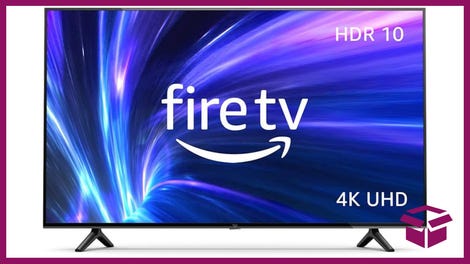 42% Off
Amazon Fire TV 50" 4K Smart TV
Definitely a win for GM. It will be interesting to see how the weather the rest of the Chinese downturn.
2nd Gear: And Another Investigation
But here's some bad news for the General. They recently learned that they're under another investigation over the 2014 ignition switch fiasco, this time from the Federal Trade Commission. This one has to do with dealers and certified pre-owned sales. From The Detroit Free Press:
The Federal Trade Commission is investigating whether General Motors dealers promoted used vehicles as "certified pre-owned" despite failing to make repairs required under publicly announced recalls, the company disclosed Thursday.

"On June 3, 2015, we received notice of an investigation by the Federal Trade Commission concerning certified pre-owned vehicle advertising where dealers had certified vehicles allegedly needing recall repairs," GM stated in a filing with the Securities and Exchange Commission detailing its second-quarter financial performance.
GM could also face fines or criminal penalties as a result of the Justice Department investigation.
3rd Gear: Here Is Your 2016 Honda Accord With Apple And Android
I'm putting this here because it's important but probably too boring to merit its own story. The big news here is that the 2016 Honda Accord, mid-cycle refreshed and set to go on sale later this year, will be among the first cars on the market with Apple CarPlay and Android Auto. So no more fussing around with Honda's infuriating infotainment system, which is nice. Via Automotive News:
When the 2016 Accords go on sale in August, they'll be among of the first on the market to offer in-car integration of both Apple CarPlay and Android Auto. The systems, available on EX, EX-L and Touring models, allows users to access many of their smartphone's features and apps through a new 7-inch touchscreen in the car's dashboard.

All versions of the updated Accord will offer Honda Sensing as an optional safety package (except the top-end Touring model, in which it's standard). This system includes pre-collision braking, lane-keeping assist, adaptive cruise control and lane-departure warning.
Can't say I'm a fan of the design, though. Remember when Accords were kind of handsome?
4th Gear: Why Buy Ferrari Stock When You Can Buy This Testarossa Instead?
What's a better investment: Ferrari stock from their upcoming spinoff and IPO, or an actual old-school Ferrari? According to Bloomberg, given the surging values of classic cars, the Testarossa may be the way to go:
Vintage Ferraris have surged nearly 7-fold in value since 2006, according to the Hagerty Price Guide Index of Ferraris, which pools prices of 13 of the most sought-after models from the 1950s to the 1970s, such as the Ferrari 250. Even newer cars, like the Testarossa, have nearly doubled over the past 12 months alone, said Rob Johnson, managing director of Kirtlington, U.K.-based Classic & Sports Finance.

[...] Still, even (investing in luxury companies) can't quite keep pace with the recent performance of a classic Ferrari. The Bloomberg European Fashion Index, which includes LVMH Moet Hennessy Louis Vuitton SE and Hermes International SCA, has by comparison slightly more than doubled since 2006, and Prada has fallen 16 percent this year to below its 2011 IPO price.
I'd take the Testarossa because you could actually drive that.
5th Gear: Mercedes Is Doing Great Right Now
This didn't make the TMS cut yesterday but it's worth mentioning that Daimler exceeded analysts' profit and sales expectations on the strength of a revamped Mercedes-Benz lineup and solid sales in China. Uno mas from Bloomberg:
Daimler's second-quarter operating profit jumped 54 percent, beating analysts' predictions, as Mercedes- Benz outpaced rival luxury-car brands in China and new models boosted sales.

Earnings before interest and taxes from ongoing business rose to 3.78 billion euros ($4.13 billion) from 2.46 billion euros a year earlier, Stuttgart, Germany-based Daimler said Thursday in a statement. Profit exceeded the 3.31 billion-euro average of eight analyst estimates compiled by Bloomberg. Profit from carmaking amounted to 10.5 percent of revenue, beating a long-standing margin goal of 10 percent. Sales jumped 19 percent to 37.5 billion euros.
In terms of global sales they're within firing distance of Audi for the first time in years, but both still trail BMW.
Reverse: Hyundai Got Them And They Lived Reasonably Happy Ever After
On this day in 1998, South Korea's government opens the bidding for the Kia Motors Corporation, the country's third-largest car company, which went bankrupt during an economic crisis that gripped much of Asia.
Neutral: How Will GM Do In Q3 In China?
How will any of the automakers do in this downturn, really? GM managed to hold out this time, but what about next time?
---
Contact the author at patrick@jalopnik.com.