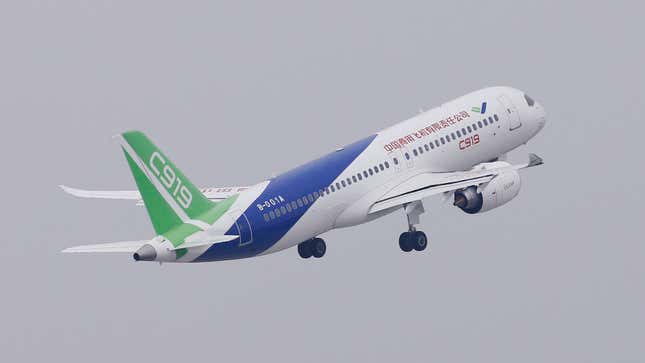 The People's Republic of China seemingly set its sights on breaking Airbus and Boeing's duopoly over the commercial aviation market. According to CNBC, Airbus and Boeing combined control 99 percent of the market for large commercial planes. The Comac C919, China's first large airliner, was delivered to its first customer last December. However, China might have used illicit means to design its first large single-aisle airliner.

In case you missed it:
Comac, a Chinese state-owned aerospace company, developed the Comac C919 to rival the Airbus A320 and the Boeing 737. It is a respectable opening effort, but the C919 lacks the passenger capacity and range to be a competitive alternative to Western offerings. The development of the Comac jet was troubled. The first prototype was built in 2015, but the first production aircraft wasn't delivered until December 2022. The single C919 delivered to China Eastern Airlines has been the only one so far.

According to CBS News, Comac procured 60 percent of the C919's components through deals with American aerospace companies. The efforts to use Western knowledge to develop the aircraft might have gone further than collaborative agreements. In a 2019 report, Crowdstrike accused the Chinese government of using espionage to steal technology. The excerpt reads:
"A major focus of this strategy centered on building an indigenous Chinese-built commercial aircraft designed to compete with the duopoly of western aerospace. That aircraft would become the C919 — an aircraft roughly half the cost of its competitors, and which completed its first maiden flight in 2017 after years of delays due to design flaws."
More information came to light after the Federal Bureau of Investigation arrested Xu Yanjun, a Chinese intelligence officer, while he was attempting to steal information from a GE aviation engineer in 2018. Xu was found guilty of espionage and sentenced to 20 years in prison late last year. Prosecutors stated that two state-owned companies involved in the C919's developments received technical information from Xu. China's Ministry of Foreign Affairs feels the charges were fabricated.

The C919 has only been ordered by Chinese airlines so far, and it will be close to a decade before Comac seriously competes with Airbus and Boeing. Reuters reports that Comac is expanding its production capacity to build 150 C919 planes annually by 2028. Airbus can produce over 50 A320s per month.

Update: After this article was published, GE Aerospace contacted Jalopnik with the following statement:

"Intellectual property is among our most valued assets, and the impact to GE Aerospace was minimal thanks to early detection, our advanced security systems, and our cooperation with the FBI, which commended GE Aerospace for the effectiveness of our security systems and assistance throughout the investigation."