It's one thing to build a Jeep Wrangler up for the rigors of extreme off-roading. But getting one ready to survive serious use at the ham-fisted hands of rental car customers? Sounds like a tall order. Doing it cost-effectively seems even harder, but apparently it's not impossible.

Nena Barlow has been messing around with Jeeps and trucks since forever. She runs an off-road guiding and vehicle rental service that helps people realize their dreams of driving Jeeps in Moab, Sedona, on the Rubicon and basically everywhere else Wranglers were made to play.
She's even been called up by Jeep parent company Fiat Chrysler Automobiles to wrangle journalists (far more destructive than the average car renter) on launches of the company's off-road oriented products like the Ram Rebel and at its annual Easter Jeep Safari.
This casual clip she shot on a phone isn't exactly a cinematographic masterpiece, but it's actually a pretty nice rundown of what a current-generation (JK) Jeep Wrangler needs to be ready for a whomping at the hands of rando renters.
Since Barlow's running a business, these Jeeps have to be prepared efficiently in terms of both time and money. So while this video is a neat behind-the-scenes look at a Jeep rental operation, it might also serve as a good guide to which modifications you might want to prioritize if you've got a shiny new JK Wrangler and want to get it dirty but don't know where to start.
G/O Media may get a commission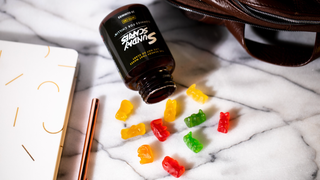 10mg CBD Gummies (22-Count)
Barlow forgot one key tip though: that windshield's gotta go.