Recovery from a major natural disaster doesn't happen overnight. There are still folks along the Gulf Coast who are still struggling to rebuild after Hurricane Harvey tied Hurricane Katrina for the most destructive storm in US history in 2017. So, Robb Holland had an idea: To transform a Toyota 86 flooded during Hurricane Harvey into a race car in order to raise awareness and drive funds to the State Firefighters and Fire Marshals' Association of Texas. Here's how it went.

The biggest hang-up, oddly enough, was finding a manual 86. Holland tried to find a minimally damaged car to avoid having to chase too many gremlins down, and while they existed, all of the ones he could find were automatic. So, a transmission swap was in order. After that, plus the addition of a kit of mods from Toyota Motorsports that was originally put together to run Toyota 86s in a one-make VLN racing class at the Nürburgring, we had a race car that could be entered in the World Racing League race at MSR-Houston.

Weirdly enough, another hang-up was finding a charity that was still accepting donations related to the hurricane. I live in Texas, so I still see some of the lasting devastation whenever I go along the coast, yet because it's not the latest news headline anymore, many of the efforts focused on recovery have closed up shop.

Fortunately, Robb was able to find a worthy cause to drive donations to over the weekend: the State Firefighters and Fire Marshals' Association of Texas. Their group includes some of the first responders who helped out during Harvey, some of whom were still struggling to make ends meet. The SFFMA got a nice bump in donations from the weekend, and of course, if you're interested in helping out some of the guys who put their lives on the line to help out during Harvey, you can do so at their website here.
G/O Media may get a commission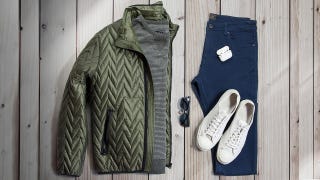 60% off
Jachs NY Fall Sale 60% Off
So, if you find yourself picking through salvaged car listings wondering what you can do with seemingly DOA cars, maybe it's worth giving it a try. The 86 was a blast to drive and finished Saturday's race with a respectable fifth place finish in its class.

[Full disclosure: Salvage car sales company IAA was the primary sponsor of this car.]