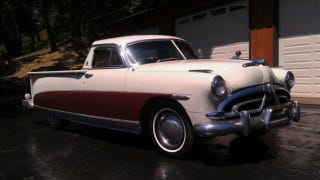 From the looks of this custom 1953 Hudson Hornet pickup truck, you'd think the brand never discontinued truck production in 1947. Unfortunately they did, so this Hornet-amino is unfortunately just a well executed custom vehicle rather than a mass produced car/truck hybrid.
After building pickup trucks for years Hudson made the decision to stop truck production at the end of 1947 when the brand's unit construction "step down" automotive designs were introduced.
Sure the new unit construction wasn't the most conducive platform for a pickup design, but as this unique Hornet proves, it sure looked good. According to the dealership offering this custom Hudson on Hemmings.com this one was put together in the early 1950s by the Hudson factory and used as a shop truck.
It doesn't seem like there is any concrete documentation to prove this, but there is at least one other Hornet truck also believed to have been built at the factory as prototype. Regardless of exactly where or how this Hudson was put together the result is undeniably cool.
We'd say the asking price of $19,950 is pretty reasonable for such a nicely put together custom Hornet pickup truck.
[Hemmings]