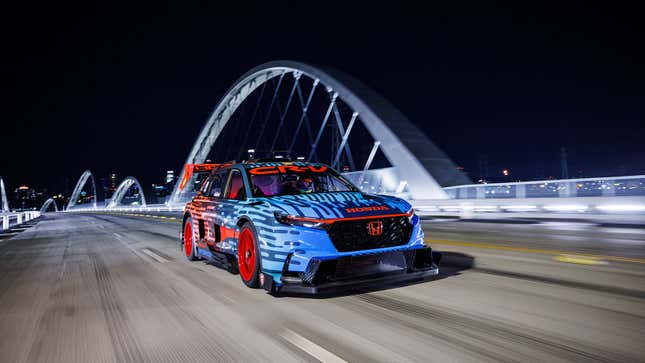 Every now and then, a car company comes up with something so bonkers that you have no choice but to sit back and soak it all in. Aston Martin did this with the Victor a few years back, and Nissan had its own attempts at something outlandish with the DeltaWing. Now, Honda is here to hog the limelight with a new CR-V racer that's powered by an IndyCar motor.

Engineers at Honda Performance Development (HPD) wanted a way to showcase the new hybrid tech that will finally debut in IndyCar next year. The mild hybrid powertrain pairs a gas-powered, 2.2-liter, twin-turbocharged V6 with an electric motor-generator unit and supercapacitor energy storage system. The new power units will kick out almost 900 horsepower when they hit the track next year, a massive increase over the 750hp you find on track today.
To show off its new tech, Honda decided to build a one-off race car concept from the only logical vehicle in its fleet: the CR-V Hybrid.
The finished racer is an absolute beast. As well as the Honda IndyCar engine, the one-off show car packs in a full custom tube frame and custom carbon-fiber bodywork below the beltline. HPD engineers also gave the racer the front suspension from an Acura NSX GT-3 Evo22 race car, and the rear suspension straight out of a current-generation Indy car.
Other components plucked from a race car include the radiator, which is a modified version of the model used in a current generation Indy car. There's also a set of the same 15-inch Brembo brake rotors fromthe Acura NSX race car, and 14-inch brakes adapted to work with the rear suspension.
All this has been finished off with a slick blue and red livery to create a car that has no business looking as cool as it does. So, to revel in the awesomeness of this creation, sit back, relax and flick through 15 beautiful pictures of the coolest SUV you'll ever see.