Wow. Such PR. Very buzzword. Many catchy. So bullshit. The word "emotional" and whatever it stands for has a kudzu-like hold on the automotive industry at the moment and it's frustrating for consumers because no one knows exactly what the hell it means.
I reached my peak "emotional" when I saw it used in Patrick's story about the next design for the everything-but-emotional Toyota Camry. According to Bloomberg:
The aim for the next Camry is a "more emotional, more impactful design," Kevin Hunter, head of Toyota's U.S. design studio, said in an interview at the North American International Auto Show in Detroit this week. "Camry's taken some hits on styling, but it's still selling well. But we need to create better design for Camry in the future."
I don't know why "emotional" became the word of choice but it needs to die. Because it's being used for everything by every one. Cases in point:
The Acura TLX press release:
The all-new model will feature more emotional styling with tidier, sports sedan proportions wrapped around two all-new advanced powertrains that provide even more athletic performance, along with a host of signature Acura technologies.
G/O Media may get a commission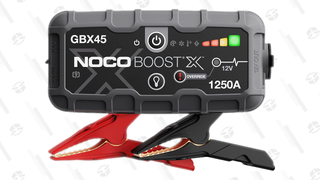 13% Off
Noco Boost X GBX75 Jump Starter
On the first-generation Nissan Murano:
"Emotional design, emotional appeal. The second Murano probably lost a little bit of (that emotion)."
On the Toyota FT-1 concept, again from Kevin Hunter:
Akio Toyoda, the new CEO of the company, wants his design teams to take more risks and design "products that connect on an emotional level," says Hunter. "In the past we relied more on consumer studies and internal consensus. ... There is less reliance on consensus now."
On the Fiat 500L (guilty, because I wrote this):
The 500L also trades on "emotional" buyers looking to make a statement with their purchases.
On the 2015 Chrysler 200:
On its exterior, Gardner said Chrysler wants the sportier 200S and the more luxurious 200C to have a signature look "whether it's coming or going" and to have that "classic American" design. "It had to have an emotional impact," Gardner said.
From the BMW i8 Concept Spyder press release:
The BMW i8 Concept Spyder with eDrive is an open-top two-seater embodying a form of personal mobility with equal sporting and emotional appeal.
From the Volvo Concept Coupe press release:
"Releasing the emotional power of our human-centric design heritage is one of the key elements in this strategy."
On the Kia GT4 Stinger:
"I think we still have a demand on more emotional products like a sports car, that we've done with Kia, and a convertible for both companies somehow to round off the image and the product range," he said.
I don't think I need to go on, but I think it's safe to say that the next-gen Camry, the new Chrysler 200, the old-ass 1st-gen Murano and the Kia GT4 Stinger can't all be emotional at the same time. Is Carl Thomas doing freelance public relations coaching or something? Is there no other word in the thesaurus that will do?
I've read scores of press releases and done just as many interviews and I get bugged with the word "emotional" being thrown out there because after all this time, I still have no idea what it means. Obviously a car can inspire some emotion. What kind of emotion, exactly? What am I supposed to feel? What do you want me to feel?
Is that emotion joy, anger, ecstasy, boredom, disgust... arousal?
I'm going to pick on the Camry a little bit more because even Toyota knows that the current design isn't "emotional" or whatever. So what kind of emotions do you hope to stir in the next Camry buyer? Because certainly no strong emotions are coming from a vanilla purchase like a Camry.
All I ask is that in an industry that thrives on creativity — or, as some would have it, an industry that thrives on the endless desires of creatives with stifled creativity — that we come up with a new word, please. Or at least be more descriptive. If you're a designer or engineer reading this, please pass this along to the guy or girl you know in the PR department that's real cool so they can bring it up in the next meeting with the bosses so you guys can be coached on some better things to say to the press. The only emotion I'm feeling right now is frustration.