Car salesmen get a bad rap, and sometimes it's deserved. But some salespeople are willing to go above and beyond the call of duty to serve their clients — like pulling them out of a burning McLaren 650S, for example.
01:08
Danny DeVito Explains Old-School Car Customizing to His Daughter Lucy
Today 1:13PM
That's what happened last fall in England with salesman Lee Christian, who rescued one of his customers from a supercar as it burned following a crash during a test drive. Christian, 37, was given a bravery award by police recently for the act, the UK's Mirror reports.
The newspaper reports that the customer was test driving the 650S with Christian riding shotgun when he lost control, drove into some bushes and struck a tree. Christian thought they were fine at first, but quickly realized two things — one, that the driver was hurt, and two, that there were flames in the back of the McLaren. Those things are bad.
With his passenger door jammed, Christian climbed over the other man in the driver's seat, opened the door, and made several attempts to pull the critically injured customer out of the car, finally succeeding on his third try.
He explained: "The fire was so intense that it was difficult to get to him and on the third attempt I knew it was going to be now or never.
"I managed to grab him by his trouser belt and by an arm and with my feet against the vehicle managed to pull him out. What is even more surprising is that I then managed to carry him 30 metres into the field with the car behind me banging and exploding."
G/O Media may get a commission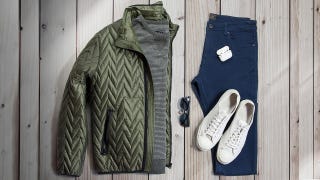 60% off
Jachs NY Fall Sale 60% Off
The Mirror's website has photos of the melted McLaren, which I would post if I had the rights to use. (Instead you'll have to settle for my shitty Photoshop above.) One of the firefighters later told Christian it was one of the worst car accidents he had seen without having to pull bodies from the wreckage.
The driver was life-flighted to an area hospital, and today he continues his recovery from fractures and burns, the newspaper reports. But he's alive thanks to Christian, who was also cut and burned in the wreck. He's back at work at the McLaren dealership, and in addition to the commendation by police, he's received two letters from the customer's wife thanking him for saving her husband's life.
Job well done, Christian. I think the world needs more car salesmen, and more people, like you.
Hat tip to H!