There's a replacement in the works for the 1,160-horsepower Koenigsegg Agera RS, and it's scheduled to show up at the 2019 Geneva Motor Show in March. In a photo that more resembles a T-shirt design than a teaser photo for a new car, we now know exactly what a rough, basic outline of it looks like.
And we're no scientists or fancy image interpreters over here, but it looks like this new car will have a giant rear wing. Don't take our word for it, though. See your own truth in this one.
It's only fitting for Koenigsegg to start teasing a new car, since production of all 25 Agera RS models ended about three months ago. Koenigsegg didn't say much about the car in teasing it, and even buried the photo in a press release about opening a new dealership in Australia. Here was the only mention of the car:
Australian customers were given a world-first preview of the Agera RS replacement vehicle in the form of a silhouette sketch shown during the presentation.

As all Regeras were sold prior to Koenigsegg's arrival in Australia, this eagerly anticipated new vehicle – due for its world debut at the Geneva Motor Show in March 2019 – is the only new model available to Australian buyers at present. Keen customers also had access to the same virtual-reality presentation of the vehicle that was made available to VIP's at the 2018 Geneva Motor Show.
Because automakers are all about numbers and brands, though, we can make an educated guess. "Successor" cars usually mean more powerful cars—even if the predecessor is a 1,200-HP, record-setting monster.
The Agera RS made a record speed run in Nevada of 277.9 mph, averaged over two runs topping out at 272 mph and 284 mph each. That latter speed is almost 20 mph faster than the 267.8-mph Bugatti Veyron Super Sport run without its factory speed limiter, and the Veyron is a fast car, if you hadn't heard.
G/O Media may get a commission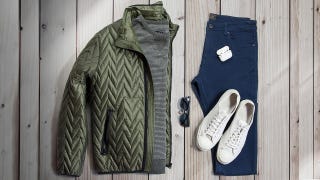 60% off
Jachs NY Fall Sale 60% Off
Of course, Koenigsegg could also surprise us all and come out with a 180-HP Miata competitor that has a giant wing on the back. After all, weight wars are going to become a thing, right? Right? That's not just us?