Volkswagen has struggled with the American car market. That's something that has been true for decades, maybe dating back to the end of the original Beetle. Then Dieslegate happened, and it set the world's largest automaker even further behind. Now VW finally has one product that should resonate with American car buyers—but there is only one way the Atlas can carry the brand.
Volkswagen has made some good cars for the U.S. Vehicles like the Sportwagen, GTI, Golf R, and iconic Beetle have an enthusiastic but relatively small fan base. But niche models don't do much for overall sales figures, and more mainstream offerings like the Jetta, Passat and Tiguan, have floundered compared to the competition. Furthermore, while overall quality has gone up, VW still suffers from a reputation of below-average long-term reliability.

The biggest issue for a long time has been offering vehicles Americans want to buy. Lately, that means a three-row crossover—or rather a three-row crossover that was positioned at an appropriate price point for the brand. The Touareg was a nice ride, but with a starting price of almost $50,000 that was a tough sell for buyers who could easily grab a well-equipped Acura MDX for the same money and not have to gamble on maintenance costs. The Tiguan was cheaper, but it was also considerably smaller than the competition at that price.
G/O Media may get a commission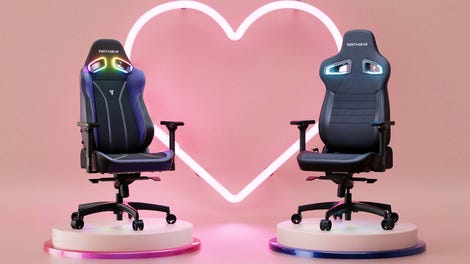 Up to $150 off
Vertagear Gaming Chairs
Pricing has not yet been released for the upcoming Atlas, but it's safe to say that Volkswagen has learned its lesson from the Touareg and will probably price the Atlas somewhere within the boundaries of the Ford Explorer and Honda Pilot.
But I'm afraid a realistic pricing strategy won't be enough to get the customers that Volkswagen desperately needs. The only way the Atlas is going to sell in significant numbers is if Volkswagen is aggressive with incentives out of the gate. This may sound counter-intuitive for a brand new car that is supposed to present a more "premium" offering within the same space, but the days when American car buyers were willing to pay a little more for "German engineering" without the luxury prestige are over.
We already know that dealers are unlikely to be generous with discounts on a brand new car, so it will be up to Volkswagen corporate to give buyers an incentive to try something new.
Why are factory rebates necessary on a car that should he a hit without any help?
Buyers Tend To Stick With Safe Bets
According to GoodCarBadCar.net, in 2015 the top three, best-selling three-row crossovers in the non-luxury segment were the Ford Explorer (249,251 units), Toyota Highlander (158,915 units) and Honda Pilot (136,212 units).
From a consumer perspective, all three cars offer a good mix of reliability, value, and practicality. Buyers of these respective crossovers tend to be pretty brand loyal as well.
In order to make a dent in this segment, VW needs to poach buyers from other brands and that's not likely to happen Volkswagen prices the Atlas with a similar MSRP and does not offer additional discounts.
It's The Only Way To Stay Competitive With Leasing
Given the diesel cheating scandal, Volkswagen's residual values have taken a pretty hard dive. As I mentioned in my post about the Golf Alltrack, this results in Volkswagen models not being competitive when it comes to lease payments.
If the resale value on the Atlas proves significantly lower than segment leaders like the Explorer, Highlander and Pilot, but transaction prices are about the same, the Atlas will most likely have much higher lease payments and that will send buyers elsewhere. Utilizing strong factory incentives can reduce the capitalized cost on the lease and help equalize the low residual value, thus putting Atlas lease programs more in line with the competition.


Maintain Brand Loyalty
Not only does VW need to steal buyers from other brands, it needs to give current owners, many of whom are frustrated, a reason to stay and give the Atlas a try. As of now Volkswagen hasn't offered much in the way of customer loyalty rebates that are anything above and beyond any other brand is doing. Furthermore, the conquest rebates offered by the competition are often enough to offset most if not all of the loyalty cash from VW.
Three-row crossovers are often an upgrade for current owners within a brand whose lifestyle has now dictated a larger vehicle. For example, a Honda Accord driver is more likely to get a Pilot when the need arises due to brand familiarity and positive association with the ownership experience.
Right now many Volkswagen owners have a negative association with owning a TDI. That psychology is powerful, and the only way to overcome it is with cold hard cash.
Follow Fiat Chrysler's Lead
When Fiat Chrysler launched the all-new Chrysler Pacifica minivan, the brand took a risk and priced some Pacifica trims well above similar vans from Honda and Toyota. Chrysler knew that few buyers would be willing to pay more for a Pacifica given the stellar reliability that the Sienna and Odyssey offered. So they piled on the rebates and dealers pitched in with discounts to make the Pacifica a better value proposition than the imports on both a sales and leasing front.
Currently, there are several customer rebates, including $1500 lease cash, on a 2017 Pacifica; that's in addition to dealers that are willing to sell the car well below dealer invoice before applying the factory incentives. In September the Pacifica was the second best selling minivan with 9,172 units, just slightly behind the Sienna with 9,269 units. (The minivan game's not what it used to be, fam.)
With the new Atlas, Volkswagen can't just say: "Okay America, here is your three-row crossover, give us all your money!" That's only part of the challenge. The brand can't rely on "premium" to sell anymore, instead, it's going to be value that will win back buyers.