This Wednesday, things went sort of nuts when President Trump tweeted that GM's Lordstown Plant would be bought by Workhorse, a maker of electric trucks, even though the deal is by no means settled. Most of us don't know that much about Workhorse, and collectively we seem to have killed their website trying to find out more. So here's a bit of a primer about the not-exactly financially stable hopeful EV truck maker.
Workhorse got its start back in 1998, doing something very different than EVs. The company was founded to take over production of GM's popular P30 and P32 step-van chassis. You know the kind of vehicles these are—they're food trucks and delivery vans and that sort of thing; useful, ubiquitous, and often just part of the background tapestry of modern life.
In 2005, Navistar, the company once known as International Harvester, bought Workhorse, and in addition to the bare chassis they sold, added a full step van with a body called the MetroStar.
G/O Media may get a commission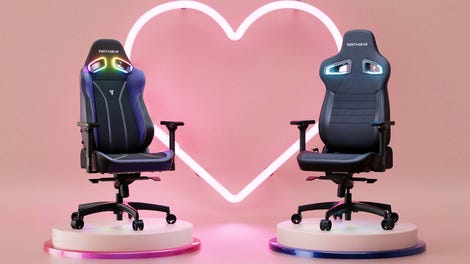 Up to $150 off
Vertagear Gaming Chairs
Around this time an electric van called the eStar was released by Navistar, but it shared only managerial connections to Workhorse.
By 2012, Navistar shut down Workhorse as part of cost-cutting measures. All of this is detailed in an archived page off of, wonderfully, RVBusiness.com.
The next year, AMP Electric Vehicles agreed to buy Workhorse's IP, patents, logo, brand, and assembly plant, with the intention of building alternative-fuel delivery vehicles on Workhorse chassis, as reported by TruckingInfo at the time.
AMP Electric Vehicles had previously been in the business of converting ICE vehicles to battery electric vehicles, as Green Car Reports discussed in a contemporary article, doing conversions such as an EV Jeep Grand Cherokee and an EV Chevrolet Equinox. So it was with the purchase of Workhorse that the company pivoted to focus on producing EV trucks and delivery vehicles.
The best-known vehicle to come out of this new Workhorse is its attempt at a mass-market electric pickup truck, the W-15 pickup truck. Workhorse claims that:
"The Workhorse W-15 is the first plug-in range extended electric pickup built from the ground up by an OEM."
...and while this could be true, I'll admit I am a little suspicious that it's an entirely unique vehicle. While the body panels of the W-15 are said to be made of carbon fiber (likely switching to a cheaper composite for production) I see an awful lot of resemblance of the W-15 and the GMC Sierra 1500, especially in the proportions, greenhouse, door sizes and shapes, window glass, A-, B- and C-pillars, and so on:
I'm just speculating here, but I have reached out to the experts at Munro for their opinion and will update if I get any input from them.
Compared to other EV trucks like the Rivian, the design and engineering of the W-15 feels pretty clunky and crude; the styling seems amateurish, and the specs aren't exactly impressive. Sure, the dual electric motors making about 450 horsepower is impressive and gives a very good 0-60 time of 5.5 seconds, but the far more important number, the range, is a pretty disappointing 80 miles.
The W-15 does have a range-extending motor to help with the limited range (in this case, a 1.5-liter BMW three-cylinder, not unlike what BMW uses in the i8 ), but if you're relying on the range extender a lot, you may as well be running a gasoline-powered truck.
The final design and specs of the truck do not appear to have been set, though, so we may see changes when and if the W-15 makes it to production.
Even with the announcement of the potential Lordstown plant purchase, things are by no means clear just how Workhorse is going to pull all this off.
The most recent financial statements from the publicly-traded company seem to show a company with $2,847,936 cash on hand, and a long-term debt of $8,441,129. As of March 31, 2019, they had a net loss of $6,264,172.
The company has never really made any money, and it certainly isn't rolling in it now. If it is to buy the plant, it won't be with its own money, since it, you know, doesn't have any.
As we mentioned in our story from Wednesday, any deal to buy the plant would have to come from some newly-funded entity, and not through Workhorse itself. It's not even clear if the product produced from this venture would be the Workhorse W-15 pickup truck at all.
Workhorse is also in the running, in partnership with VT Hackney, for the contract to produce the next-generation USPS mail truck. Perhaps this plant purchase is in anticipation of getting this deal? We've heard nothing from the Post Office to suggest any vendor has been selected.
There's some other confusion going on with Workhorse; one of the stranger ventures that it's involved in is a drone-inspired Octocopter, which I actually got to see and sit in at the Detroit Auto Show earlier this year:
The electric aircraft is certainly interesting, but still very much a prototype.
Let's try to sum up a bit here: Workhorse is a company that started making step van chassis, was bought by a company that converted ICE vehicles to EVs, and is now developing a not-too impressive EV pickup truck, and, oddly, an electric octocopter.
It never made money, it's in a good bit of debt, and it might be buying an old GM plant.
We wish it the best.