Now that the Tesla Model 3 is finally here in production form with the earliest deliveries going out last night, it's time for the wave of driving impressions. Here's what people are saying about how the Model 3 looks, feels and performs in the real world.

On paper, the Tesla Model 3 has a claimed 0-60 time of 5.6 seconds with the standard 220 mile range battery trim and a 130 mph top speed, or 0-60 in 5.1 seconds with the longer range 310 mile battery that tops out at 140 mph. Its platform is similar to that of the Model S and Model X, with a low center of gravity thanks to the low-slung, sled-like battery positioning.
It's obviously the smallest car in Tesla's current lineup, but still offers seating for five, enough storage up front for a carry-on bag, and a revised trunk opening from the concept model shown off last year. So what is like to drive the Model 3?
You can check out a brief video drive over on MotorTrend, who described the ride as sporty, with almost no body roll, decent steering feedback and sharp handling. From MotorTrend's write-up:
The Model 3 is so unexpected scalpel-like, I'm sputtering for adjectives. The steering ratio is quick, the effort is light (for me), but there's enough light tremble against your fingers to hear the cornering negotiations between Stunt Road and these 235/40R19 tires (Continental ProContact RX m+s's). And to mention body roll is to have already said too much about it. Sure, that battery is low, way down under the floor. But unlike the aluminum Model S, the Tesla Model 3 is composed of steel, too, and this car's glass ceiling can't be helping the center of gravity's height. Nearly-nil body roll? Magic, I'm telling you. Magic. And this is the single-motor, rear-wheel-drive starting point. The already boggled mind boggles further at the mention of Dual Motor and Ludicrous.

G/O Media may get a commission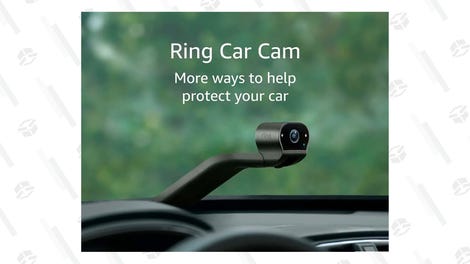 Electrek's first impressions detail the interior, revealing that the Autopilot activation is now clearly labeled on the stalk on the right of the steering wheel with the other drive options. Also notable is mention that the regenerative braking on the Model 3 feels substantially weaker in the driving dynamics than on the Model S and Model X.
Electrek also noted that they weren't too comfortable looking at the center screen for driving information, and that it would take time to get used to, from the write-up:
The left side [of the screen] is definitely more animated when in drive. The renders of the Model 3 and surrounding vehicles appear on the screen like they do on the instrument cluster of current Model S and Model X vehicles with Autopilot.

The area which shows charging information above changes when the car is in drive to display gears and speed of the car. There's also a very small animation of the power consumption.

I wasn't comfortable with looking at it too much while driving, but I have to assume that drivers could get used to it after an extended period.
For those curious about the build quality on the new Model 3, USA Today reported that the fit and finish was good, but of course this is a demonstration model that was probably carefully screened before issued for test drives. From USA Today:
The fit and finish of this Model 3, which was among a few dozen handed over to employees at a ceremony Friday led by CEO Elon Musk, was tight. Panel gaps were perfect. Doors open and closed with a solid thunk. Now, Musk just needs to, as promised, make 499,999 more a year to the same standards.

So where are the compromises? If the Model S and X scream high-tech science experiment, Model 3 whispers it.

As for interior volume, the best word came from Tim Stevens over at Roadshow, who said there isn't much concern over fitting whatever you might need in the Model 3:

I'm six feet tall, yet with my short legs I sit tall and often struggle to get comfortable in the rear seats of even full-size cars. I had no problem in the Model 3. Instead of a traditional roof liner, there's nothing but glass over your head in the back. While I do wonder what this'll mean on a hot, sunny day, it does make for some very lofty seating.


And then there's the trunk. Here I was concerned because the rear glass does not swivel upward, this is a sedan not a hatchback, and from looking at the earlier concepts it sure seemed like you'd be left with a narrow opening back there. But, the trunk, though shallow, opens up high and gets well out of the way. There's actually a very large trunk opening and a plenty-deep trunk.

Two bags of golf clubs should be no problem. I bet you could even manage four.
Other than that, Top Gear had the only initial impression that mentioned an actual demonstration of Autopilot while in the Model 3, and the experience sounds on par with what we've come to expect with the semi-autonomous system in Tesla's other cars.
All of these initial impressions were in the Long Range trim Model 3, which is priced higher at $44,000, and many of the test cars were apparently owned by Tesla staff and had been option well beyond that price point.
Overall, things look good for Tesla's revolutionary new electric car, but of course nothing compares to long-term testing and the revelations of actual ownership. Still, this is a strong start, and if Tesla can deliver a sporty, reliable driving experience with a tight finish to all of its claimed half-million deposit holders, the Model 3 just might live up to its hype.