Traditionally, four-door automobiles are the ones passed over in favor of automotive counterparts with fewer doors. But not today, Chuck. Last week I asked you to find the best four-door sedans that made driving pleasure their top priority, for less than a $10,000 budget, and here's what y'all picked. Notbad.jpg
---
10. 2004 BMW 3-Series
---
This BMW is used by everyone, for everything. It's the umpteenth iteration of what Germany considers to be "the automobile", and through its countless prior generations, it's managed to do almost everything perfectly. Whether it's the 325i or the slightly more punchy and powerful 330i, it's a chassis that serves as a great primer into your fantasy of moonlighting as a race car driver. It's a lot of car for the money, and if it's taken care of well, can be quite reliable. These models are not in short supply, so buy the best one you can for the best price you can afford.
(Suggested by emm3, g101010101)
---
9. 2000 Jaguar XJR
---
G/O Media may get a commission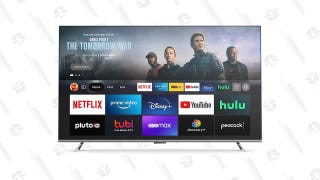 Save 46%
Fire TV 55" Omni Series 4K UHD Smart TV
Mmmm. Supercharger. Wood on the Dashboard. Unsigned divorce papers in the glovebox. What more could you ask for with this supercharged Jaguar XJR, that looks the part of a designer three-piece suit, hiding the fact that it was bought at a thrift shop with money you got by pawning your gold-plated wisdom tooth? This car is one of the last Jags that had the Ye Olde English heritage and styling, so it's one to remember and hopefully add to your collection, if you don't mind being associated with the guy who is so dreadfully sorry that he left his wallet in his other pants, but would like to thank you for footing the bill, the Surf and Turf was delicious.
(Suggested by Chevy Sonic the Hedgehog)
---
8. 2000 Mercedes S500
---
This Mercedes S500 is one of my favorite cars, for a good reason. It's because it's a monumental automotive experience for the money. Let's see, for way less than the allowed budget, you can get a car with heated and ventilated seats in front and back, a 302 horsepower V8 engine, parking sensors, and front massaging seats. On top of a million other things that make your drive to the office way more enjoyable than Bill from Accounting, who can't shut up about his stupid new Hyundai. You can buy this car, take off the gaudy chrome trim and Swarovski crystal inlays, and have yourself an understated, top-of-the-line cruiser for almost no money at all.
(Suggested by JayHova)
---
7. 2007 Volvo S60 R
---
In the beginning, there was the BMW M3. And it was good. Volvo saw the BMW hogging the limelight, and said to their designers "We have to make that, only ten times as... safe." And so they went, creating this awesome "M3 killer" that didn't really put a dent in the German autobahn crusher's armor, but it was a damn good car in its own right, with all wheel drive and an interior out of the best IKEA catalog. I'd own one, because it's not likely another nutty performance sedan will come out of Sweden, with Koenigsegg clearly hoarding all of the potent hallucinogenic substances for themselves.
(Suggested by TurboS60)
---
6. 1959 Panhard PL17
---
Panhard was a French car company that was acquired in the mid-1950s by even Frenchier car company Citroen. This meant that they took the styling and mechanicals of the cars produced into strange avenues. Case in point: This lovely, mostly original Panhard PL17. It had a whopping 50 horsepower from the factory, front suicide doors, and was priced out of the market, because of course it was. But good news, you can now buy one for way less than any post-ironic hipster's annual Apple Care budget. You can be an actual genius by buying a car that no one has, and having a novel driving experience every single day. That is, of course, until something breaks. Then you're screwed.
(Suggested by p.d.morgan33)
---
5. 2003 Lexus IS300
---
This Lexus IS300 will never die, and that's one of the things about the Lexus brand that stands out above its beige on beige looks - the fact the cars, if reasonably looked after, will never quit on you. The 2JZ-GE engine in this car is equipped with VVT-i, a variable cam control technology that amounts to a bit less horsepower than the older naturally aspirated 2JZ variants, and certainly comes nowhere close to the turbo power output of the Supra's 2JZ-GTE. That's easily remedied by doing a complete drivetrain swap, which takes this car from comfortable cruiser to world-fighting super sedan. Yes, it's that good.
(Suggested by Trendie)
---
4. 1986 Mercedes 560SEL
---
This nearly three decade old German tank is, and always will be the boss. It's reliable as hell, has a timeless and elegant look, and is widely regarded as an icon of one of the greatest automotive eras ever. I'll let Patrick Frawley explain:
The finest mainstream luxury car of its day and the apex of Mercedes mechanical engineering. Still all kinds of high-class bad-ass today.
(Suggested by Patrick Frawley)
---
3. 2009 Saab 9-3 X
---
An all-wheel-drive, six-speed manual, turbocharged Saab is like walking into a supermarket and being told you're the millionth customer, and everything you buy for the rest of the year is free. It's almost an overwhelming amount of info to take it at once.
First, it has torque vectoring, meaning that it allows the car to rotate better in turns and gives the wheels that grip more power than the ones that slip. Next, it has an engine that can withstand supernova-levels of power on the stock bottom end, a trait that is sorely missed in more contemporary cars. While this one may be a salvage title, there isn't much that can go wrong on this car, other than the differential, and it's a quickly sorted fix. It's a ton of car for a few pounds of cash.
(Suggested by tehkav)
---
2. 2001 BMW 740i M-Sport
---
Here's an issue I have with this Bmw 740i M-Sport: There was never an M7, but a Sport version was created to bring the car closer to the "Ultimate Driving Machine" namesake it so proudly advertises, which is a bit weird to me, because there's no actual standard for what a sporty 7-series should be. Perhaps I'm being pedantic, and if there's going to be a sporty luxobarge wearing the BMW badge, this one is at least good enough to be used by Jason Statham in The Transporter (yes, I know it was actually an older 735i) and James Bond in Tomorrow Never Dies (yes, I know it was actually a 750iL). It's a great driving, looking, and sounding fix-figure car for a four-figure price tag.
(Suggested by 9brghtn4)
---
1. 2006 Lincoln LS Sport
---
The Lincoln LS is a nearly forgotten relic of the early 2000s, but perhaps it shouldn't be. I'll let upstairs explain:
2004-2006 Lincoln LS. V8, 50/50 weight distribution, RWD, Built in America. Second generation LS's were the Jaguar sourced 3.9 V8 only. 280HP/286TQ. Almost perfect 50/50 weight balance and handling that is really unexpected, I mean really good handling, the DEW98 chassis is still used in the highly praised current Jag's. 5 Speed Auto trans, is what it is, good enough for use in the same year Mustang and more. The 1st generation LS had a 5 speed manual if that is your thing but it was on the V6 only.

Nice leather interior. Very good ride quality. Decent creature comforts for it's age like heated/cooled seats , 6CD changer or Nav. Whisper quiet inside. Almost perfect safety rating from both the IIHS and NHTSA. Even called the LS "one of the five safest cars of all time" by CNBC. It's a common joke on my LS forum to find a wrecked LS that has damaged/lost the sunroof, the passenger compartments on these are almost never compromised. 2000 Motor Trend car of the year. Nice models with low mileage can be had on Ebay all day long without struggling.

While the power leaves a little to be desired during launches for a true performance car today, it was a decent hot rod in 2006. It is a very good highway cruiser and the beauty is almost no one knows what the hell just passed them. Mine is lowered and has an exhaust, get compliments all the time.

My car stickered for 43k in 2006, I bought it used with 50k miles in 2011 for 9k. Lots of car for that price. Most people always make a comment about reliability but its been wildly overstated. As with ALL cars, first generations can be difficult, which is the case with these. The second generation LS's are well put together and got a really decent style update to boot. Hell, it has almost an identical lower front bumper as the GT500.

In 4 years of ownership I've replaced the coil packs and the alternator. Coil packs are this cars problem issue. It eats them. If you get a 2005 coil pack replacements are under warranty. 2006's are not, but supposedly use a better design.

Best car? Probably not, but certainly deserves a mention given this criteria.
(Suggested by upstairs)
---
Tavarish is the founder of APiDA Online and writes about buying and selling cool cars on the internet. He owns the world's cheapest Mercedes S-Class, a graffiti-bombed Lexus, and he's the only Jalopnik author that has never driven a Miata. He also has a real name that he didn't feel was journalist-y enough so he used a pen name and this was the best he could do.
You can also follow him on Twitter and Facebook. He won't mind.