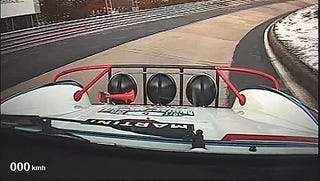 Do you see that magical opening in the barriers? That light at the end of the forest tunnel, where the dirt path cedes to glorious go-fast tarmac? That's the Nürburgring's grueling Nordschleife course, and here's a rally-prepped Porsche 911 SC driving it in a direction that's usually verboten.

The Feste Nürburg stage of Rallye Köln-Ahrweiler includes one of the few chances drivers will ever have to drive the world's most infamous one-way toll road backwards. There's a chicane added to slow rally participants down on the cold, slick winter pavement, but otherwise—sure enough—that's the Nürburgring that haunts every car nut's dreams.

Best of all, we get to watch this year's running of Feste Nürburg onboard the Martini-liveried Porsche 911 SC rally car of SO Racing Team, driven by Stefan Oberdörster with co-driver Olaf Heupel. Between the light pod out front and the loud purr of the flat-six coming from its rear, this is all that's right with cars in one video.