Say you are in the market for sports car with the engine were it should be, sitting right behind your shoulders. You want a red one, because that's the proper color for such things. Then you check your bank account and your exotic dreams are crushed. Don't fret, this 1989 MR2 is calling you.
Many of us fantasize about a weekend car for cruising, canyon carving, or attacking our local race track. A car that throws practicality aside for pure driving enjoyment. Car Buying has scoured the internet to find a ride for your perfect Sunday Drive!
G/O Media may get a commission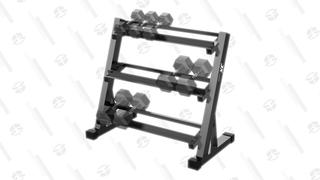 20% Off
JX Fitness Dumbbell Rack
Gains but tidy
Has a three-tier design to help store more weights more conveniently, can safely support up to 1000lbs of weight, which should be enough for most people, has a triangle base for stability, and also features anti-scratch feet which is great if you've built your own studio or workout in your garage.
The Toyota MR2 comes to us from a time when your average Joe could afford a brand new mid-engine sports car. When the MK1 MR2, or AW11, arrived on our shores in the 80's, it looked like it came from the future. It also drove like nothing else, with the its short wheelbase, ultra light weight body, and Japanese reliability it was an "exotic" that you could enjoy everyday and not have to worry about racking up the miles. The most desirable Aw11s were the supercharged versions, made only from 1988-89, that cranked out 140hp.
This particular car is a meticulously maintained example with only 83,200 miles on the clock. Just like any other futuristic car of the time, it took a special owner to love an care for it.
This car was sold brand new at Rodland Toyota in Everett, WA on January 18th 1990 to its one and only owner, a VERY particular Boeing engineer. This car was his prized possession and was only driven on nice days. He loved this car as if it were his child, not even allowing anyone to wear shoes in the car. When I test drove the car I was the only other person other than the Toyota mechanic drive the car!
According to the seller the body is in "like new" condition considering the age of the car, there are no mechanical imperfections, which may justify the current bid if just over $12,000.
This is the point where many of you drop into the comments all the "better" cars you can get for twelve grand. But if you don't have a DeMuro budget, and want an ultra rare, mid-engined sports that you can actually use everyday, this MR2 has most of the positives of an Italian exotic (except for the power) and none of the negatives.
(H/T to SN210)
(Have a tip for Sunday Drive, drop me a line on Twitter @AutomatchTom or AutomatchConsulting@gmail.com and don't forget to include your Kinja handle.)