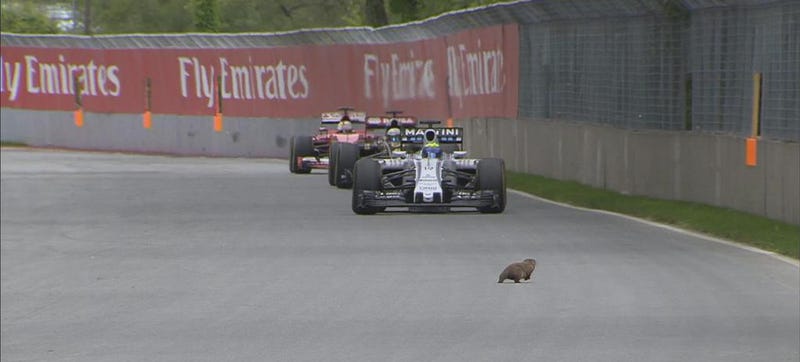 Groundhog, you are no Ballast Possum. For that, we are thankful, and you may live—for now, at least, provided you don't try this again on Circuit Gilles Villeneuve. Here's a little critter who tried to play in traffic at the Formula One Canadian Grand Prix.

Critters are a menace on the racetrack, perhaps even more so than hooptie power unit problems and crashy pay drivers. Not only does the poor little varmint usually lose the Varmint vs. Race Car battle, but they can do major harm to a race car, especially at Formula One's high speeds.

This isn't the first time the Canadian Grand Prix has had issues with groundhogs on the track, either:

In fact, a groundhog was blamed for ruining Anthony Davidson's race here in 2007:
Perhaps we do need to thin the herd. Groundhog snipers, anyone? Any fans of groundhog chili?

Update: One groundhog apparently tried this earlier during the Micra Cup support race:

Groundhog snipers, man. Montreal needs groundhog snipers.

Photo credit: Formula One
---
Contact the author at stef.schrader@jalopnik.com.