Gran Turismo 7's next update is coming tomorrow, May 25, and it's worth talking about. Not because it's the biggest in the world or anything — we're getting the standard three cars and no track. However, the cars themselves are interesting, as are the quality-of-life changes that will surely make those still playing very happy.
For starters, a Ford Maverick is joining the game. Not that Maverick, of course, but also not your bone-stock coupe, either. Like the Roadster Shop Rampage Camaro, ERC Mach Forty and Sung Kang's Fugu Z, this Maverick was made for SEMA, where it won the Gran Turismo Award in 2018, per GTPlanet. It was built by Greening Auto Company and also happens to use a Roadster Shop body. Underneath it, you'll find a twin-turbocharged Windsor V8 making 1,200 horsepower.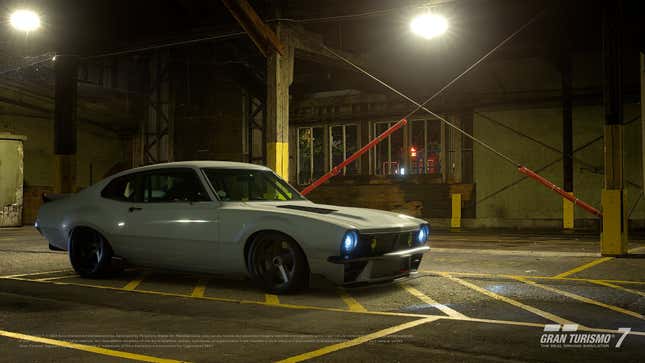 Another new addition — the 1990 Nissan Skyline GT-R Nismo — is also quite curious. See, the R32 GT-R was a titan of Group A touring car racing, and in the early days of the car's life, Nissan built a homologation-special version of the R32 to legally be able to bring certain changes to competition.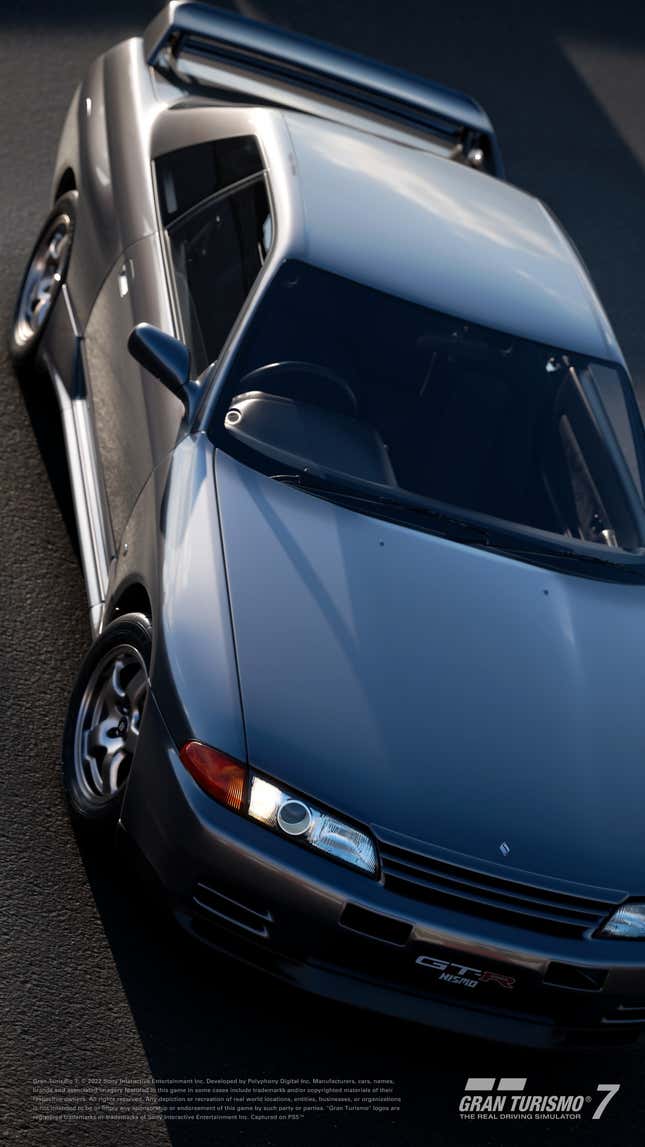 These changes weren't extremely pronounced, mind. The R32's body remained the same, unlike the one-of-one R33 GT-R LM Nismo created for endurance racing midway through the decade. Nissan slightly punched up the R32's aero, adding a flap below the rear wing as well as additional ducts in the front bumper, per GTR-Registry.com. It deleted the GT-R's anti-lock brakes, because Group A didn't permit those, but replaced them with cross-drilled rotors.
The powertrain also didn't see much tweaking, save for the switch to a pair of Garrett T04B turbos, which utilized sturdier steel turbine wheels compared with the stock T03's ceramic blades. Weight savings around, including deletion of the stereo and air conditioning, shed about 66 pounds of the normal GT-R's 3,150-pound mass. Only 500 were made.
With the R32 Nismo's arrival also marks a new Café Menu Book, based all around Group A racing. There, the GT-R will spar against its contemporary rivals, the Sierra Cosworth RS500 — also added in an update some months back — as well as the E30 M3 Sport Evolution. Another new Menu Book, showcasing GT's SEMA contingent, also debuts in patch 1.34.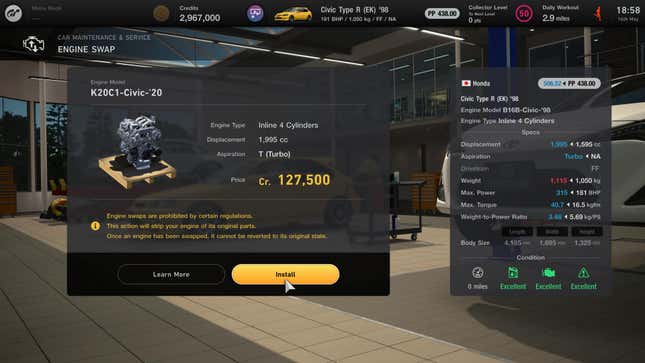 Finally, two big changes with respect to car upgrades and tuning are coming Thursday. First, you'll now be able to swap other cars' engines into yours via GT Auto — no Daily Workout roulette required. That's big, because GT7 has plenty of interesting engine swaps that previously could only be accessed by sheer luck. And damn, those roulette odds suck.

Second, the "Ultimate" class of upgrades — also formerly handed out as gifts and not buyable — have been added to the Tuning Shop. The parts in that section include titanium rods and pistons, an even more dramatic Stage 5 weight reduction, a carbon propeller shaft and a high-RPM supercharger and turbo. Do note that you'll need to achieve Collector Level 50 before you can access either new feature, though.
Rounding out the update is the 1967 Alfa Romeo Giulia Sprint GT Veloce, which is likely due for the Hagerty Legendary Car Dealership. Aside from any other low-level tweaks, which will be announced alongside the full patch notes tomorrow, this is what GT7 players will be treated to for the month of May. With the game having been out for 15 months now, you have to wonder when Polyphony Digital intends to wind own support, and whether or not any big drops, like new tracks, are still to come. I'm still holding out hope for Mid-Field.