This is the Morning Shift, our one-stop daily roundup of all the auto news that's actually important — all in one place at 9:00 AM. Or, you could spend all day waiting for other sites to parcel it out to you one story at a time. Isn't your time more important?
---
1st Gear: GM Reports Largest Profit Ever
General Motors said it earned a fourth quarter profit of $472 million — 28 cents per share; down from $510 million — 31 cents per share — from the same quarter a year ago. It's the eighth-consecutive quarterly profit for the carmaker, thanks to its colonoscopy-like debt cleansing due to bankruptcy. General Motors made a record $7.6 billion in 2011, driven by a $7.2-billion profit in North America that ensures its highest profit-sharing payments of $7,000 each to its UAW workers. Overall, GM's 2011 profit rose from last year's $4.7 billion and broke the previous record annual profit of $6.7 billion in 1997. And all this despite losing a metric ton of money at its Opel division.
---
G/O Media may get a commission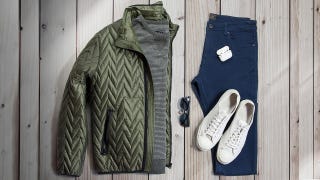 60% off
Jachs NY Fall Sale 60% Off
2nd Gear: Tesla Claims They'll Deliver 5,000 Model S Sedans In 2012
Green Car Reports tells us that Tesla CEO Elon Musk told listeners on their 4th quarter earnings call yesterday that Tesla does not intend to provide Model S drives to journalists until after it delivers its first cars to customers. "We want the car to be as close to perfect as possible before we give it to any automotive journalists," he said. Customers, on the other hand, can get the not-as-close to perfect cars. Yeah, that makes sense. Also, they're going to deliver 5,000 Model S sedans in the second half of 2012.
---
3rd Gear: Renault To Develop Luxury Car On Mercedes Platform
Bloomberg reports this morning that Renault, France's second-biggest carmaker, is in the early stages of developing a luxury car based on a Mercedes-Benz platform as it seeks to expand its offerings in that segment. The French carmaker already helps Mercedes parent Daimler build its Smart compact car.
---
4th Gear: The Audi S1 Is Coming In Two Years
UK's What Car? tells us today that an Audi S1 — a hotted-up version of the company's A1 itty-bitty-super-mini car — will go on sale within two years using elements from the limited-edition A1 Quattro. 'Of course we can imagine the technology [in the Quattro] on large scale production, so there might be a right hand drive S coming,' said an Audi spokesman. The most likely engine expected would be the 2.0-liter unit from the A1 Quattro, albeit in a slightly detuned format. Better news than all of this? They still haven't ruled out an RS1. Now that would be epic.
---
5th Gear: Is This The New Audi A3?
The wild and crazy guys at AutoForum.cz have posted this image they assert is the first official photo of the new three-door Audi A3, which is scheduled to make its world premiere at the Geneva Motor Show in early March. Sigh. Can't anyone keep anything under wraps anymore?
---
6th Gear: Porsche Macan: For Soccer Moms Who Want A Smaller SUV
In case you missed it earlier this morning, here's the smaller-than-a-Cayenne SUV from Porsche that everyone thought would be called the "Cajun". Except instead it'll be called the Macan — derived from the Indonesian word for "tiger." Funny, doesn't look much like a tiger to us. More »
---
Reverse:
⏎ GM to move all salaried workers to 401(k) plans. [Detroit News]
⏎ Mazda Takeri Concept to Make European Debut in Geneva. [CarScoop]
⏎ New E-Class as soon as 2013! [Autobild.de]
⏎ Auto Production Helps Buoy Factory Output. [Reuters via New York Times]
⏎ Ford says next Fusion hybrid will surpass Camry. [Bloomberg via Detroit Free Press]
⏎ Car chargers abound in Chicago. [Detroit Free Press]
⏎ Bentley Working On More Powerful W-12 Engine. [Motor Authority]
⏎ Penske's 4th-quarter profit jumps 67%. [Detroit Free Press]
---
Today in Automotive History:
On February 16, 1997, 25-year-old Jeff Gordon claims his first Daytona 500 victory, becoming the youngest winner in the history of the 200-lap, 500-mile National Association for Stock Car Auto Racing (NASCAR) event, dubbed the "Super Bowl of stock car racing." Driving his No. 24 Chevrolet Monte Carlo for the Hendrick Motorsports racing team, Gordon recorded an average speed of 148.295 mph and took home prize money of more than $377,000. According to NASCAR.com, Gordon was "a veritable babe in a field that included 27 drivers older than 35, 16 at least 40." Gordon's Hendrick teammates Terry Labonte and Ricky Craven finished the race second and third, respectively. [History]
Show us your tips!
Got tips for our editors? Want to anonymously dish some dirt on a competitor? Know something about a secret car? Email us at tips@jalopnik.com.
Lost in our new layout?
Click here for the Opposite Lock or Tips forums. Want a more "blog-like" look? Click the button up top next to "Top Stories."
Get more Jalopnik!
Want even more Jalopnik? Want to know which of your friends read us? "Like" us on Facebook and follow us on Twitter.