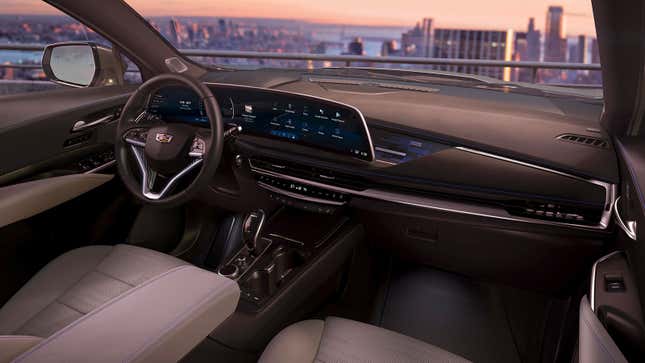 General Motors has certainly received some blowback for its decision to abandon Apple CarPlay and Android Auto in its future electric cars, but it's sticking to its guns. The company's head of software, Scott Miller, has made it clear he believes customers are upset over losing phone projection merely because they're used to it, not because they love it. On Tuesday, GM's chief finance officer told Yahoo Finance that it's up to the company to create something better, and he expects it will.

In case you missed it:
From Yahoo Finance:
"There are many manufacturers today that don't have CarPlay," GM CFO Paul Jacobson said on Yahoo Finance Live. "But I think we recognize that the burden's on us. If we're going to take that feature out of our vehicles, we need to respond with a program and a customer package that is equally as compelling, if not more compelling. We think with the partnership we have with Google and ultimately with the vehicle data we have, we can create an experience that customers are going to love."
If GM didn't understand how much people valued phone projection before — which it should've, because it has the data going back to 2016 to prove it — the company should definitely know that now, given the response to the news. Contrary to Jacobson's point, there aren't many manufacturers that "don't have CarPlay." Apple has a running list on its site, and you'll be hard pressed to find a particular recent make and model missing.
The uptake of CarPlay and Android Auto over the past seven years was a rare acknowledgement of failure by automakers that they simply didn't have the software engineering prowess to make a compelling user experience. Or, at least one on par with what owners were accustomed to on their smartphones. But then car companies began working with the likes of Google and, to their credit, made great strides. Some — not all.
GM is facing a tough case to make to the public. It can preach all day that phone projection is incomplete, because CarPlay and Android Auto don't have their hooks in a car's powertrain data, climate controls or other settings. (Of course, it's not as if Apple isn't working to close that gap.) But all that matters is whether customers agree, and there's no evidence to suggest they do. Not at a time when Apple is telling CNBC that just about four of every five car buyers will only consider vehicles that support CarPlay.
Jacobson seems to think GM can overcome this by having a solution that's "equally as compelling, if not more." He's counting on the best product to win out. But if CarPlay, with all its limitations, was only ever just good enough, then why weren't automakers able to build it alone? And why does GM seem to think it deserves everyone's confidence that it'll be able to make something better?

GM wants the screens and data to itself, not to mention the opportunity to peddle subscriptions. That's what automakers have always wanted, and that's what this war has always been about. It knows the pull of CarPlay is strong; just leaving it in the vehicle as an option guarantees a large swath of customers will spurn GM's own user experience for Apple's. Tech companies have a long, infamous history of telling customers what they should want, and it's never been about serving customers. Congratulations to GM — it's finally become a tech company.