This is The Morning Shift, our one-stop daily roundup of all the auto news that's actually important — all in one place at 9:00 AM. Or, you could spend all day waiting for other sites to parse it out to you one story at a time. Isn't your time more important?
1st Gear: Barra Apologizes
GM CEO Mary Barra's first few months on the job have to be one of the biggest tests for any new CEO ever. And in her first testimony to the House of Representatives yesterday, Barra apologized forthe failings that have taken lives of drivers of the cars that had the faulty ignition switch:
My sincere apologies to everyone who has been affected by this recall, especially to the families and friends of those who lost their lives or were injured. I am deeply sorry.
G/O Media may get a commission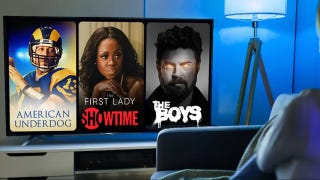 UNDER $1
99¢ Prime Video Channels
Barra then added the following:
As soon as l learned about the problem, we acted without hesitation. We told the world we had a problem that needed to be fixed. We did so because whatever mistakes were made in the past, we will not shirk from our responsibilities now and in the future. Today's GM will do the right thing.
Barra and GM are in a tough spot, because there is evidence that this was a known problem internally for nearly 15 years now. No matter what is said on behalf of Barra or GM, that cloud will hang over them for a long time. And now that there have been an additional 1.3 million cars recalled and a first quarter charge that is now up to $750 million, GM has a lot of work to do.
2nd Gear: A Critical Question
Here's something Automotive News asks that has been seemingly unasked since the recall dramas began: Why does the ignition switch position have a bearing on whether the airbags operate or not.
There still isn't really an answer, but what we can look at is the advent of smart airbags, which are designed to operate in some cases but not in others, depending on the situation and if it could cause more harm than good. But Automotive News reports that GM literature states that the airbags should be able to function for up to 60 seconds after the ignition is switched off.
It's an interesting little tidbit to ponder, and Automotive News does so at length. Head over there to check out their full analysis.
3rd Gear: Hey, Chrysler Is Going Well, Let's Talk About That Now. Ok?
Chrysler had a big March, with sales up 13 percent. That also bodes well for the industry as a whole, whichis looking to have a two percent rise in March. Not too shabby. Not too shabby at all.
The gains for the Pentastar came from strong sales of Ram pickups and the Jeep Cherokee. Of course, they are reporting this on April Fools' Day, so Chrysler might not have actually sold any cars at all last month.
We just don't know.
4th Gear: Tesla Doesn't Want Side Mirrors Anymore
This seems like a real story and not a prank, so I'll roll with it. Tesla and Alliance are seeking regulator approval to get rid of side view mirrors on cars. There are basically no exemptions (except the VW XL1, which somehow has cameras), so mirrors are still on all cars everywhere.
But Tesla wants to take them off to increase aerodynamic efficiency and range. It makes sense. Will it be allowed? Probably, but it probably won't come to fruition anytime soon.
5th Gear: Today Is The Worst
Here's a slight editorial moment. I just wanted to say that April Fools' Day, which is all fun and games when you're a kid, gets old fast. Like today, we'll see all sorts of automotive April Fools' jokes that will run the gamut from terrible to straight up awful.
And maybe one gem that'll make me shit my pants laughing.
But in this age of retweets and trending discussions and viral videos and buzz words, there really is no other choice than to participate and create some sort of sensational April Fools' joke. So have at it automakers, just realize that if you release an actual real bit of interesting news today, we'll probably miss it.
Reverse
On this day in 1993, race car driver and owner Alan Kulwicki, who won the 1992 National Association for Stock Car Auto Racing (NASCAR) Winston Cup championship by one of the tightest margins in series history, is killed in a plane crash near Bristol,Tennessee, where he was scheduled to compete in a race the following day. The 38-year-old Kulwicki had been the first owner-driver to collect the championship since Richard Petty did so in 1979, as well as the first NASCAR champ to hold a college degree.
Neutral
How is GM doing? Do they have your trust? How bad is this for them in the long term?