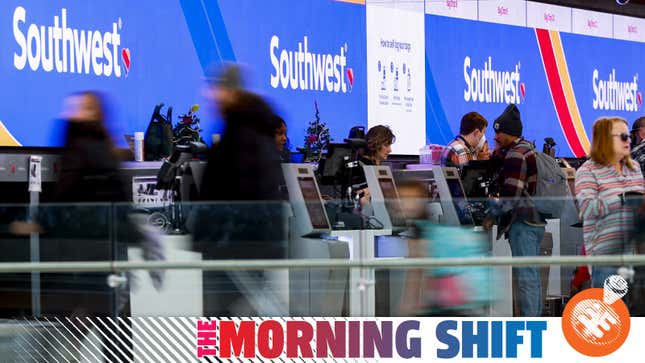 International air travel still isn't quite what it used to be and the industry still can't handle it, Hertz had a solid 2022, and VinFast's North American expansion just hit another snag. All that and more in The Morning Shift for February 7, 2023.

Ultra Cruise is GM's Answer to Tesla's So-Called 'Full Self-Driving'
1st Gear: Airlines Still Obsessed With the Good Old Days
As busy as airports were over the summer and through the holidays, as understaffed as all the airlines were and as badly as everything broke down, international travel still doesn't match pre-pandemic levels. Last year's total traffic worldwide was just 68.5 percent of what it had been in 2019, per Reuters — even as North American airlines enjoyed a 130-percent jump in passengers versus 2021. The blame, if you ask industry insiders, rests with travel to and from China:
Airlines lost tens of billions of dollars in 2020 and 2021 due to the COVID-19 pandemic and saw the first signs of relief as travel started to return in 2022, particularly during the summer months.

With China's recent reopening, that recovery is set to go on, the head of IATA said.

"This momentum is expected to continue in the new year, despite some governments' overreactions to China's reopening," said Willie Walsh, IATA's director-general.

China previously said it would resume overseas group tours organized by tour agencies and online travel companies for Chinese citizens starting from Monday.

European carriers saw full-year traffic jump 132.2% compared to 2021, while North American airlines saw a 130.2% rise year-on-year, according to the data.
The "overreactions" of which the International Air Transport Association chief speaks are some countries deciding to introduce mandatory testing prior to boarding since China ended its zero-COVID policy in December. Nevertheless, certain routes are expected to return in 2023, even if full-scale travel isn't coming back as quickly as airlines would like.
Air France-KLM said earlier this month it would start running daily flights to Hong Kong, Shanghai and Beijing starting in July while British Airways said it would start flights between London and Shanghai from April 23.

Growth in flights from other regions might have to pick up more to compensate for a lag in Chinese flights in order for full global traffic recovery to 2019 levels, some analysts have said.

"I don't think that China's recovery will probably get back to 2019 levels until next or the following year to Europe," James Halstead, managing partner at consultancy Aviation Strategy said.

"For short-haul flights, you'll probably see better recovery, but it's still going to be tentative and it'll depend on border controls within Asia."
It's almost like things don't just flip back to normal a day, a year, or even three years after the entire world grounds to a halt.
2nd Gear: The Rental Car Business Is Booming
Last year was a good one for Hertz, which reported an adjusted profit of exactly half a dollar per share, beating analyst expectations by four cents. The rental car company also ended 2022's final quarter with a net income of $116 million, much better than its loss of $710 million during the same period in 2021. From Reuters:
Shares of the company rose 3.8% in premarket trading.

The car rental industry, tied closely to airline traffic and hotel bookings, has benefited from pent-up desire to travel and explore after an easing of coronavirus restrictions even as inflation remains high.

Rising costs and supply shortages faced by automakers have also made it even more unaffordable for car buyers in an uncertain economy.

However, companies like Ford Motor Co and Tesla Inc last month slashed prices on some electric vehicle models in an aggressive discounting effort to retain market share and bring more buyers to the market.

"We look to our investments in electrification and technology to yield increasing operating leverage and improved returns," Hertz Chief Executive Stephen Scherr said in a statement.
As air travel and lodging have slowly recovered, so too has car renting, even allowing Hertz to escape its 2020 doldrums and the penalties from all those false arrests.
3rd Gear: VinFast Cuts Jobs
VinFast has parted with 80 employees in North America, including its chief financial officer for the region, Bloomberg reported Monday:
Rodney Haynes, finance chief of VinFast US, has left amid a restructuring of the business, according to people familiar with the situation. There were also layoffs in Canada, the people said, asking not to be identified as the matter wasn't public.

VinFast, part of Vietnam's biggest conglomerate and backed by the country's richest person, said late last month it was consolidating its US and Canadian strategic business and management operations into a single unit called VinFast North America, headquartered in Los Angeles. Van Anh Nguyen was named chief executive officer of the new entity, while maintaining her role as CEO of VinFast US Manufacturing, the company said.

VinFast US CEO Giang Nguyen has been reassigned to be deputy CEO of VinFast North America, according to the people.

In response to questions from Bloomberg News, Vinfast said the restructuring was aimed at better serving customers in the region, and that it has been working with local service providers to improve efficiency. "This also leads to the streamlining of our North American operations and there are certain departments affected by this," the EV maker said in an email.

VinFast has delayed U.S. deliveries of its VF8 electric SUV until the back half of this month, after already previously delaying them from December to January. These aren't great signs, but the company still apparently has its eye on the prize of a U.S. initial public offering by midyear.
4th Gear: Introducing Teledriving
Did you know "teledriving" was becoming a thing? I didn't, for one, but apparently a German startup named Vay has already deployed a prototype on Hamburg roads. The idea is that they're rental cars, only the routes driven from customer pickup to customer pickup are driven remotely, by a human behind a computer with monitors and a fake steering wheel. I wish I was making this up. From Bloomberg:
Vay is pitching "teledriving," which involving humans remote-controlling autos from physical steering stations miles away, as an intermediate step to full autonomy. Expectations of an imminent rollout of a large number of robocars have deflated even after investors have bet some $100 billion on the technology.

The company said Tuesday it's started to teledrive on predefined routes in Hamburg after the port city granted a permit. While Vay had been testing the technology for more than three years, it was required to have a safety driver inside its modified Kia electric vehicles.


"We will now be working with authorities on the next steps to offering this service to externals," Chief Executive Officer Thomas von der Ohe, who previously worked at self-driving startup Zoox, told Bloomberg News. "So we should be talking months and not years."
Isolating drivers even further from the dangers of the road is probably the last thing society needed, but hey — at least they can't shoot each other if one party isn't physically present in the driver's seat. I don't know why we're doing this, but then I don't know why we do so many of the things we do anymore.
5th Gear: BYD Says it Doesn't Need Ford's Plant
Chinese EV maker BYD was previously linked to purchasing Ford's soon-to-be-vacant Saarlouis factory, once the proud home of the Focus. Now the Warren Buffett-backed company has apparently thought better of it, according to information once again from Bloomberg, via Automotive News:
"We are not focusing on certain companies' facilities," BYD Executive Vice President Stella Li said in an interview from the company's new North American headquarters in Pasadena, California. She said the automaker is more interested in building its own plants rather than acquiring other companies' factories.

"We are doing feasibility studies to see our plans for the future," Li said. "Like if we set up our facility in that region, what is the best solution out there?"

While there are "no target countries to build facilities yet," BYD wants to have solid sales and dealer networks in Europe, along with service centers, in order to ensure consumer confidence in the brand, she said.
However BYD wants to do this, I'm sure it'll get it done. It's been good at that lately.
Reverse: Let's Go Away!
On this day in 1959 — 64 years ago — the Daytona International Speedway officially opened its gates, according to 365 Days of Motoring.
Neutral: I Would Love to Drive the New Accord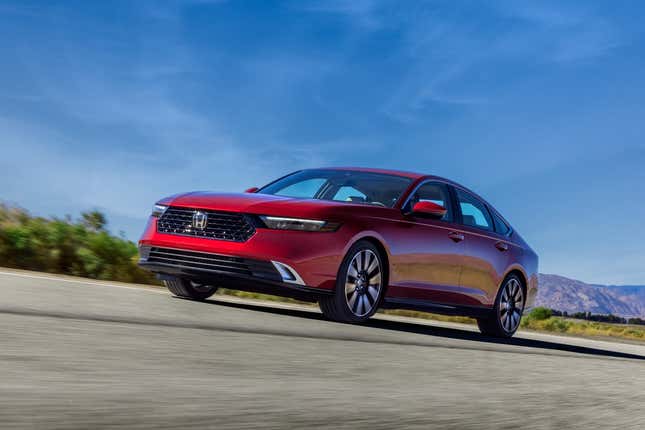 It looks phenomenal — like a Jetta if Volkswagen actually tried — and I love this next phase the Accord is moving into, like some sort of elder statesman of the family sedan lineage. It feels a little upmarket, a little aspirational now. At this point, the mere existence of a sedan in this SUV-laden market is pretty aspirational, if you ask me. Go read Lawrence Hodge's review if you're as curious as I am.