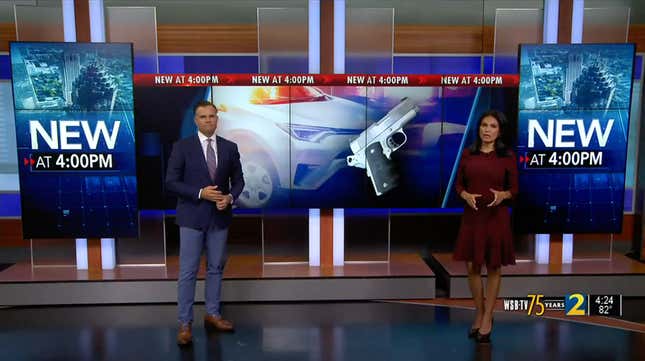 So far this year, about 1,200 guns have been stolen out of cars in Atlanta. But despite what suburbanites outside the perimeter may tell themselves, that's not just an Atlanta problem. It's a problem throughout the entire state. According to WSB-TV, about 14,000 guns are stolen in Georgia every year. And the mayor of Savannah is so sick of it that they're ready to introduce a new ordinance that targets irresponsible gun owners who leave them in their cars unsecured.
This NYC Garage Takes Vanlife To The Next Level | Jalopnik Visits
"It is an opportunity to decrease the thefts [and the] illegal firearms. The shootings also, we believe, will decrease as well," Savannah Mayor Van Johnson told the Savannah Morning News.
Also, to be clear, we're not exactly talking about roving bands of criminals breaking random car windows on the off-chance that if they check the glovebox, they might find a Sig Sauer. That does happen, but as it turns out, the vast majority of guns stolen out of cars were left in vehicles that weren't even locked. The Morning News reports that of the 176 guns stolen out of cars so far this year, 82 percent were in unlocked vehicles. That's down slightly from 2021 and 2022 but still ridiculously high.
Savannah isn't alone, either. According to WSB-TV, at least 266 guns have been stolen out of vehicles in Gwinett County, with about two-thirds of them being stolen out of unlocked cars. And in Atlanta, police have launched a Clean Cars Campaign to encourage residents not to leave valuables in plain sight or leave their guns in their cars. "Help us help you and secure your firearms in someplace secure and not in a vehicle," Juan Madiedo from the Gwinnett County Police Department told WSB-TV.
As far as the new ordinance in Savannah goes, that's reportedly still being written, so we don't have a lot of details to share. But in addition to requiring gun owners to secure their guns inside their cars, they'll also have to report any stolen or lost firearms within 24 hours. "I think this is something all Georgians, whether they are gun advocates or in favor of gun control need to take pretty seriously," Georgia state law professor Timothy Lytton told WSB-TV.
Even if you don't live in Georgia, we'd argue he's still correct. You shouldn't be leaving guns in your cars, but if you insist on having a driving gun to go along with your shopping gun, office gun, living room gun, kitchen gun, and bedroom guns, at the very least, just lock your car and keep it out of sight. Please?