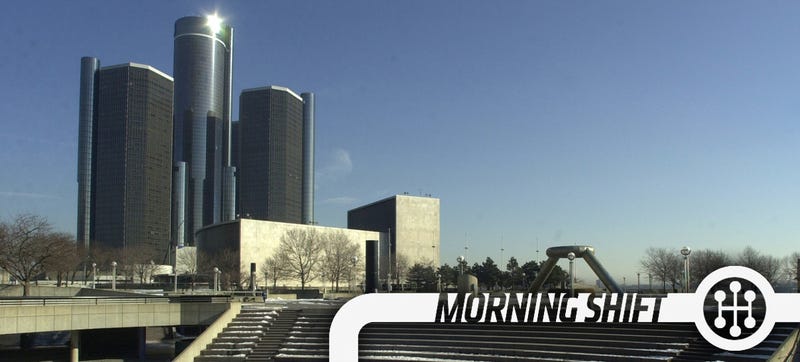 The Morning Shift
All your daily car news in one convenient place. Isn't your time more important?
This is The Morning Shift, our one-stop daily roundup of all the auto news that's actually important — all in one place every weekday morning. Or, you could spend all day waiting for other sites to parse it out to you one story at a time. Isn't your time more important?
Good day. I will be shifting your morning because everyone else is recovering from getting loaded on blinker fluid at the Jalopnik Film Fest.
1st Gear: GM's First Safety Defect Trial Date Set
While the Takata airbag recalls have been the auto industry safety scandal du jour — including a major development we'll go into later — General Motors' ignition switch problems are far from over.
With the death toll now at 30 people,Bloomberg reports a Manhattan judge has set Jan. 11, 2016 as the date of the first trial in consolidated litigation against the company.
U.S. District Judge Jesse Furman in the Southern District of New York on Thursday chose the date for the bellwether — or test trial — during a court hearing in the litigation, which consists of approximately 130 lawsuits so far against the company. The cases include claims for personal injury and wrongful death, as well as lost vehicle value stemming from the recalls.

The first trial will involve a personal injury or wrongful death case that will be selected in the coming months, Furman said.
Clearly, that's a long ways away, so this is something GM is going to be dealing with in the long run.
2nd Gear: Good Economic News With Hilarious Timing
Pundits will tell you Tuesday's epic Democratic ass-whooping was a referendum on how President Obama has handled everything from ebola to the economy. That, in spite of news today that the U.S. added 214,000 jobs in October while the "official" jobless rate dropped to 5.8 percent.
How does that happen? If you're a Democratic strategist, you probably blame Obama's failure to "own" whatever economic recovery has happened and tendency to let the Republicans define everything he does. Or maybe, as the New York Times reports, voters' own personal experiences don't match these rosy job numbers:
For many Americans, it still is. Even though the recovery from the recession is in its sixth year, stagnant wages, an economy generating jobs mostly at the bottom and the top rather than in the middle, and vast disparities between the rewards bestowed on the rich and on ordinary workers have left many people disenchanted with their economic prospects.
Sounds about right.
3rd Gear: Jim Farley To Lead Ford Europe, Not McLaren Or Ferrari As Some Suspected
(Yes, that was a Formula One joke.) In a move that the automaker says has been in the works for months, Ford global marketing chief Jim Farley has been tapped to lead Ford's European operations. The previous Ford Europe head honcho, Stephen Odell, will get Farley's old job. Here's Automotive News:
The shift will give Farley, 52, his first shot at directly running one of Ford's regional operations. The Ford of Europe role also includes responsibility for the Middle East and Africa. It also marks the second major personnel move in the era of Mark Fields, who succeeded Alan Mulally as CEO on July 1.

Later that month, Fields named Kumar Galhotra as president of the company's struggling Lincoln brand. Farley had been in charge of Lincoln until Galhotra's appointment, which took effect Sept. 1.
Ford of Europe is in the middle of an aggressive product rollout, but like all automakers in the Old Word, they've suffered hard in the recession and recently withdrew their forecast of a 2015 profit. Maybe Farley can turn that around.
I don't know Farley, but Matt calls him "the best storyteller in Detroit" and says the Ford Europe gig is how the automaker grooms executives for major roles down the line. Expect to see more from this guy.
4th Gear: People Still Keep Buying CPO, Too
One of the biggest stories in the auto world this year has been the skyrocketing new car sales, but as The Detroit News reports, people are still buying used like crazy too. Specifically, certified pre-owned cars.
Sales of certified pre-owned vehicles are expected in 2014 to hit a fourth straight year of record sales and will continue to increase over the next few years with more vehicles coming off leases, according to one chief economist.

"The (certified pre-owned) market is large and it's going to get larger," said Tom Webb, chief economist for Manheim, a vehicle auction company affiliated with AutoTrader.com.

AutoTrader.com, a car shopping marketplace, predicts more than 9 million certified used vehicles will hit the market in the new few years. Automakers last year sold about 2.1 million certified used vehicles in the U.S. In 2000, they sold about 500,000. Webb predicts 2015 will be the fifth consecutive year of record certified pre-owned sales.
The jump includes luxury brands like Mercedes and BMW, as well as Hyundai, Nissan and Chrysler. Any why not? Buying CPO always struck me as a smart move. You let someone else take the depreciation hit and a practically-new vehicle in great shape.
5th Gear: A Detroit Bankruptcy Decision Is Coming Today
Outside of Detroit, you probably haven't heard much about the Motor City's ongoing bankruptcy case, but it's apparently all coming to a head today. From The Detroit Free Press:
Judge Steven Rhodes will rule today on whether Detroit's government can slash more than $7 billion in unsecured liabilities and reinvest $1.4 billion over 10 years in basic services to rehabilitate the city.

If the judge approves the plan, Detroit would exit Chapter 9 bankruptcy within weeks, capping a historic case that sped along faster than many experts expected after the city declared insolvency on July 18, 2013.
Rhodes has two choices, sources tell the Freep. He can either accept the decision or refuse it, and people think that if he had concerns he would have raised them by now. The city seems optimistic about today, and we wish them the best.
Reverse: Today You Can Go That Fast In A Hellcat On Slicks
On November 7, 1965, a drag racer from Ohio named Art Arfons sets the land-speed record—an average 576.553 miles per hour—at Utah's Bonneville Salt Flats. (Record speeds are the average of two runs, one out and one back, across a measured mile.) Arfons drove a jet-powered machine, known as the Green Monster, which he'd built himself out of surplus parts.
[HISTORY]
Neutral: Yea Or Nay On Buying CPO?
Is a certified pre-owned car a solid deal, or can you do better elsewhere? What's your experience?
Photo credit AP