Good Morning! Welcome to The Morning Shift, your roundup of the auto news you crave, all in one place every weekday morning. Here are the important stories you need to know.
1st Gear: It Could Be Amarok And Hilux Time In America
Let's start The Morning Shift off with some good news for a change instead of body counts and recalls. Over at Automotive News, Ryan Beene has a detailed story that reveals the chicken tax — America's longstanding 25 percent tariff on imported pickups and commercial vans — could come to an end soon as part of new trade agreements.
With the legislative pieces now in place, the Trans-Pacific Partnership and Transatlantic Trade and Investment Partnership are closer to becoming reality. The Pacific Rim deal seeks to create a 12-nation free-trade bloc encompassing some 40 percent of the world's economy. The EU deal would lower trade barriers and seeks to align regulations between the U.S. and EU.

Both would remove the chicken tax. Critics of the tax say it has priced imported trucks out of the market, shielding the Detroit 3's biggest profit machine from robust foreign competition. The tariff also has had other effects, experts say, such as stifling pickup innovation and motivating Japanese automakers to build U.S. factories.
G/O Media may get a commission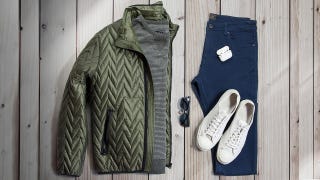 60% off
Jachs NY Fall Sale 60% Off
This is huge news if it happens, and a deal on the Pacific treaty could go to Congress by the fall. If it and the EU agreement pass, however, "trade watchers and auto industry experts agree that a barrage of new pickups would be unlikely," at least at first. None of those current trucks are built to U.S. specs anyway.
Also, emphasis mine up top, because you can certainly expect the Big 2.5 Automakers to fight this tooth and nail in Congress to protect the massive profit margins they have on their $60,000 pickup trucks, which they want you to buy over a cheap, tiny Toyota Hilux or Ford Ranger that can probably get the job done almost as well.
2nd Gear: Fiat Chrysler GM Merger Talk Just Won't Die
General Motors' Mary Barra already scoffed at the idea of a merger with Fiat Chrysler. So have other automakers, even when they weren't asked. So why does the idea keep coming up?
Besides Sergio Marchionne's apparent recruitment of activist investors to push a merger through — something that would happen only with equity since Fiat Chrysler has no cash to offer, which would be unprecedented in any industry — some people see the value in their joining forces. One more from Automotive News:
Max Warburton, a Singapore-based analyst at Bernstein Research, believes that FCA could credibly build a case for annual cost savings far greater than $5 billion — maybe even double that.

Beyond powertrain and vehicle-platform consolidation, savings would flow from combining the companies' North American production and distribution channels, Warburton wrote in a June 11 report for investors. They could eliminate overlap in Latin America, where GM and Fiat are strong but suffering from market disruptions. Opel and Fiat could be combined in Europe.
The analyst also argues "Marchionne's only shot is to sell large GM investors on FCA's most important asset: Marchionne himself." If by that you mean "Jeep," then yes.
3rd Gear: More Cheap Gas For America's Birthday
Hey, lots of good news on TMS today. I'm a magician. This one from Bloomberg is about relatively cheap gas right in time for all our Independence Day travels:
Retail gasoline prices are falling in the U.S. just in time for Americans to take to the roads in record numbers for the July 4 Independence Day holiday.

The average for regular gasoline at U.S. pumps declined 1.68 cents in the two weeks ended June 26 to $2.8494 a gallon, according to Lundberg Survey Inc. It was the first time since mid-April that prices have fallen in the survey, which is based on information from about 2,500 filling stations. Gasoline is 86 cents lower than a year ago.
I'm taking a 2015 Mustang GT across Texas this weekend, so don't think I'm not happy about this news.
4th Gear: F-150 Under Investigation
And here comes the bad news. The last-gen Ford F-150 is under investigation for some brake problems. From The Detroit News:
The National Highway Traffic Safety Administration said Friday it is opening an investigation into 250,000 Ford F-150 pickups for braking problems linked to two crashes.

The investigation covers the 2011-12 F-150 with a 3.5 liter gasoline turbo direct-injection engine and comes as 32 complaints alleging electric vacuum assist pump failures resulting in loss of brake power assist and increased brake pedal effort.
The agency has received about 60 complaints in the last nine months.
5th Gear: VW Wants To Make A People's Car Again
As they expand into the Chinese market, Volkswagen looks to add something decidedly un-Phaeton-like to their lineup. From Reuters:
"We will bring a budget-car family to market in 2018, with an SUV, saloon and hatchback," Martin Winterkorn told Bild am Sonntag newspaper.

Europe's largest automaker had for years been pondering a budget car but difficulties in hitting internal cost targets had thwarted approval of the project.

The vehicles - to be built in China - will cost between 8,000 euros ($8,932.00) and 11,000 euros, Winterkorn said.
I guess the up! isn't enough of a family car?
Reverse: RIP Jayne Mansfield
Blonde bombshell actress Jayne Mansfield is killed instantly on this day in 1967 when the car in which she is riding strikes the rear of a trailer truck on Interstate-90 east of New Orleans, Louisiana.
Neutral: Would Americans Buy 'Chicken Tax' Trucks?
We Jalops say we'd buy Hiluxes and Rangers and Amaroks, but what of the mainstream market? Would they really adopt these trucks, or have we become conditioned to the idea that a pickup truck should rival a Mercedes with its amenities and cost double our annual salaries?
---
Contact the author at patrick@jalopnik.com.