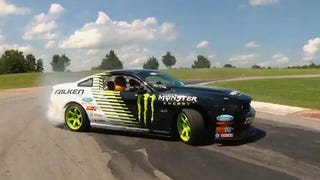 One month ago, Monster drift driver Vaughn Gittin, Jr. and his Ford Mustang GT hit Oklahoma's Hallett Motor Racing Circuit for the Mid-America Shelby Nationals. Righteous V-8 whompage? Check. Weird camera work? Check. Old Shelby Mustangs? Check. Turn it up.
This is what happens when you put a 680-hp, 700-lb-ft V-8 in the hands of a charming, humble dude who just happens to be gifted at the fine art of oppo.
Note: If you're the impatient type, the absurd hoonage doesn't start until roughly three minutes in. Also, the camera placement — hand-held and flung around the cockpit by a seemingly ADD passenger — is a bit unorthodox, but it works. Nauseous Nellies and/or children with easily upset stomachs might want to stay away.
Addendum: Vaughn Gittin, Jr. is every bit as grounded and normal as he appears. Also, he makes funky Detroit iron do funky things. If you have half a heart, you'll love this guy like the driftin', tire-annihilating son or brother you never had.