Ford said this week that it has made 10 million Mustangs, across 54 years and six generations of one of America's most iconic muscle cars. Ford gave no word on whether this was the result of a head-to-head battle to produce more Mustangs than onlookers can produce jokes about them peeling out of Cars and Coffee.

Ten million is a big number no matter the circumstance, as most of us would probably be overwhelmed at the thought of what we'd do with $10 million or the thought that there are actually 10 million Mustangs on this big rock. But it's big in terms of car production, too.
According to the Detroit Free Press, Chevrolet's made more than 1.6 million Corvettes and more than 5.5 million Camaros over the years—just fractions of the Mustang's 10 million. The Corvette came around about a decade before the Mustang, and the Camaro a few years after it. Outside of American sports cars, the Freep reports that Toyota's made a casual 44 million Corollas in 52 years. Cars will probably be bland, self-everything, artificial-intelligence-powered pods before the Mustang can hit that number.
The 10 millionth Mustang made, Ford said, is a white 2019 convertible with a 460-horsepower V8 and a six-speed manual transmission. It cosmetically matches the first serialized Mustang, VIN No. 001, from 1964, which had a three-speed automatic transmission and a 164-HP V8.
To celebrate it all, Ford rounded up 60 Mustang owners to park their cars in the shape of the number 10 million. It appears to have gone smoothly, just like Mustang sales have for the past five decades.
G/O Media may get a commission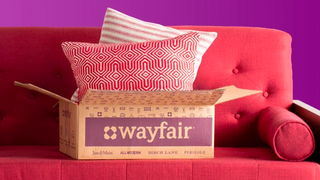 Big deals
Wayfair Surplus Sale
Correction: Wednesday, Aug. 8, 2018, 8:07 p.m. ET: A previous version of this story said the first Mustang was a three-speed manual transmission, when it was a three-speed automatic. We regret the error.