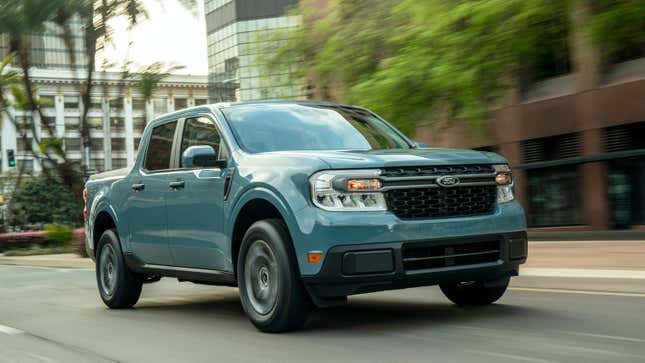 Over two years after production started, Ford is reportedly going to compensate Maverick buyers who never had their orders filled or whose trucks never went into production. This applies to some 2022 model year and 2023 model year Mavericks, Cars Direct reports.
While the strong demand the Maverick has experienced isn't unique to the model, its low price point has stoked demand further. Combine that with Ford's sometime production struggles and you have some buyers waiting for months.

The program lays bare Ford's inability to meet demand for the sought-after truck. On r/FordMaverickTruck on Reddit, users reference wait times of 300 to over 600 days from the time they placed their order to the day they took delivery. Users frequently exchange stories about uncertainty and frustration about the process.
Because of this, an incentive bulletin went out to dealers detailing the program that would pay back those buyers who have been waiting. Ford is giving Maverick Ecoboost buyers $1,750 off the price, while hybrid buyers could get $2,750 off. Cars Direct says the fine print states that only those buyers who "already received a Model Year Transition offer in late 2022 worth up to $2,750" are eligible for the cash.
When the truck debuted in mid-2021, a base Maverick Hybrid XL started at $21,490, including destination, with the hybrid setup standard. Fast forward to summer 2023 and Ford announced that the hybrid engine was no longer standard; all Mavericks would start with the Ecoboost engine. This increased the entry price to the Maverick on two fronts: the standard Ecoboost engine now meant a base Maverick starts at $24,995 while the Maverick Hybrid starts at $26,495. Now, if only Ford could make enough of them.