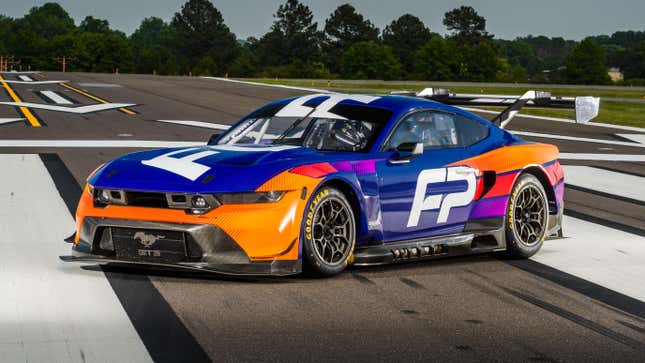 I'm going to go ahead and assume that if I say "GT3," the first thing you picture in your mind is probably some super spicy, ass-engined wallet-seeking missile from Stuttgart, right? And I can almost guarantee that nowhere in there is a Ford Mustang floating around. Only that might change because Ford announced the Mustang GT3 race car on Friday at the 24 Hours of Le Mans, and friends, it's a banger.

This NYC Garage Takes Vanlife To The Next Level | Jalopnik Visits
The car is based on the 2024 Ford Mustang Dark Horse and is set to compete in the FIA's GT3 category (hence the name) starting next year. It's powered by an M-Sport-built 5.4-liter Coyote V8 engine (which means it will sound bonkers at full song) as well as a bespoke short-long arm suspension, a rear transaxle, a carbon fiber body and a brand spanking new aero package (because racecar). Multimatic will be building and supporting the cars themselves.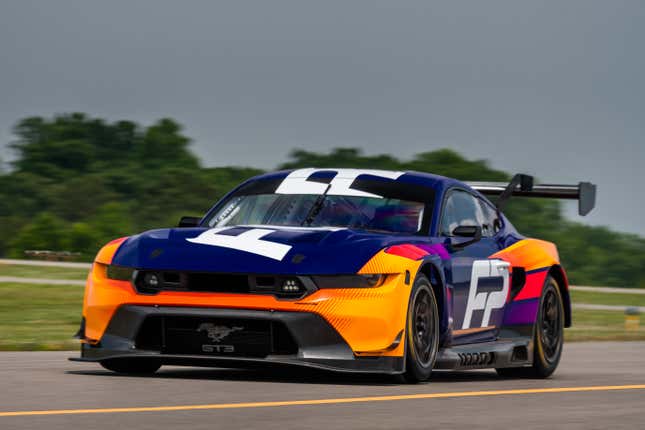 "Ford and Le Mans are bound together by history. And now we're coming back to the most dramatic, most rewarding and most important race in the world," said Jim Farley, CEO of Ford Motor Company, in a statement. "It is not Ford versus Ferrari anymore. It is Ford versus everyone. Going back to Le Mans is the beginning of building a global motorsports business with Mustang, just like we are doing with Bronco and Raptor off-road."

Ford already has a customer team signed up to take the Mustang GT3 racing, too. Proton Competition of Ehingen, Germany, will be campaigning a pair of the potent ponies next year, so we can look forward to hearing them howl around all of Europe's best tracks. But wait, as they say, there's more. Ford itself will run a pair of cars (with the Multimatic Motorsports folks) in IMSA's GTD Pro, with the cars set to debut at Daytona in January.