The relationship between Ford and VW may be getting serious, recalls at Jeep and Toyota, GM continues cost cutting, and a look at industry-wide October sales figures, in The Morning Shift for Friday, Nov. 2, 2018.

1st Gear: Ford and Volkswagen May Join Forces On Electric and Autonomous Cars
Last week, we cited a Bloomberg story quoting Ford's chief financial officer, Bob Shanks, as saying: "We have a history with VW. We get along with them. And if you look at the strengths and weaknesses of each of us, we match up really, really well."
Now a new report from German newspaper Handelsblatt digs in deeper, alleging that Ford and VW are working on a "wide-ranging partnership that stands to change the German industry."
All of this is to say that Ford and VW may be working on something, especially since Ford is having trouble in the strong VW footholds of Europe and South America.
More specifically, Handelsblatt story states that Ford and VW plan to join forces on EV and AV development, with Ford possibly even using VW's modular electric platform, and VW possibly buying Ford's internal combustion engines. From the article:
One consideration is for VW's Moia subsidiary to take a 50 percent stake in Ford's Autonomous Vehicles LLC, the unit focused on self-driving technology. VW, for its part, could share its modular electrical vehicle platform with Ford.

G/O Media may get a commission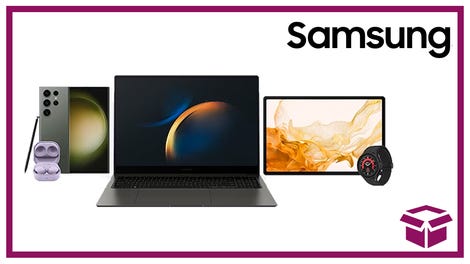 24 hour deals
Discover Samsung - Daily Deal
It goes on:
The partnership will embrace combustion technology as well, with VW drawing on Ford's expertise with its ubiquitous pickup trucks. VW will also buy Ford's efficient engines, enabling the German carmaker to massively reduce its investment in this legacy technology.

After all, VW is trying to leave the Dieselgate catastrophe behind and marshal its considerable resources to face the future.

According to Handelsblatt, the idea of the partnership came about as a way to share costs needed to develop technology for the upcoming "new era of the automobile," with insiders telling the newspaper that VW's 34 billion euro estimate for new technology expenditures had the company seeking a partner.
Volkswagen's supervisory board is expected to hash out next steps on a partnership with Ford at a meeting on November 16.
Update 12 Nov. 2018 5:15 P.M. ET: Ford just responded to Jalopnik's request for comment, saying this about its memorandum of understanding:
"Our MOU covers conversations about potential collaborations across a number of areas. It is premature to share additional details at this time."
2nd Gear: GM Stops Facility Renovations in Latest Cost-Cutting Move:
GM has been on a cost-cutting spree for many months now, selling off its Opel brand, restructuring its Korea operations, and planning buyouts for 18,000 employees. So it really comes as no surprise that The General is now trying to save a bit of cash on its facilities.
CEO Mary Barra emailed employees on Wednesday, saying GM has "decided to postpone the new studio building of the Design Center and stop the Pontiac Propulsion workplace transformation," Reuters reports.
Reuters quotes the email further, writing:
GM's "structural costs are not aligned with the market realities nor the transformational priorities ahead. We must take significant actions now to address this while our company and the economy are strong," Barra added.

[...]

"We need to get ahead of headwinds, rather than let them happen to us. And we need to do all of that against a backdrop where those outside our company are skeptical of our ability to manage through an eventual downturn in the economy - skepticism we see in our stock price, which has recently been trading below our initial public offering price," Barra said.

According to Automotive News, this move is a way for GM to free up cash flow, which it needs in order to be "agile," with AN quoting Bara's letter, which covered a number of other topics including the buyout:
Without a strong cash position, she said, the company "cannot be the agile, innovative industry leader" it needs to be to achieve its longer-term objectives. GM expects to have roughly $4 billion in adjusted automotive free cash flow to end the year, up from negative free cash flow of $310 million at the end of the third quarter, which Barra cited in her letter.
Automotive News says the two projects—a 360,000 square-foot expansion of GM's Warren, Michigan design studios (including a parking garage), and a transformation of its older buildings at its Propulsion Center in Pontiac, Michigan into open office spaces—were projected to cost "hundreds of millions of dollars."
3rd Gear: October Numbers Show Rising Interests Rates Are Hurting Car Sales
We've been hearing for some time now that we've surpassed a peak of car sales, and that automakers can expect things to slow down, with Automotive News reporting in September that automakers can expect a "tough slog ahead" as they try moving iron throughout the rest of 2018.
Well, now October sales figures are in, and the Detroit Free Press says they're an indication that sales have are being "throttled" due to steep pricing and interest rates that are near a 10-year high (averaging 6.2 percent, the highest since January of 2009, the news site attributes to Edmunds), with the Freep quoting Ford's U.S. vice president of marketing:
"Interest rates are taking payments up, along with higher transaction pricing," Mark LaNeve, Ford's U.S. vice president of marketing, sales and service, said on a conference call.

Rising wages are helping some buyers afford the extra payments, LaNeve said.

Still, Edmunds and Cox Automotive projected U.S. auto industry sales declines of 2.1 percent and 1.9 percent, respectively, for October.

The story says that estimates show October sales are down compared to the same month last year, going on to say that Ford's sales dropped by 3.9 percent, Honda's are down by 4.1 percent, and Nissan's declined by 10.6 percent. GM's figures are down an estimated 8.8 to 9.4 percent according to Edmunds' and Cox Automotive's forecasts (though Bloomberg reports that it's actually closer to 4 percent, according to "people familiar with the matter."). On the positive side, sales are up for Toyota, Subaru, Kia, VW, and Fiat Chrysler by 1.4 percent, 2.5 percent, 1.6 percent, 4.6 percent, and 15.7 percent, respectively.
Still, the Free Press quotes Edmunds on how car sales might continue to get gloomier:
"It's getting harder and harder for shoppers to afford a new car, and if the economy starts to slip, we're at a point now where we really could start to see some significant impacts in the auto market," Jeremy Acevedo, Edmunds' manager of industry analysis, said in a statement.

4th Gear: Faraday Future Is Looking for Investors
Things haven't been looking so hot for electric car startup Faraday Future, with the company confirming that one of its co-founders has left, and that furloughs have been put in place for most employees. And then there's the issue we wrote about on Wednesday dealing with a Chinese investor trying to get a California judge to force Faraday's CEO to cough up $100 million.
But, according to Reuters, the cash-strapped company is looking for outside help:
Faraday Future said on Thursday it was exploring strategic options, including debt and equity financing, two days after the Chinese electric vehicle developer's co-founder Nick Sampson stepped down.

The company said it "can now welcome potential investors from around the world."
I feel like we've heard this before with regards to FF. Good luck, over there.
5th Gear: Jeep Recalls Cherokees for Stalling, Toyota Recalls Scions for Bad Airbags
Another day, another set of recalls, this time from Toyota and Fiat Chrysler. The Toyota recall deals with airbags that could deploy when not needed or not deploy when needed. It affects about 17,000 Scion xAs from model years 2004 to 2006, though the Detroit News says the recall affects about 1 million cars worldwide built between 2002 and 2015.

Toyota describes the problem in its press release:
The airbag system in the subject vehicles could experience electrical shorting that could damage the circuits in the system. This could cause the airbag warning lights to illuminate and the airbag(s) and seatbelt pretensioner(s) to become deactivated; or it could cause those systems to inadvertently deploy. These conditions can increase the risk of injury or crash.

As a repair, Toyota says its dealers will replace airbag control units with improved versions.
Jeep also announced a recall, but it deals with potential stalling issues on an estimated 86,053 2.4-liter 2019 Jeep Cherokees sold in the U.S., as well as roughly 2,293 in Canada and about 12 in Mexico.
These vehicles may – in rare instances – exhibit engine stall during deceleration, most often while slowing to a stop. If a stall occurs under these circumstances, the engine may be immediately restarted.

Fiat Chrysler says in its press release that its fix for the issue is a powertrain controller reflash.
Reverse: Early American Auto Manufacturer Locomobile Begins Switch from Steam to Gasoline
History writes about the New England-based car company's transition:
Engineer Andrew Riker delivers the first four-cylinder, gas-powered Locomobile—a $4,000, 12-horsepower Model C—to a buyer in New York City on this day in 1902. The Locomobile Company had been known for building heavy, powerful steam cars, but by the turn of the century it was clear that the future of the automobile—and thus of the Locomobile—lay in the internal-combustion engine. Until it went out of business in 1929, the company built elegant, luxurious touring-cars and streamlined racers for wealthy patrons. A Locomobile, ads crowed, was the "Best Built Car in America."
Neutral: How Do You See A Ford-VW Partership Going?
Sometimes partnerships work, sometimes they don't. Does this one make sense to you, and what do you hope to see from it?
This post has been updated with comment from a Ford Motor Company representative.