Most Volvos are square, but the P1800 is one that lets you think outside the box. Today's Nice Price or Crack Pipe P1800 ES rocks a Corvette 327, but does its price stink outside the box?
A good way to learn French is by watching the TV show French in Action, especially as you'd be learning by way of the sweater puppy-flaunting Valerie Allain as the unrestrained Mireille. Nearly 53% of you felt yesterday's Le Car for a grand would also be a good way to learn French - words like merde and Sacré bleu - as even at its low price it apparently reeked of cheese and Crack.
While the French are known as masters of food and love, the one thing the Swedes know about is dodging Moose, and today's '73 Volvo P1800 ES looks to be one of the dodgiest. The first P1800s arrived in 1961, introduced at the same Geneva Auto Show as the Jag E-Type. They were built, in of all places, Bromwich, England by Jensen Motors (remember last week's Interceptor?) from bodies stamped out by Pressed Steel in Linwood, Scotland. Seeking to outsource production, Volvo looked across the Channel and contracted the plucky Brits for a run of 10,000 cars. Those early units turned out to be of such poor quality that the Swedes had to take production in-house after only 6,000 cars had been baling-wired together and topped off with a healthy dose of rust and Scottish indignation.
G/O Media may get a commission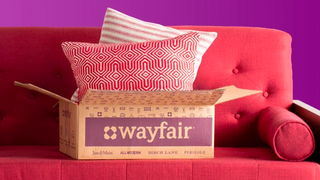 Big deals
Wayfair Surplus Sale
Over the next decade the P1800 proved a popular ride for tweedy college professors and Simon Templar alike, and 12 years after its introduction, the P1800E (E for injection) was joined by an extended roof sport wagon sibling. The ES became iconic for its baby got backiness and all-glass hatch- design elements that seemed to peel years off the car's look like Joan Rivers' weekly formaldehyde injection.
Today the P1800ES has a timeless vibe that can't be defined by any era. If it were a food, it would be equitable to the Swedish Meatball- sturdy, fulfilling and satisfying. This Corvette-powered '73 adds mulletted meathead to that meatball. Sure you may have been fine with the 130-bhp that the B20E produced, but fuel injection is for sissies and if two litres is good, four must be better. The owner of this Chevy S-10 riding (yeah, you read that right) P1800 ES says to keep walking if you don't like attention, and as it is one of only about 8,000 sport wagons made, some of that attention may be from angry Volvo purists who surround the car carrying pitchførks and tiny allen wrenches.
Under the be-scooped bonnet resides a 327 V8 that he says once upon a time made noise in a '68 Corvette, but now sits under a Hilbourne intake and sucks dead dinos through a 650 cfm 4bbl. Power – and potentially a lot of it – is managed by THM350 and a Posi rear end. This being an S10 when you lift its skirt, plus the weight all those extra horses require, you should expect the car's handling to not be exactly sport coupe sporty.
That being said, straight lines will likely be your bitch.
Inside the de-volvo-fication continues with seats that the seller claims came from a Pontiac (and from the mere corner shown in the interior shot are likely from a Fiero) plus added gauges and a GM stick. The rest – branded floor mats, unusable back seat, and the under-hatch cargo area have survived the trans-gender surgery, and overall the work on the car looks pretty well done. Outside, the side pipes and Dayton 60 spokes add a sassy sense of incongruity to the car's otherwise timeless lines.
Of course all that work comes at a price, as they ain't exactly giving away S10 chassis' – well, actually they probably are somewhere – but still, this car represents multiple trips to the island of misfit toys, and that's gotta' count for something. The seller is hoping it counts for a cool $57,500, not counting the medical costs you'd incur from all the head-turning injuries he considers inevitable with it.
Now, for that price, you could probably get yourself BOTH a P1800ES and a C3 Vette, but of course you can't drive both those cars at the same time. With this Vette-powered Volvo however, you can! That throws a whole new monkey into the wrench, and demands the question- is $57,500 a price that makes you say how Swede it is? Or, is that price like throwing salt cod in this Volvo's wounds?
You decide!

Dallas Craigslist or go here if the Swedish Bikini Team takes the ad out with a covert moose strike.
Help me out with NPOCP. Click here to send a me a tip, and remember to include your commenter handle. Yorgdy, vorgdy, vorgdy.