When it comes to windows, toast, and kissing, the French do it better. With today's Nice Price or Crack Pipe Renault, you can determine if that streak extends to le cars.
Extended is also the description one could use for the fenders and Pinocchio-esque nose of yesterday's Toyota MR2 Spyder, a car that also came with doors that announce a touchdown every time you open them — and potentially a grenade where its engine should be. At nearly thirty grand, it's no surprise that heavily modded MR2 was viewed as #2,and circled the bowl in a 92% Crack Pipe rout.
Eclectic cars can be fun, especially when the cost of entry into the funhouse is low enough that it doesn't really matter if it's a dump. And for today's 1982 Renault Le Car you must be — $1,000 — this tall to ride. Future archeologists won't sift through the strata of ancient riverbanks to unlock the secrets of the past, instead they'll have the layers of crushed junkyard cars to pick over in developing a picture of the era. Delving down to a period right around the late eighties to early nineties they would likely stumble upon a rich vein of Renault R5, so prevalent were they in being abandoned to the crusher around that time.
Renault had never been a major player in the U.S. auto market, and the Japanese really hardened their brie with products that eschewed whimsy and mime-ability for reliability at prices the exchange rate disadvantaged French couldn't match. The R5 put up the good fight, but didn't seem to make much of an impression until it was renamed the Le Car in an attempt to play off its Gallic roots.
G/O Media may get a commission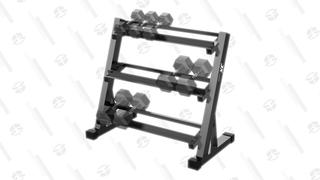 20% Off
JX Fitness Dumbbell Rack
Gains but tidy
Has a three-tier design to help store more weights more conveniently, can safely support up to 1000lbs of weight, which should be enough for most people, has a triangle base for stability, and also features anti-scratch feet which is great if you've built your own studio or workout in your garage.
This '80 three door is noteworthy today in that –- like the coelacanth -– it surprisingly has survived while others of its era have gone the way of respectful political discourse. For years the 5 was one of Renault's biggest sellers around the globe, but not in the U.S., and most of those that were sold here ended up as part of that giant junked car layer cake. Buying AMC and renaming the 5 the Le Car, or The Car in mid-Atlantic speak, may have helped endear the car to the less discriminating American car-buying public, but the supplementing Alliance being made wholly from tissue paper caused Renault to pull up stakes and leave the U.S. ahead of an angry mob carrying pitchforks and warped Encore cylinder heads.
The condition of this Le Car looks to be Le Good, although the red paint appears kind of faded and the plastic bumpers have lost some of their life. With 97,000 miles on it, you'd expect that, but it being a Renault 5, you'd also expect rust, but remarkably the seller lays claim to this car having none. He says that's because it's a Cali car, but even the Golden State has its share of rust buckets. Prior to the 5, Renault built a series of cars where the engine hung off the back like a baboon's ruby glutes. The 5 moves the drivetrain to ahead of the passenger compartment, but keeps the tranny-first layout intact. That means that the engine is sitting right next to your right foot, and makes it mid-engined. Keeping your foot warm is a 1,357-cc OHV four cylinder that first saw service powering Napoleon Bonaparte's Espresso machine. Here it produces 55-bhp and, fronted by Renault's 4-speed manual box, it can move the car at an escargot-challenging clip.
Speed being more theoretical than factual with a Le Car, handling becomes the primary driving interaction. The French like their suspensions like their cheese, and the Le Car is no exception being extremely softly sprung. Wheel travel is so great it potentially could require a layover, and in anger the car would corner on its door handles — if it had any. Instead it has buttons, and each of the two portals opens here onto a surprisingly spacious cabin for two, and a passable one for four. From the driver's seat glaring back at you is a moss-covered, three-handled, family gredunza three spoke wheel with nasty rusty allen heads, indicating that ownership may require a tetanus booster. Up above your head is one of the Le Car's best features -– a huge fabric top that opens the car up to the sky and lets you get a tan while waiting for your tow to arrive, and the seller says that's brand new.
Maybe it'll be the tow trucks that wait as the seller also claims this Le Car runs fantastic, and along with the top gets a new Interstate battery, so at least the radio will keep you company while you tan, while you wait for the. . .
OK, now I'm just being mean.
This is probably the finest example of Le Car you are likely to find –- which is both a good and a bad thing for fans of the cars. And, to take on curator duties for this Le rare car will take a grand. Sure, last week for five bucks less you could have picked up 4WD and legendary Toyota reliability, but where's the challenge in that?
Here, $1,000 lets you start your own French revolution, and potentially, as the Le Car should be good for 30+ mpg, be girded for when a gallon of gas hit the magic five dollar mark and the roads are cluttered with abandoned V8s and puke-covered Justin Bieber CDs.
So what do you think, is this Le Car worth a Le grand? Or, is it too cheesy for that much cheddar?
You decide!
San Francisco Craigslist or go here if the ad disappears.
Help me out with NPOCP. Click here to send a me a tip, and remember to include your commenter handle.