They say that the majority of accidents occur within close proximity of home. Today's Nice Price or Crack Pipe Camper Caprice is a home you could always be proximal to, but would considering buying it be an accident waiting to happen?
There's an old adage that goes you can't take it with you, which is a reflection on the transience of the spirit in relation to the immutability of material possessions. The thing of it is, prior to shuffling off this mortal coil, we need to take not just things but people with us, and there are few better ways to do so than in a hip to be square Nissan Stanza wagon from the '80s. Unfortunately for the seller, a narrow 53% of you felt that this particular Stanza's price was too much of a burden.
You know, the thing of it is, if you have to go somewhere, and you do want to take it with you, your best bet is to have a home that rolls. This was an epiphany realized by Howl in the creation of his moving castle, and could be likewise emmulated by someone with the gumption and cash to buy this custom 1976 Caprice camper. That's right, I said 1976 Caprice camper.
G/O Media may get a commission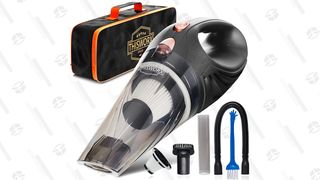 Save 50%
ThisWorx Car Vacuum Cleaner
Not only has this Exxon Valdez-sized sedan been saddled with living space, but it also sports an L98 under-hood, and a 5-speed stick. Emeril say BAM! Claimed in the ad to have been created by an elderly gentleman in Georgia I'm picturing this beast to have been built by someone who's a cross between Colonel Sanders and Smokey Yunick. Now apparently gone yankee, it seemingly calls Minnesota home. Of course as it's a home on wheels, it's able to pull up stakes at a moment's notice so don't screw those license plates on too tightly.
The conversion is said to have been done 20 years ago, and while its appearance is weird in the extreme, it also looks to be both competently conceived and currently in decent shape. The white-painted body looks straight, and the brightwork reasonably shiny. Steel wheels lend a sense purpose and even the fabric of the pop-top seems completely intact.
That's all on the outside. In the cabin things are a little different. The front seats are covered in giraffe pattern snoods and the originally burgundy hued trim now sports a cream-colored dash cap and a scrotal CRT for the rear-view camera. The rags and bags on the floorboards lend an impression less of a mobile home and more of a frat house, but there's nothing that can't be fixed with a weekend's worth of work, or not buying this odd bodkin of a car to begin with.
Of course, not buying defeats our present raison d'être as we want to know if someone - anyone - ought to plunk down the $4,750 the seller is asking for its title. The housing bubble may have collapsed, but that doesn't mean rolling abodes may not still be priced outside of their market.
What do you think, is $4,750 a price that should make this Caprice home sweet home for some happy buyer? Or, does that price put a damper on this custom camper?
You decide!
Minneapolis Craigslist or go here if the ad disappears.
H/T to Ryan Rask for the hookup!
Help me out with NPOCP. Click here to send a me a fixed-price tip, and remember to include your commenter handle