When it comes to 924s "S" is where it's at, and today's Nice Price or Crack Pipe Porsche is just so alphabetically imbued. It'll be up to you to say if its price brings the right numbers too.
Some people say there's no school like old school and yesterday's 1966 BMW 2000C was about as old school a Bavarian as you are likely to find on the Craigslists. Coincidentally, there are other people who say that car's price was Crack Pipe, and in fact 68% of you held that opinion. I guess in the end it was the seller who got schooled.
Let's see if a more modern German—today's 1987 Porsche 924S—can school us when it comes to value.
I have to admit that I am a little gun shy after Tuesday's Marauder scam, but while this 924 is advertised in both Seattle and Los Angeles (!) the information on both ads is the same, and searches of Tineye, SearchTempest and Google don't evidence it making any other appearances elsewhere. If you're willing to do so, we'll just go on faith that it's 2legit2quit.
G/O Media may get a commission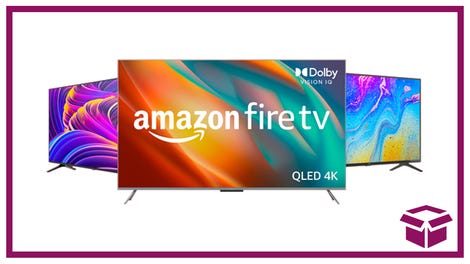 Ooh. stunning.
New Amazon Fire TVs
My interest in 924s stems from the fact that I'm presently looking at one as a possible addition to my oddball collection. I'm always looking for new ways to piss off my wife, and a water cooled Porsche in place of a minimum balance in our bank account seems as good a way as any.
This isn't the one I'm looking at, but from the ad(s) it looks to be one somebody should consider. That makes the fact that the ads have been up over a month somewhat noteworthy.
Now, you should remember that the S was not the 924 with the 2-litre Audi (or VW LT van) motor, but the one with a slightly detuned SOHC 2.5-litre all-alloy four from the 944. That engine put out 148-bhp in the 924 and was like having half a 928 mill under the hood.
Here that engine looks like it's had one of those dealership steam cleanings and a wax to shine things up. Backing that up is a five speed stick and while certain earlier years carried a dogleg pattern, the one in the S had let the dogs out and moved reverse below fifth.
The paint here is said to be a respray, but respectfully in the original hue of arrest-me red. That looks to be in fine shape, as do the phone dial alloys. New meats wrap those, while up top you get a pop-out sunroof.
The ad says the interior is "newer" however it has a carpet dash cap which is typically de rigueur with these cars as the molded dash tends to crack over time like humpty freakin' dumpty. The seats are the same type as in a 911 as is the chunky steering wheel, and they all look pretty respectable.
There's 89,000 miles on the clock and the promise of a clean title, both of which are plusses.
What are the minuses? Well, there's the fact that apparently this car hasn't sold in over a month, or its seller is enthusiastic enough to place ads for it in multiple markets but too lazy to remove them if it has sold.
Another thing might be the price, which at $4,495 seems to be about smack-dab in the middle of 924S asking these days.
What's your take on this 924 and that $4,495 price? Does that seem (if the ad isn't a scam) to be a fair deal based on how the car is presented? Or, does that price mean that you'd let that S-car-go?
You decide!
Seattle Craigslist, or go here if the ad disappears.
Help me out with NPOCP. Click here to send a me a fixed-price tip, and remember to include your Kinja handle.