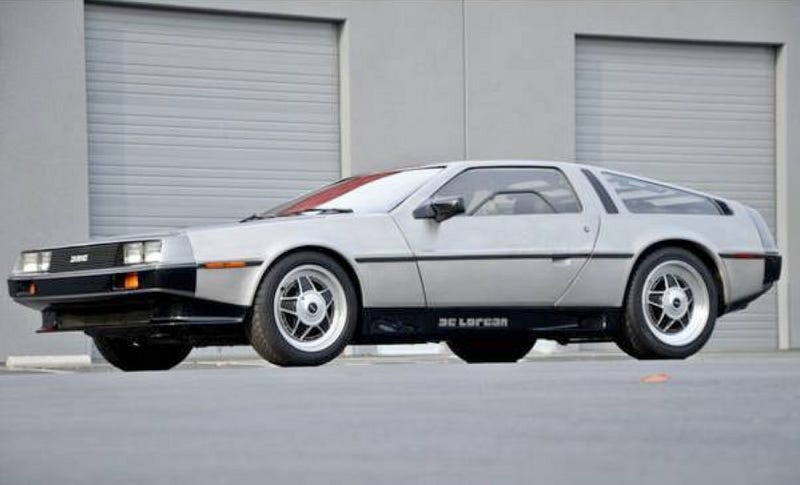 Nice Price Or Crack Pipe
Is this used car a good deal? You decide!
One-point-twenty-one gigawatts may make a Delorean go back to the future, but with 570 horses today's Nice Price or Crack Pipe Buick powered edition will make you want to stay firmly in the present. That is, if its price is past perfect.
I think it was the outhouse that threw yesterday's crazy custom Lil' Bugger over the Crack Pipe edge. In the end, 64% felt that odd camper had a price that didn't pamper, and there wasn't enough Charmin in the world to soften that blow.
Speaking of blowing, have you seen last week's Comedians in Cars Getting Coffee, the one with Patton Oswalt? If not, do so soon and you'll see Jerry and Patton head out in a 1981 Delorean DMC 12… for all of half a block.
That stainless steel beauty's PRV V6 suffered what we in the auto journalism world like to call a catastrophic pants pissing event when a hose seemingly blew, and that stymied the comedians search for caffeinated conversation. Fortunately for the show, they had a backup Delorean.
Oh, but if only they had this 1982 DMC 12, as its 570-horse twin turbo Buick V6 would have negated the need for coffee to keep even the most disimpassioned of comedians - i.e. Steven Wright - awake.
Everybody knows the whole sordid Delorean story but just in case you've been stuck in the '50s, I'll attempt to encapsulate it here: GM - Cash Out - Sports Car - Lotus Saved My Bacon - Stainless Steel - Belfast - Hubris - White Lines, Blow Away - Another One Bites the Dust - If You're Going To Build A Time Machine Out Of A Car, Why Not Do It With Some Style - 88 Miles Per Hour - Sequel - Sequel - Don't Park On The Tracks - Fuck You, Seinfeld - Nice Price or Crack Pipe.
Phew! What a ride. And that brings us to this custom piece of modern kitchen appliance ware which is interesting not just for the history it embodies but also for the 570-ponies that are supposedly made by its twin turbo 4.3-litre Buick V6. That's a butt-load more than the 130 the car's original PRV eaked out - literally in fact, as the Delorean's engine hangs out back like a Porsche 911's or that of a Renault R8.
Come to think of it, I'd wager that discounting evolutions of the 911, the Delorean was the last car introduced with its engine installed in such bass-akwards fashion. Can you think of a more recent one?
This particular one addresses the Delorean's major shortcoming which was that, for a sports car, its performance wasn't all that sporty.
There's no word on how long you can run the new pressure cooker of a motor, but there is a binnacle on the dash that contains the gauges for monitoring its stats, and those gauges look like they're out of an old fighter jet or maybe the space shuttle or something. There's no flux capacitor in there however so you can stop asking.
On the outside it's... well, stainless steel. Along with the gullwing doors, that silver bodywork always been one of the Delorean's most iconic features. This one trades the DMC's factory turbines however for a set of wheels that look for all the world like they're off an old Triumph Stag.
Maybe those alloys are why the seller has been trying to move this car for the past month or more? Or, maybe it's the $37,500 price tag, what do you think? Is this pumped up gullwing priced right to take future flight? Or, is that a price that will keep this Delorean in its current owner's present?
You decide!
SFBay Craigslist, or go here if the ad disappears.
H/T to benmoo for the hookup!
Help me out with NPOCP. Click here to send a me a fixed-price tip, and remember to include your commenter handle.