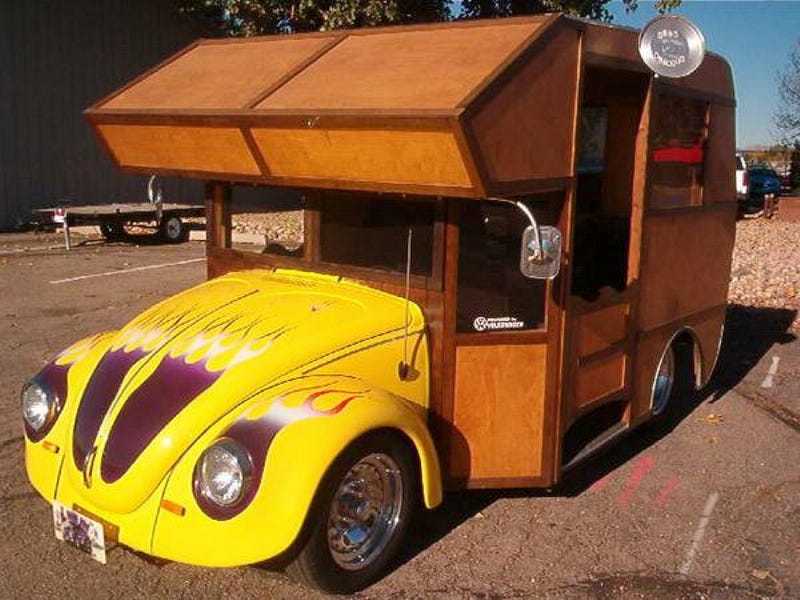 Nice Price Or Crack Pipe
Is this used car a good deal? You decide!
Today's Nice Price or Crack Pipe custom VW may be a home on the strange, but it's fully equipped - with even an outhouse! It's up to you however, to decide if its priced for anyone to give a crap.
Well, so far this week we've had three trucks in a row, including yesterday's dirt racer 1999 Ford F150 that looked to be fun in the mud, but 82% of you felt its price was a dud. In fact, not a single one of our truck this week have taken home a nice price crown. Because of that today's candidate makes the trip home significantly shorter.
Here in the U.S. the term lil' Bugger is an endearment for a rascally kid or perhaps a recalcitrant fastener on your car. In Great Britain however it's an offer that has a totally different meaning. Speaking of buggers and different, check out this 1975 VW Bug parking lot playpen.
VW's Beetle provided the base for many an exotic looking kit car, but one of the most odd was the metamorphosis to camper by way of a number of kits, including that known as the Lil' Bugger. Yes these mini campers were tighter than Kim Kardashian's yoga pants; and yes, they had the aerodynamics of a drogue chute. But if you weren't in a hurry to get to where you were going, they could be reasonably comfortable once you eventually got there.
This Bugger is said to be powered by a rebuilt 1600 and while most Beetle-based campers were constructed of more traditional fiberglass, this one is made out of what looks to be marine-grade plywood. The trailer-mounted facilities are made out of something a bit more roughly hewn so you might want to invest in a sturdy pair of tweezers for post-poop splinter removal. Ouch!
This custom Bugger seems more of a car show retreat than a camper, owing to its apparent lack of a slide-out bed in the overhead and odd gates in place of the doors, but it does come with a camp stove, Thermos jug and what the ad says is a 'new' TV and video cassette player, and when was the last time you saw one of those?
There are also swivel bucket seats to add to the terror of passengers while in motion, and a custom flame paint job on the remaining VW bodywork. Overall the work looks competently done, albeit not exactly intended to accommodate a broad audience. You could keep the car as-is and use it for tailgate parties or as a base of operations at Cars & Coffee, or you could add real doors and maybe paint it to make it a real deal overnighter. The world is your oyster.
Should you also wish this custom Vee-Dub to be yours, you'll need to come up with $7,500 (pooper included) and a way to explain to the neighbors why you are now parking a double hole kybo in your driveway. You'll have to figure out the latter, but we can all work together by way of voting on whether or not the first part is advisable.
What do you think about this funky camper and its $7,500 price tag? Is that a deal for a Bug-in? Or does that price provide all the discomforts of this home?
You decide!
Denver Craigslist, or go here if the ad disappears.
H/T to BogBlockBear for the hookup!
Help me out with NPOCP. Click here to send a me a fixed-price tip, and remember to include your commenter handle.