They say opposites attract, and while Lotus and Isuzu are pretty opposite, their odd '80s love affair begat both an Isuzu-powered Lotus, and a Lotus-suspended Isuzu. It's the latter of those two that is the subject of today's Nice Price or Crack Pipe, and it's up to you to say if its price is an attraction.
The reaction to yesterday's custom Pontiac Fiero was so visceral that it comes at no surprise it dropped in a decisive 93% Crack Pipe loss. The ad's creator may have been offering the car for a friend, but with friends like that, I'd say who needs enemas?
Once upon a time, Lotus was friends with Isuzu. I mean like friends with benefits. This was back when GM owned a stake in both vampires companies, and played matchmaker between the two. Lotus, being famous for their cars as well as their journeyman engineering services - have slide rule, will travel - helped the Japanese company with suspension tuning and lent them some cred by allowing the resulting magically drivelicious cars carry a Suspension by Lotus badge.
In a rightbackatcha, the Brits got a bunch of Isuzu twin-cam fours and five-speed gearboxes for use in what would become the first - and to date last - front wheel drive car the company has offered, and thus besmirching the venerated Elan name.
G/O Media may get a commission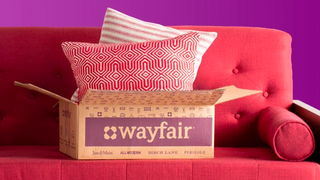 Big deals
Wayfair Surplus Sale
One of the Isuzu rides with which Lotus got jiggy was the Gemini, a car which carried the unfortunate I-Mark moniker here in the States. For 1989 that little Isuzu also gained the very same 4XE1 DOHC four that the company was providing to Lotus for the M100 Elan. In the I Mark RS that 1,588-cc sidewinder pumped out 125-bhp.
This generation of I Mark shares another connection with the folks on the other side of the planet, which is that the styling was originally handled by Giorgetto Giugiaro. The new cars bore a family resemblance to Isuzu's existing halo coupe, which Italdesign had done as part of their Ace (Asso) series back in the '70s. Not wanting to be considered an Asso, Isuzu dropped the Ace of Clubs name of the concept for Piazza globally, and Impulse in the U.S..
You can still see that bloodline in the shape, notably in the hatch and rear window of this I-Mark RS. Featuring a factory monochromatic paint scheme in goes with everything white, this little Lotus-imbued three-door is also hunkered down on its somewhat lackluster looking stock alloys. That's probably damning the car with faint praise as its completely stock appearance is one of the great things going on with this RS.
In addition to the twin cam mill and fancy pants suspension bits, the RS also received real Recaro seats on the inside. These are the sexy kind with the mesh headrests, and they seem pretty serviceable overall. It does look like McGruff has taken a bite out of crime on the driver's off-side bolster however, but if you're handy with a needle and thread then than shouldn't be too big a problem.
The ad notes that the car has an amazingly low 98,000 miles on the clock, as well as a set of tires that have far fewer. If you consider that Isuzu never sold that many cars here in the states, and of the ones they did, the RS edition of the I-Mark is one of the rarest, then this tidy car represents an uncommon opportunity to own something that's both unique and not obvious as such for 99% of the population who probably will think it's some kind of Honda.
But, what do they know! You however, know that these are not just rare, but also pretty cool, representing one of the last times that Lotus allowed their name to appear on something other than a Lotus. The fact that all that coolness is wrapped up in a car that's about as '80s Japanese generic as you can get is beside the point.
The point of all this of course is to determine if this '89 I-Mark is worth the $2,700 the seller is asking. What do you say, is that a good deal to get an Isuzu that has assumed the Lotus position? Or, does that price miss the I-Mark?
You decide!
Colorado Springs Craigslist, or go here if the ad disappears.
H/T to Andy for the hookup!
Help me out with NPOCP. Click here to send a me a fixed-price tip, and remember to include your commenter handle.