Today's Nice Price or Crack Pipe Ford F350 is about as big as you could want. Not only that but its got a big D as well, as is Diesel. That Cummins conversion makes this an F with a D and everybody loves the D, but will its price make it the grade?
Ba-donk-a-donk (do-do-do-doo-doo), ba-donk-a-donk (do-do-do-dot). . . oops sorry. Yesterday's reptilian-themed Cutlass Donk certainly stirred some emotions. Let's see, there was disgust, revulsion, disinterest, and even a little reflex reflux. As you might expect with such a response, things didn't go too well on the pricing front either, and in fact Yo Gator-Gator went down in an 86% drubbing.
When you think diesel what name first comes to mind? Yeah, well of course Rudolph, after all he invented the oil burner, and then took his broke-ass life by jumping into the briny depths of the English Channel, the poor sap. After him however, next on your list might possibly be Clessie Cummins, because he took Diesel's diesel and ran with it, at one point claiming over half the U.S. heavy diesel truck market.
G/O Media may get a commission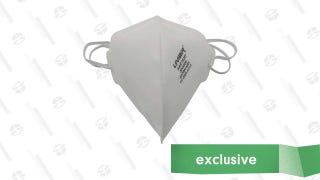 NIOSH CDC-Certified N95 Masks (10-Pack)
A name you might not initially associate with oil burners is Ford, that company having taken a relatively cautious approach in their diesel offerings here in the States. FoMoCo didn't even start building their PowerStroke V8s in-house until 2010, having previously sourced the mills from Navistar. None of those names however have quite the reverent following as does Cummins and their straight six diesel, available to consumers in the '89 and up Dodge Ram pickups.
Of course if you're jonesing for a Cummins but you're starting point is a big-ass F350 Crew Cab, you're going to need to take matters into your own oil-stained hands. Or, you could buy this 2003 rig that's already had the Cummins conversion completed.
Sporting a 1994 12V P-pump 5.9-litre this ginormous F-series is like the big boy pants of pickup trucks. At 160-bhp for the automatic backed 6BT, the 359-CID straight six doesn't offer up copious quantities of power. At around 400 ft-lbs however its torque more than makes up for that paucity of ponies.
One chink in the Cummins armor has been the KDP, or killer dowel pin. That's internal an dowel pin that is pressed into place at the factory but has a history over time of working its way out resulting in catastrophic engine failure. There are ways to fix that so blowing one of these up would really be your own damn fault.
Behind the venerated six is what's described as a rebuilt 47RH, which in case you didn't know is a heavy duty Torqueflite. That of course bolts up the Cummins all nice and neat but will surely confuse the hell out of the service tech at your local Ford dealer.
Other changes include a kit to ensure the tach makes friendly with the smoker, and a new coat of ruby red slipper over 20-inch chrome bling-blings. Also, and possibly disturbingly, the entire front clip has been replaced with an '06 unit. What's up with that?
The rest of the truck looks like pure uncut F350 and that's not a bad thing. Yeah, it's bigger than the Queen Mary, and probably is a bear to maneuver in tight traffic, but damn it'll compensate for a lot of little things. Those puny "compact" parking spaces at the mall would barely fit a wheel, but there's still there's something to be said about the attraction of a big American pickup. I mean if we can't demonstrate our global leadership by bombing other nations with impunity the least we can do is drive a vehicle that can be seen from the Moon. Hells yeah!
You might note that the traditional Ford Blue Oval has been replaced on this truck with a custom Fummins badge. The truck is so freakin' long that they must have forgotten to make the same change on the tail gate during the long walk back there as it still has Henry's name on it.
Henry's pickup, in lighter duty F150 guise at least, has been the Nation's top seller for decades, even without the cool Cummins mill under hood. This one has that and its current owner wants it to be a best seller at his set $14,900 price. You now need to say just how best that might be.
What's your take on this custom Cummins-powered F350? Does $14,900 glow your lugs? Or, even though you likely couldn't replicate this truck for that much, would you even want too?
You decide!
Hotlanta Craigslist, or go here if the ad disappears.
H/T to Jason Barnwell for the hookup.
Help me out with NPOCP. Click here to send a me a fixed-price tip, and remember to include your commenter handle.