AMC's Matador Coupe was one of the '70s' most expressively designed mid-sized personal coupes. Today's Nice Price or Crack Pipe candidate goes further, having been stripped of bumpers and featuring twin strips on hood and trunk. We'll have to see if it's priced to make this one Matadora you'd want to explora.
Do you ever notice that when the flight attendants are doing the safety run through they always include "in the unlikely event of a water landing?" The planet's three-quarters covered in water! Yesterday's 1983 custom Jaguar XJS proved an unlikely Eventer owing to the response to its tippy-toes price.As you would expect, that ensured a Crack Pipe loss, by 74% to 26% to be exact. For now, that's all water under the bridge.
Today, we're coming back down to Earth, seeing as it's Friday - and maybe even payday - which means that we should dance out the week with something you actually might be able to afford, even if you don't actually want the car.
G/O Media may get a commission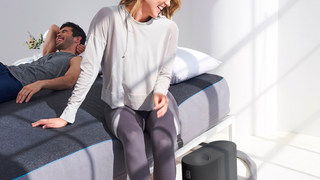 Eight Sleep Pod Cover
Of course, who wouldn't want this 1974 AMC Matador coupe? After all it features one of the most audacious body designs of the seventies, channeling both Chrysler's Turbine cars of the sixties as well as AMC's own lardastic Pacer.
Being introduced in '74, these cars were originally saddled with battering ram bumpers but this custom thankfully now rides bareback - and front. The rest of the styling came by way of AMC maestro of the make-over, Richard Teague, who here gave the former two-door hardtop a sleek, fastback design guided by input from NASCAR driver Mark Donohue.
The coupe shared no body panels with its far more staid sedan counterpart, and its headlight placement always makes it look like it's getting its prostate checked.
Here that body is sprayed in arrest-me red accented by a pair of black stripes and a vinyl roof with Picasso-esque angles around the side glass. Bright wheels and peashooter exhausts do their part to dress it up with a little old school bling.
That dual exhaust is hooked to one of the car's most interesting features, that being the hirsute and very desirable 401 V8. The big mill was offered by AMC in various guises from 1972 through 1979, and in the '74 Matador it produced a claimed 215-bhp. There's more available with a little coaxing as the engine's forged rods and crank are up to the task.
This one has some sort of weird air cleaner sitting on top, the likes of which I have never seen before. If anybody is familiar with that odd bodkin of a box, please weigh in. The rest of the engine bay looks remarkably clean and carries over the red and black paint scheme nicely.
The 401 is backed up by an automatic - most likely some form of Chrysler box - and that's called to duty via a column shift. The lack of a significant tunnel allows for a pair of split bench seats in the front and those are stunning in all their tufted two-tone velour and vinyl glory. The rest of the interior is likewise a place you'd want to hang, and maybe have a courvoisier.
It's claimed in the ad that the car only has 37,000 miles on the odometer, but I'd wager that those barrels are on their second trip around the horn at the very least. Regardless, the car presents itself well for any mileage, and the ad says it's a dependable ride. Also dependable is us wrapping these things up with a question regarding our chosen candidate's price, and that's just what we're about to do.
The seller asks $11,999, or in lieu of that, for you to make an offer. Okay, let's see where we stand on those options. Do you think this custom Matador is worth $11,995? If the answer is no, then what would you pay for it?
You decide!
South Jersey Craigslist, or go here if the ad disappears.
Help me out with NPOCP. Click here to send a me a fixed-price tip, and remember to include your Kinja handle.