This is The Morning Shift, our one-stop daily roundup of all the auto news that's actually important — all in one place at 9:00 AM. Or, you could spend all day waiting for other sites to parse it out to you one story at a time. Isn't your time more important?
Obviously, we're all watching the news along with the rest of you. If you're in the Watertown/Cambridge area please turn to those other news sources for information on what you should do (other than, generally, keep your head down).
1st Gear: Fisker's Business Plan
Luxury hybrid automaker Fisker is working its way towards bankruptcy and details are starting to make clear just how faulty their business was, including a report that says the company spent $660,000 on each Fisker Karma… a loss of more than $0.6 million per car.
G/O Media may get a commission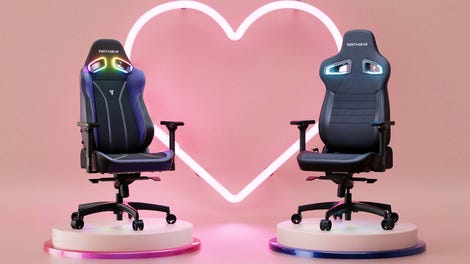 Up to $150 off
Vertagear Gaming Chairs
The report, put together by research firm PrivCo and seen by Bloomberg, apparently shows that the total amount of money spent — including $193 million in Government loans — equals half a million dollars per car if you divide out the 2,500 cars that were built from all the marketing, manufacturing, and R&D costs. That, of course, is not how much they'd keep losing in the future, but given they were only going to sell a limited amount of these cars it illustrates why they Government probably stopped handing them money.
The Energy Department disputes this figure, saying the Government cut off the loans earlier than PrivCo estimates.
Either way, the report raises many political issues which will certainly be investigated in the House.
2nd Gear: Bentley Goes To China
Auto Shanghai starts today and Bentley is on hand because the Chinese are huge buyers of their cars. Specifically, few people in China are going to buy a two-door, which is why Bentley is going to sell about 60% of all Bentley Flying Spur to be delivered to China.
Would you believe they're going to open 12 more dealer locations this year on top of the 26 they already have? By 2015 the plan is to have 45 dealerships.
3rd Gear: Fiat Will Lose $10,000 On Every Fiat 500e
It's not as bad as Fisker, but Sergio Marchionne told Car Geek Comicon that Fiat will lose $10K on every Fiat 500e despite government subsidies.
According to The Detroit News, Marchionne said "Regulators are rushing precipitously toward embracing (electric vehicles) as the only solution. Doing that on a large scale will be masochism in the extreme."
We agree with Marchionne that the government should support a variety of fuel choices, including natural gas.
4th Gear: Bob Lutz Comes Out For The Gas Tax
"Maximum" Bob Lutz came out swinging yesterday, telling a crowd that CAFE is focusing on the "wrong end of the pump" instead of focusing on C02 and gasoline usage, like Europe.
Hmm… where have we heard that argument before? Oh yeah, we've made it.
Lutz, who is not exactly an environmentalist, is entirely right. While automakers should be encouraged to make more fuel efficient cars, they shouldn't be forced to make cars they then have to figure out how to sell.
The former GM/Ford/Chrysler/BMW/Frank's Big-And-Tall exec says it's like trying to fight obesity by making the clothing industry sell only small sizes, reports the Detroit Free Press.
5th Gear: Honda Recalling 204,000 Vans/CUVs Over Shift Mechanism
Honda has to recall approximately 204,169 relatively new 2012/2013 Honda Odyssey minivans, Acura RDX and CR-V SUVs over a shift interlock blocking mechanism because it might fail in cold weather, allowing the vehicle to shift out of park and roll on down the driveway… into a pool of gasoline… which could cause fiery death.
According to the Wall Street Journal customers will get an updated brake-shift interlock free of charge beginning next month. In the meantime, probably best to use the parking brake.
Reverse: It's A Me, Mario!
On this day in 1964, Mario Andretti competes in his inaugural Indy car race, in Trenton, New Jersey, finishing in 11th place. The following year, Andretti won the first of his four Indy car championships (also referred to as the U.S. National Championship) and was named Rookie of the Year at the prestigious Indianapolis 500, where he came in third. Andretti went on to become an icon in the world of motorsports. He is the only man to win the Formula One World Championship, the U.S. National Championship (1965, 1966, 1969, 1984), the Indianapolis 500, the Daytona 500, the 24 Hours of Daytona, the 12 Hours of Sebring (1967, 1970, 1972) and the Pikes Peak International Hill Club.
[HISTORY]
Neutral: What Is Your Alternative Fuel Of Choice? Diesel? Hyrodgen? CNG? Algae? Bioethanol? Waste oil? Unobtanium?
Photo Credit: Getty Images