This is The Morning Shift, our one-stop daily roundup of all the auto news that's actually important — all in one place at 9:30 AM. Or, you could spend all day waiting for other sites to parse it out to you one story at a time. Isn't your time more important?
1st Gear: Chinese Owners Bringing It Back In 2015
Despite never being the best luxury hybrid you could get, the Fisker Karma is set for a return in 2015 under new Wanxiang ownership reports the Orange Country Register.
The company's temporary president, Roger Brown, said the Karma will roll out mid-year next year, the Surf to follow, and the Atlantic could be out as soon as 2017. To his credit, he says that the formerly bankrupt company can only produce the cars if a bunch of things go their way. Here's the money quote:
"Wanxiang is not flashy. They bought this company, they paid cash for it, they don't put any debt on their company and they execute," Brown said. "They didn't buy the company to export the technology to China. ... They bought it because they want to build a great car company."
G/O Media may get a commission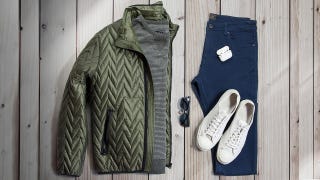 60% off
Jachs NY Fall Sale 60% Off
2nd Gear: Fuck Corn
I think I've been clear about my distaste for corn ethanol, which seems to me more like a political convenience than an environmental solution.
Cellulosic ethanol — refined from algae or discarded biomaterials — is somewhat different. The production isn't as destructive to the environment, although it hasn't been produced in high enough volumes in the U.S. for a full evaluation of impact.
Aaaaand maybe it won't be. The EPA's requirements for cellulosic ethanol is just 810,000 gallons according to David Shepardson, who has long been on the ethanol beat. Congress wanted one billion gallons a year…
The production of cellulosic ethanol and other renewable sources of biofuel have lagged expectations. Hardly any commercial production has taken place.

Congress required 100 million gallons of cellulosic ethanol in 2010, 250 million in 2011 and 500 million in 2012. But the EPA has exercised its authority to mandate a fraction of that: just 8.65 million gallons in 2012.

The agency said it is setting required production at the "actual cellulosic biofuel production in 2013. Specifically, we are calculating the volume of cellulosic biofuel to be used in 2013 by reference to the actual number of cellulosic biofuel renewable" credits known as RINs.
If the government isn't forcing or encouraging people to make these investments, and they're unable to enforce these mandates, nothing is going to change.
3rd Gear: GM Needs To Not Suck It Up In April
With all the talk of recalls, The WSJ thinks GM needs a strong April to convince the world they're not scaring off customers with their fiery Cobalts of death.
Wall Street investors are keeping watch on the results, which are due out May 1. GM sold 237,646 vehicles in the U.S. during April 2013. Anything above that amount will show that the auto maker's Cadillac, Buick, Chevrolet and GMC brands have remained untarnished despite the chaos surrounding the recall of 2.6 million of its cars linked to ignition switches.

One executive, Cadillac Chief Marketing Officer Uwe Ellinghaus, said most media attention has focused either on GM or the recalled models, which are no longer in production, sparing the brand names.

"The recall news plays big in Detroit and on Capitol Hill, and while those are challenges, we have been betting that consumers either aren't aware or don't really care," said one stockholder who asked not to be identified as his company owns more than 50,000 shares in the auto maker. "The linchpin to investing in GM is not the recalls. It's the sales and the financial footing heading into 2015."
Toyota did prove that you can bounce back from a massive recall, and I do buy the argument that almost none of those cars are still for sale. Still, I think it'll take more than one month of growth to convince me they've avoided long-term problems.
4th Gear: Feds Checking Out 2014 Impala Brakes
Well, that's poorly timed. The AP reports that NHTSA is looking into the 2014 Chevy Impala after a report of issues with the brakes.
The driver says that in one instance, the Impala was traveling at 40 miles per hour with no one in front of it when the brakes activated. The car was struck in the rear by another vehicle. No injuries were reported.
Well, that doesn't sound like fun.
5th Gear: The Weirdest Cars From Beijing
Beijing is a strange place as the market still expands and a million car companies try to assert themselves. It's a lot like how the U.S. was about a century ago.
Car And Driver found five cars that were particularly strange.
My favorite is the PGO Cevennes / Hemera pictured above, which is very Porsche 356-meets-Daihatsu Kopen but is apparently powered by a Mini 1.6-liter fourbanger powering the rear. WANT.
Reverse: And We Got The Intrepid
On this day in 1987, the Chrysler Corporation purchases Nuova Automobili F. Lamborghini, the Bologna, Italy-based maker of high-priced, high-performance cars. Although the terms of the deal were not disclosed, the media reported that Chrysler paid $25 million for Lamborghini, which at the time was experiencing financial difficulties.
[HISTORY]
Neutral: Can Fisker Survive?
And no, putting gas motors in them isn't an option. Or, well, maybe it is?
Photo Credit: Getty/AP Images