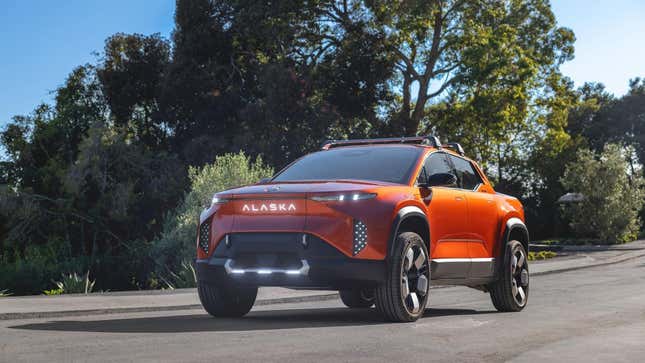 The Fisker Alaska is the latest concept from American EV maker Fisker. There are plenty of reasons to celebrate the bold new concept, such as Fisker's decision to make a small(ish) fully-electric pickup, which the company claims will go into production in early 2025.

But it's best to view the Fisker Alaska with a wary eye, since the EV is no more than vaporware for now, as the Verge reports. I do hope that the Alaska's, uh, little quirks make it to production, like its giant cupholder as well as its ridiculous cowboy hat holder — or roof-mounted net or web, or whatever the hell it is.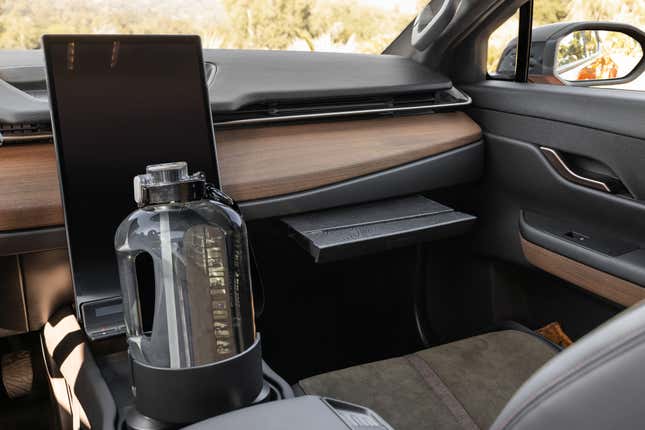 With a name like the Fisker Alaska, you would expect the latest EV concept from Fisker to be outfitted for snowboards or skiis, but its most endearing qualities are its cupholder — basically a bowl at this point — and its sombrero web. Giddy up, Alaska. The Fisker Austin would have been a more fitting name given the Big Gulp and cowboy hat.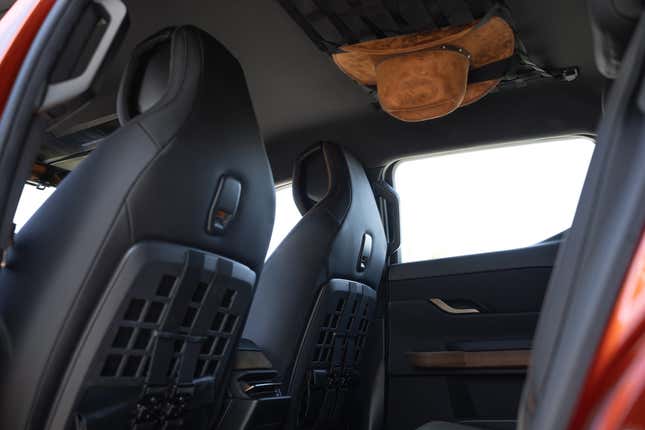 The EV concept from Fisker seems well suited to carry sporting equipment, what with its roof rails and truck bed. Fisker says the bed will be capable of expanding from 4.5 to 7.5 feet thanks to a partition behind its rear seats. Total bed length can reach 9.2 feet with the tailgate down, giving the relatively small truck a decent bed length.
Fisker says the bed is modular — like that of the Chevy Avalanche — thanks to the EV's electric drivetrain and battery layout. The Alaska will be available in two battery pack configurations, with either a 75 kWh or 113 kWh battery. The EV truck's range will reportedly be from 230 to 340 miles, depending on the battery.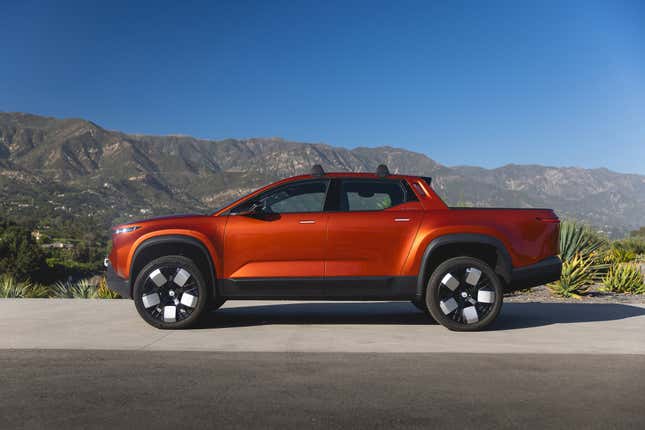 Fisker also claims that the Alaska will go from 0-60 miles per hour in as little as 3.9 seconds, though a less powerful model or trim will hit that metric at 7.2 seconds. Fisker claims the Alaska will be the world's lightest EV pickup truck.

The Alaska will be 17.4 feet in length, overall, which puts it somewhere between the Hyundai Santa Cruz and Toyota Tacoma in size, as Edmunds reports. For reference, the Ford Maverick is nominally 16.7 feet long, meaning the Alaska would be slightly longer. Not a bad size for a modern EV molded in the image of today's "compact" pickups, which have proven to be unexpectedly popular.

It's unclear when the Fisker Alaska will make it to customers, or whether it will actually go into production at all in 2025. Fisker is already taking reservations, which start at $250 for the first Alaska and $100 for the second. The idea that someone would reserve two of the same EV trucks is almost as outrageous as the cupholder in the Alaska, but I suppose some folks need a second place to put their Big Gulps.