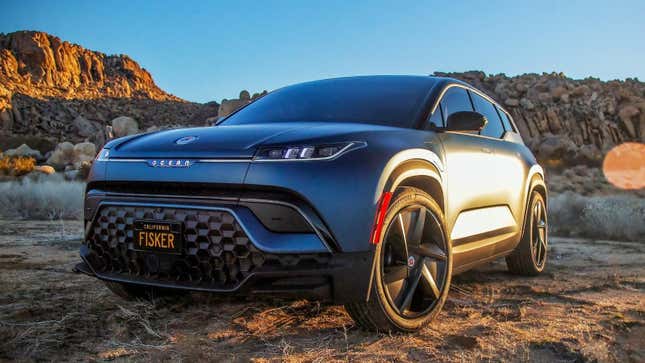 If you're skeptical about Fisker's ability to stay in business, you're not alone. But you never know. Maybe this time around, Fisker will actually be successful. Jokes aside, we have to admit that the Fisker Ocean looks like a much more appealing vehicle than the old Fisker Karma, so we're at least open to the possibility that the company is here to stay. Especially now that the Ocean's EPA-estimated range has been announced.
Car and Driver reports that the Fisker Ocean is officially rated at 360 miles of range. That's only for the top-end Ocean Extreme with 20-inch wheels, but it's still impressive. For comparison, the Tesla Model Y Long Range only has 330 miles of range. The Ocean's range is also greater than what you get in the Ford Mustang Mach-E, Hyundai Ioniq 5, Volkswagen ID.4, Toyota bZ4X and Nissan Ariya.
Other versions of the Fisker Ocean will presumably not offer the Extreme's 360 miles of range, but if that's what's available on the version with the biggest battery, we expect lower trims to also be competitive. It will still be a niche product for at least the next few years since Fisker previously said it only plans to build about 40,000 Oceans this year, but it very well could end up being a niche product that's actually worth buying over the competition. And if we're being honest, it's always tempting to root for the underdog.
Although production officially began late last year, the CARB certification process reportedly delayed deliveries for a while. But according to Car and Driver, Fisker is now officially good to go in that department, and deliveries of the Ocean are set to begin next month.